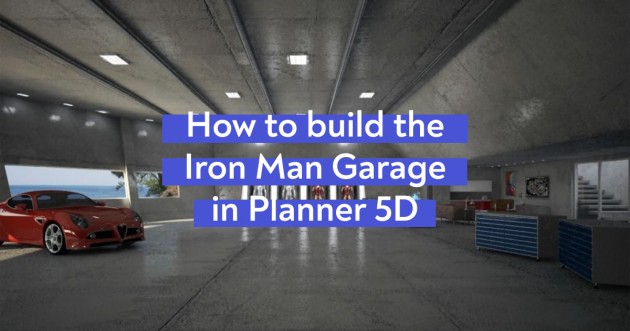 Which superhero has the coolest house? It's hard to say, but Iron Man's is one of them. With its wide windows and intriguing shape, his mansion is both unusual and impressive. And Iron Man's workshop is no exception.
Since the first Iron Man movie in 2008, when Tony Stark put together his first Iron Man suit, we've envied his workshop. Full of high-tech screens, 3D imaging, and expensive cars, it's a real superhero home office.
We can't all afford to renovate our basement to fit several luxury cars, but we can recreate Iron Man's incredible underground workshop in Planner 5D. So load up the app, read our instructions, and watch
Evelina Podosrska's helpful tutorial
. To create your own Iron Man interior, copy and edit Evelina's
project
.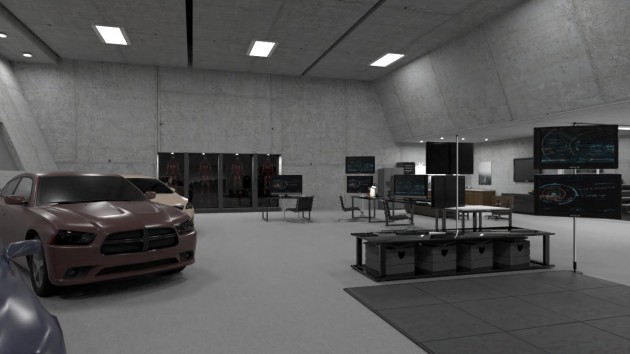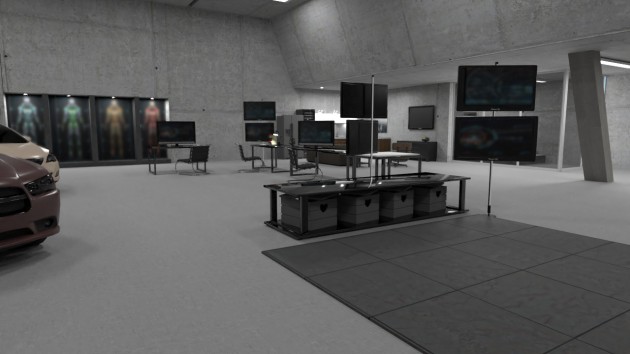 While Iron Man's workshop looks cool, the décor is more functional than beautiful. The concrete walls can stand up to malfunctioning experiments and give the space an industrial feel. The lighting comes from fluorescent strip lights, industrial pendants, and LEDs on the floor. Light is essential in this space - with no windows, the lighting needs to be bright and even.
Is it a home office, or is it a
man cave
? You could describe the Iron Man workshop as both. There's a floor space to visualize inventions in 3D, computer screens for technical designs, and, of course, supportive seating. There's even a parking space for his extensive car collection. The Planner 5D version of this space includes seating and a television, so Tony Stark has a place to relax after a hard day of saving the world.
How to create the Iron Man workshop in Planner 5D
Creating the whole Iron Man mansion would have been quite a feat. Evelina and the Planner 5D team chose which part of the house to create - they went for the garage/workshop, as it's the area that's seen most in the movie.
The floorplan for Tony Stark's garage workspace is pretty simple. As you're just dealing with one room, creating one large rectangle should be enough! Check out the YouTube tutorial for dimensions. You can also use ready-made
drawings of the garage
.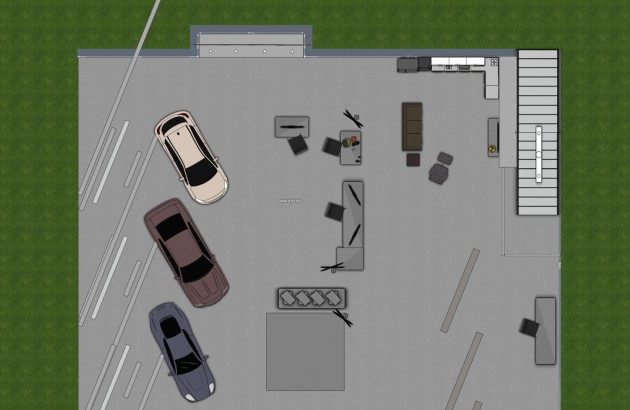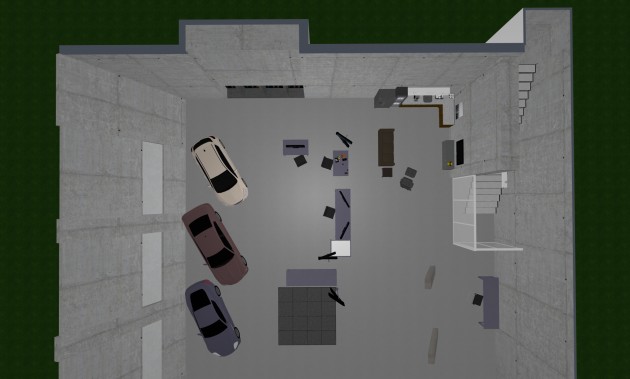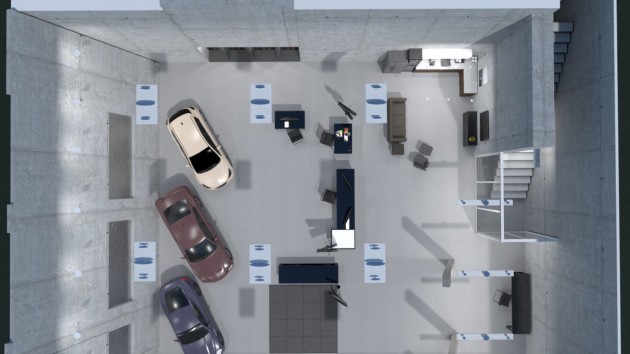 Step 2: Create the concrete elements
Next, Evelina creates a large concrete beam, concrete back wall, window frames, supports, and stairs.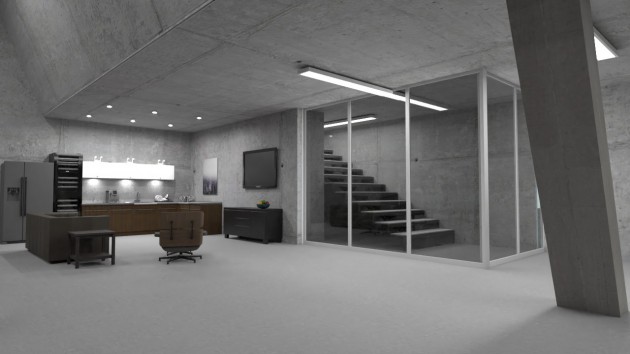 Step 3: Add doors, windows, and more
Around the stairs is a glass frame, which keeps the space looking sleek, tidy, and soundproof. The garage doors are another essential feature. Next, add more concrete slabs for the bottom part of the windows. The ceiling is made from concrete slabs - check the
YouTube tutorial
to see how to do this.
Evelina's next step is to add cars and furniture to the space. First, she parks the vehicles next to the window. Then she adds a kitchenette with a sizable fridge (a man cave essential). After that comes the all-important office space, with multiple screens and chairs. Don't forget the platform for Tony Stark to test his inventions! A recess in the back wall gives Iron Man a place to store his suits.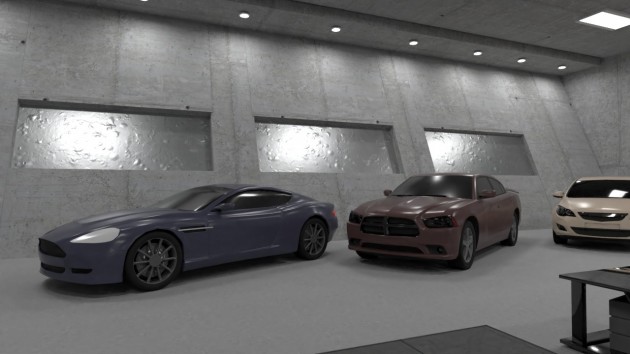 Step 5: Finishing touches: ramp and lighting
Add the ramp outside the garage and attach it to the inside space. Finally, add the fluorescent strip lights and the LEDs. Evelina shows you in the tutorial how to space these out evenly. The final detail is adding a design to the computer screen to make it look like Iron Man has been at work!
Check out these intriguing details about the Iron Man house:
It was inspired by a house designed by architect Wallace E. Cunningham. This house was called The Razor - if you've seen the Iron Man films, you'll see why!
How much do you think Iron Man's house would cost? Based on estimates from the Wallace E. Cunningham house price and the location in Malibu, Iron Man's house would probably cost around $40 million. Much cheaper to build on Planner 5D than to buy in real life.
The cars in Tony Stark's garage are a mixture of vintage and modern models. They include the famous Audi R8, a 1932 Flathead Roadster, a 1967 Shelby Cobra (which gets squashed by Iron Man when he falls on it), a Saleen S7, a Tesla Roadster (which hadn't even been released when the first Iron film came out), a 1953 Cadillac Series 62, and a Rolls-Royce Phantom.
Why not try creating your own Iron Man workshop? Which famous interiors would you like to see next? Let us know below or on YouTube!


You may be interested: