60 Living Room Ideas For Your Home
Put the life back in your living room with this handy Planner 5D guide. We've got ideas for every style you could ever think of, and every color combination, too!
Living room looking a bit tired? It's time to refresh it. Put the life back in your living room with this handy Planner 5D guide. We've got ideas for every style you could ever think of, and every color combination, too!
Choose a theme that suits you - read below for some inspiration. We'll guide you through different ways to decorate and then show you how to put together all those little details. Your living room is all about being cozy and comfortable. Let's get started.
Modern living room
Bring your living room up to date with modern touches. Futuristic details such as a glass coffee table and monochrome decor bring your interior decor into the new decade.
Small living room
Not much space to play with? Make sure you've got all the essentials: somewhere cozy to sit and a surface to rest your cup of tea. Nifty decor hacks like floating cabinets can trick you into thinking there's more room.
Brown living room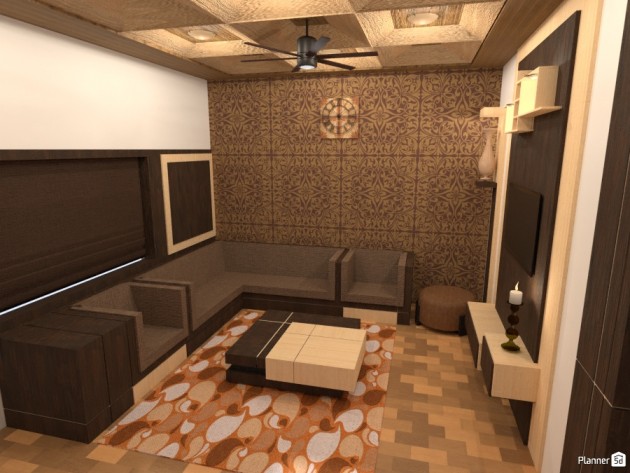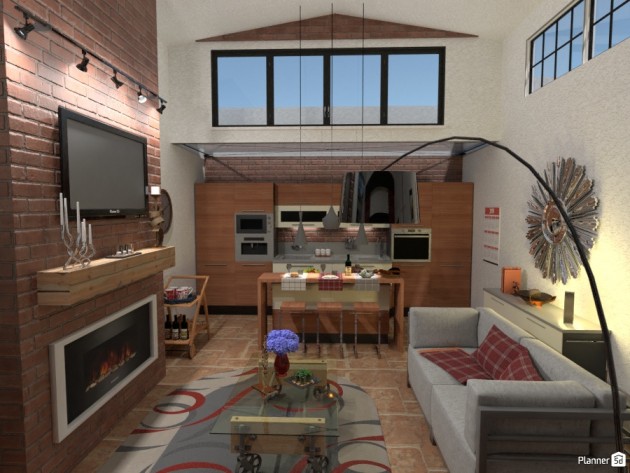 Brown might not be the first color you think of when decorating. But a natural, earthy hue can make your living room feel extra warm and comforting.
Gray living room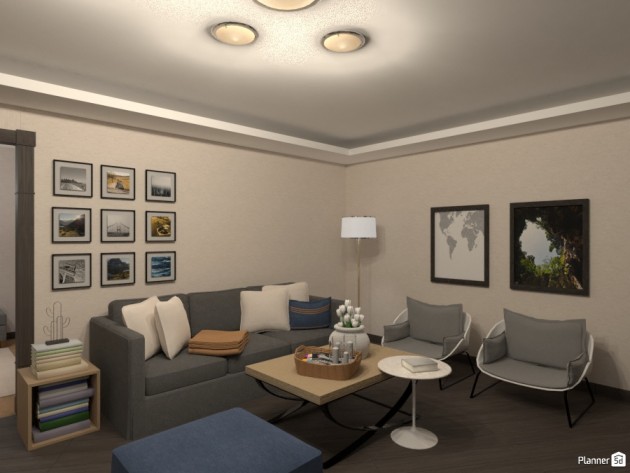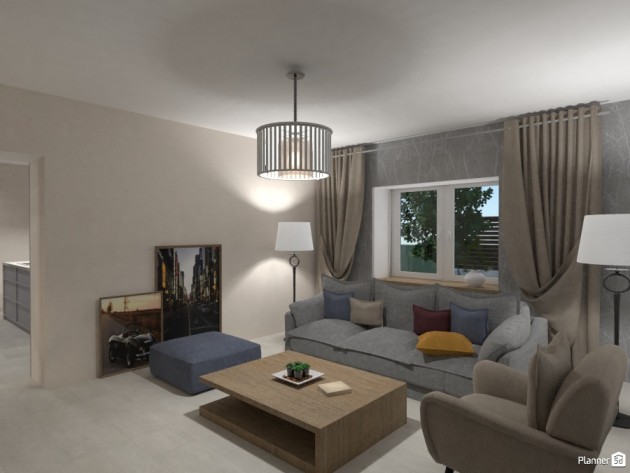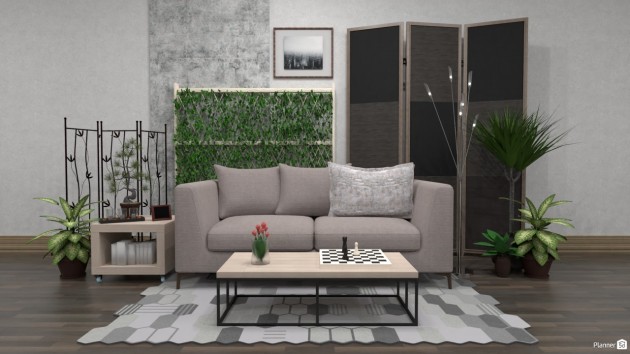 Gray is becoming more and more popular for living rooms. It's a neutral yet versatile color - try experimenting with different shades to create a chic effect.
Living room on a budget
To design a living room on a shoestring, think about updating what you already have. Refresh your furniture with paint and varnish, or check out online markets and vintage stores for bargain pieces.
Rustic living room
Ah, the great outdoors. If you're reading this in early 2020, we're sure you're missing it, too. Bring nature into your living room with wooden beams, stone walls, and a roaring fire.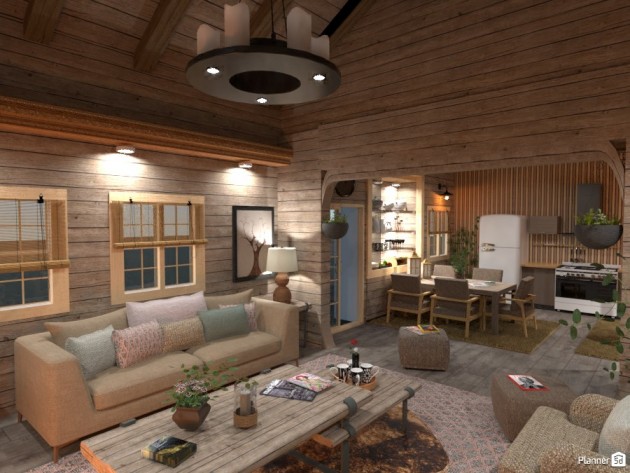 Farmhouse living room
Put your own twist on farmhouse decor: it's not all 'live, laugh, love' signs! Whitewashed wood, large cushions, and oversized clocks are signature farmhouse elements that will make you feel at home in your living room.
Living room dining room combo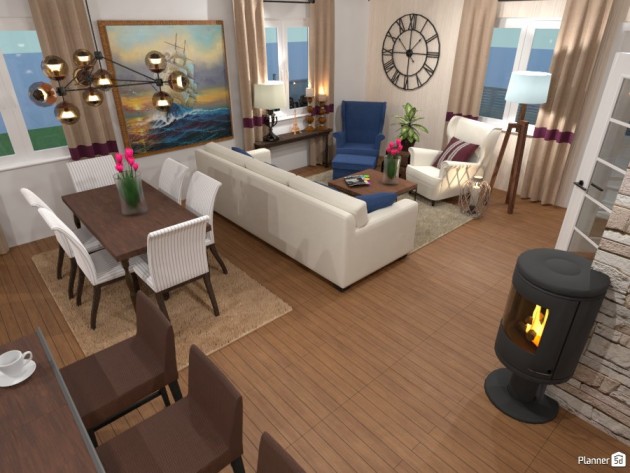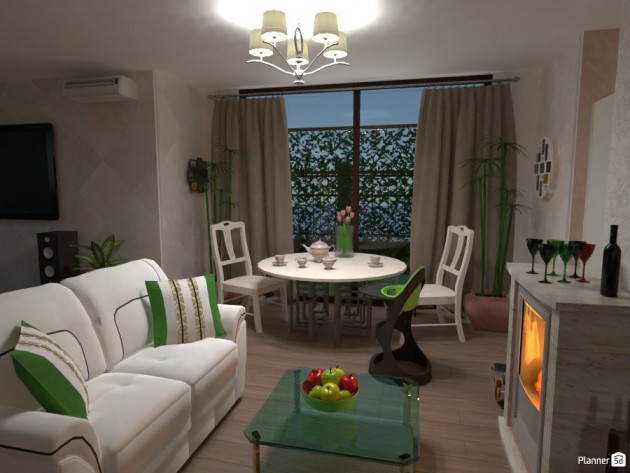 Combining your living room and dining room? One way to separate the space is to place a sofa as a room divider. A handily-placed rug creates two distinct areas.
Cool living room
Create the coolest living room by putting your own stamp on it. Change something to make it unique: statement shelves, the latest in high-tech sound equipment, or a gallery wall of movie posters. Make it your own.
Ikea living room
Sourcing your furniture at Ikea is one way to keep things to a strict budget. No Ikea living room would be complete without a Billy bookcase, how would you place yours?
Blue living room
Classic Blue is Pantone's color of the year. And no wonder: it brings serenity to your living room. Use blue for an accent wall or be bold and choose statement pieces in this versatile shade.
Country living room
A country living room makes the most of nature. Bring in pieces made from wicker and wood, and make sure you have a stylish vase to showcase any beautiful blooms you come across.
Sectional living room
If you've got the space, get cozy on a sectional sofa. This gives you more seating to play with and you can customize it to make it your own. Cuddle up with your loved ones.
White living room
White is an ideal color for creating a peaceful, airy atmosphere. Pair it with unvarnished wood for a living room that makes you feel truly tranquil.
Coastal living room
Feel like you're at the beach, whatever the weather. A coastal living room uses seaside details such as wooden planks, netting, and seashells to get that marine vibe. Go even further - include nautical patterns on your soft furnishings!
Large living room
A large living room might seem like the dream - more space to play with! But a large, empty room isn't cozy, nor is a super cluttered, full room! Try dividing it into more manageable 'zones.'
Formal living room
It's easy to see why formal living rooms are so popular. Bring in the ultimate in elegance with golden detailing or more modern touches like stainless steel.
Cozy living room
Who doesn't love a hygge living room? Being cozy isn't just about wrapping up in a blanket - think about the little details like candles and teapots. Anything that makes you feel comfortable.
Living room with fireplace
A fireplace can be the focal point of a living room, especially if you want to keep it screen-free. If you have an open fireplace, don't forget to invest in an attractive fireguard to keep yourself safe!
Dark gray couch living room
Why a dark gray couch? Because it's so versatile! You can either style it with other gray elements, or bring in flashes of color on cushions and throws. A gray couch is a couch for life.
Open living room
Just like a large living room, it might seem difficult to make an open living room feel cozy. Our big tip is to create separate zones. Choose a space that is only for the living room and stick to it.
Simple living room
A simple living room is one that's pared back to the basics. A classy sofa, a coffee table and maybe a couple of end tables. It's a great way of creating a relaxing space to clear your mind.
Black and white living room
Have you always wanted to feel like you live in an old movie? A black and white living room can give you that feeling. It's a great way of keeping your decor simple, tasteful and understated.
Traditional living room
Keep it timeless. A traditional living room is usually symmetrical, possibly centered around a stylish fireplace. It includes comfortable seating and pretty details.
Purple living room
Deep, dark, mysterious and royal. Purple is a great color for a living room when used wisely. Paint your walls purple for a cozy feel, but don't overdo it - if you only have a small space then purple works better in accents.
Red and black living room
Red and black create a complex mood. One way to incorporate it is to make a statement with a patterned piece (think Marimekko's Unikko) and add other red, black, and white elements to the living room.
Beige living room
Beige is anything but boring. It gives the little details a chance to shine. Fill your beige space with a rotation of plants, artwork, and books.
Living room office
As you've read in our home office article, make sure you keep your living space separate to where you work. Designate a special area for your desk, and keep off the sofa when you're trying to work!
Midcentury modern living room
Midcentury modern is here to stay. Think sleek, varnished wood and clean lines. Place sculptural pieces to give it your unique touch.
Red and brown living room
Earthy and autumnal, red and brown are both bold and cozy. These colors might not be an obvious combination, but it can create an atmospheric living room. Try using brown as the base, with red for highlights.
Leather living room
Leather is a great option for comfort and easy maintenance. Buttoned leather fits a formal living room, while leather loungers offer a midcentury touch.
Men's living room
Remember the man cave from last week? If you don't have a spare room to build a full man cave, think about how you can include elements of it in your living room. Incorporate a dartboard or a big screen to watch the game with friends.
Living room designing tips
Living room paint ideas
It seems sometimes that there are too many colors to choose from. Generally, painting your walls a neutral color will make your living room feel more spacious and peaceful. Beige is optimal for coziness and adaptability, but grey is also versatile and gives a more modern feel. If you're keen to experiment with other colors, throw the rulebook out the window, or consider painting an accent wall (more on that below!).
Living room decor tips
If you're looking for living room decor ideas, look no further. Choose pieces that are eye-catching yet fit your color scheme; after all, the living room is a place to relax. Houseplants are effective for cheering up the room, keeping you entertained, and purifying the air, especially if you're experiencing long periods of time indoors!
Living room wall decor ideas
Save space by decorating vertically. Hang your favorite pieces of art and frame memories of your loved ones for a personal touch. A smaller living room benefits especially from mirrors: use them where possible to make the room look larger and to reflect as much light as possible. Shelves are also a space-efficient way to decorate.
Accent wall ideas
Is your favorite color missing from your living room design? Consider implementing it in an accent wall. You can either paint it or wallpaper it - a textured wallpaper offers a very interesting focal point. Make sure the color or texture you choose matches with the shades of your other walls and do choose the best wall for the job! A wall without too many features works best.
Floor ideas for living room
When it comes to floor, the most classic choice is usually varnished wood with a rug. Choose a rug that matches your personality and interior - after all, this is an excuse to show off your design flare! Otherwise, carpet gives you a soft feeling under your feet, if a little less flexibility for decorating. Feeling a bit out there? Consider a stone or tiled floor, but make sure you put in heating or enough rugs to keep your feet warm!
Living room TV ideas
As tempting as it is to place the TV above the fireplace, we advise against it. Wherever you choose to place a TV, make sure you aren't straining to look at it. This would defeat the purpose of having a cozy, relaxing living room. Consider installing a cabinet beneath your screen to keep any messy cables out of sight.
Living room shelving ideas
Shelves are not just for storage. Use them to show off everything that makes you, you! Display photos or ornaments on them, or store your books safely. Asymmetrical shelves will give you a cool contemporary feel, as will a combination of open shelves and closed cabinets. As we've said before, they're the perfect option for decorating a smaller living room.
Corner decoration ideas for living room
Don't neglect the corners of your living room! Make the most of them. Corner shelving is a cool way to decorate and store books. If you've got green fingers and a large empty corner space, fill it with an extravagant vase and a big, friendly plant such as a fiddle-leaf fig.
Living room center table decoration ideas
Choose your center table wisely! A low table is perfect for socializing - share coffee and snacks while being able to see your friends. Fragile decorations are only advised for center tables in rooms that don't see too much traffic - if you're going for a vase, choose something sturdy! Otherwise, stick to decor with a low center of gravity such as tiles, elegant trays and cozy tealights.
We hope these tips have given you some ideas for decorating your living room. Above all, it needs to be somewhere where you're relaxed and happy. Choose decor that matches you and elements that put you in a calm state of mind. As always, show us your living room designs on Instagram and comment with your bright ideas!