Sometimes we have to transfer large objects from one place to another. Even if we have to move them a little bit, it still takes much effort, strength and time. Unfortunately, we feel disappointed with how much it takes to move a big piece of furniture or equipment and this job becomes a huge unpleasant task. In case we ask for help, we put ourselves and others to trouble, while in case we hire a service to do that for us, it might cost us quite an amount of money.
Therefore, we would like to introduce you 4 simple DIY ways to move large objects from one place to another easily. Save money and time, and do it yourself.
1. Machine Skates
Machine skates are thick pieces of steel with a particular number of wheels attached. If you are a handy person with metal articles, you will not probably find it difficult to craft them yourself. Though if you are neither in crafts nor wish to spend time making machine skates yourself, you can find them in shops under a name of an equipment roller or in case it is a whole set, then it might be called an equipment roller kit.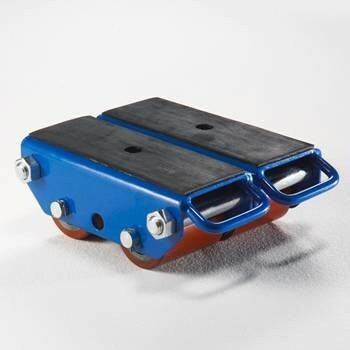 So, machine skates work very simply. Besides a particular number of machine skates depending on the size and weight of an object you wish to move, you will also need a toe jack.
First, you have to lift a corner of the object with a toe jack so that you were able to underlay a machine skate under the object. In order for the object not to slip from the skate, you can also put a piece of wooden plate on the skate and then underlay the skate under the object.
An important thing to note is that you have to consider the direction of machine skates while placing them under the object depending on where you wish to move the object. Once you place the skates, you are able to push the object and it will move in the direction of skates' wheels. You should remove skates using the toe jack to support the object and then lift it down easily.
You can see how it works here.
2. Furniture Moving Dollies
Furniture moving dollies are similar to machine skates and work similarly. You either have to place an object to a dolly yourself or use a toe jack to lift the object and place the object on it. Then you just need to push the dolly in order for it to move. Even though furniture moving dollies are a convenient means to transfer big objects though bigger dollies might be quite expensive, the price reaching a sum of several hundred dollars or more.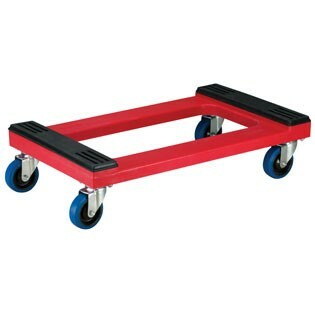 Though do not be sad, you can either rent one or choose a smaller dolly that costs less and might still work for you.
3. Plastic Sliding Sheets
At first you might not believe a plastic sliding sheet could bear a heavy weight though it is designed for it. Even though probably you will not be able to carry as large objects as by using machine skates, however plastic sliding sheets are extremely easy to use.
You just have to place an object, e.g. to roll it on the sheet or to underlay the sheet under the object you want to move and simply drag the sheet. You can also fix the object to the sheet with strings or attach it similarly depending on what you wish to transfer. Plastic sliding sheets offer a great advantage as you do not need to lift or carry the object instead dragging it which does not require that much strength.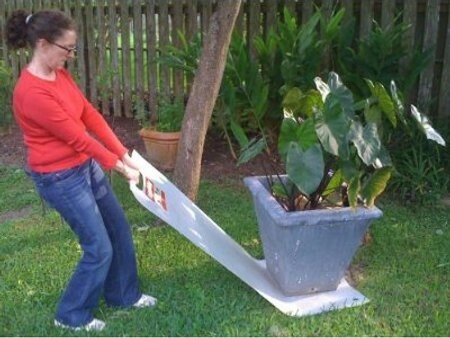 You can see how it works here.
4. Furniture Sliders
These little pieces do magic, actually a lot of it. A furniture slider is a small disk or a pad usually made of slippery material and looks like a little cushion. It is attached to furniture legs and bases of heavy appliances and helps them move easily. The pads differ in width, therefore, for smaller items of furniture use smaller sliders and for bigger items do use wider disks.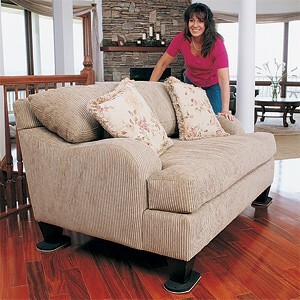 So, with the pads on the legs or on the bases of your furniture you can slide items much easier. You can also attach sliders on pieces of equipment like a fridge, a washing machine and others. Importantly, moving objects with sliders under them does not damage neither the objects nor the floor which often happens using other means to move larger pieces.
Found something of your taste or a have a better idea? Like the post and share it with your friends :).