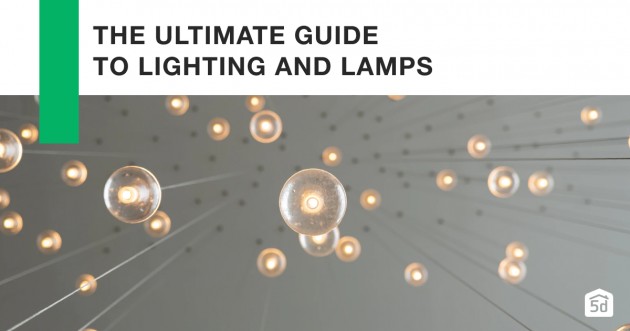 Convenient, efficient, and stylish. Let us explore the world of lighting and lamps including how to use them, where to use them, and the endless styles, sizes, and shapes they come in.
Lighting fixtures – especially lamps are vital in an interior as they create moods and atmosphere. In order to use lighting and, by extension, lamps, you first need to understand light. We continuously mention its importance for a reason. Take in the knowledge and read on to discover how to use lighting and lamps!
Lighting Types
Light is an extremely important element in the design as it sets the mood. There are two main types of lighting: natural and artificial.
Natural Light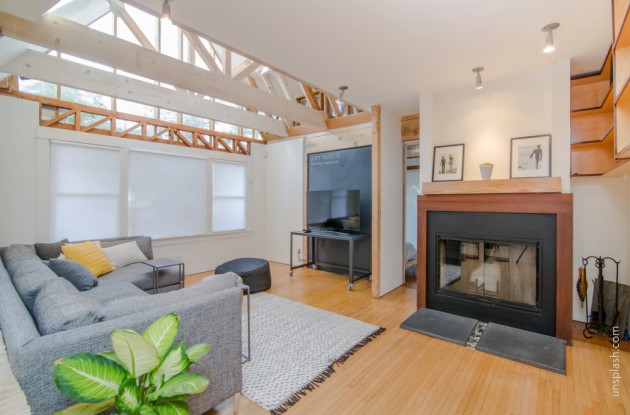 Natural lighting is great at showing off paintwork or wallpaper. Doorways pour in natural light and can be manipulated through curtains and shades to create any desired effect.
Artificial Light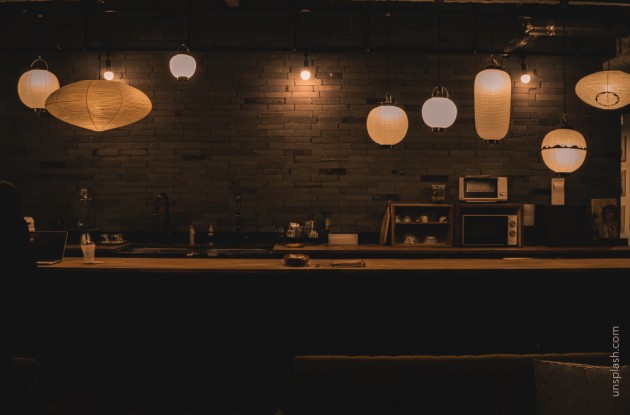 If the natural lighting isn't reliable enough or efficient, artificial lighting can come into play and actually works better in certain aspects. Accent lighting can be utilized to draw attention to a key point of your living room. While task lighting works exactly as it says, aiding in the completion of tasks.
Whilst being functional, lighting is important in the creation of ambiance and atmosphere. Used correctly, it enhances all of the design fundamentals and feels of the overall space. Although natural lighting is a great tool in itself, when speaking about lighting fixtures, installations, and lamps, we will solely be dealing with artificial light and uses.
Table Lamps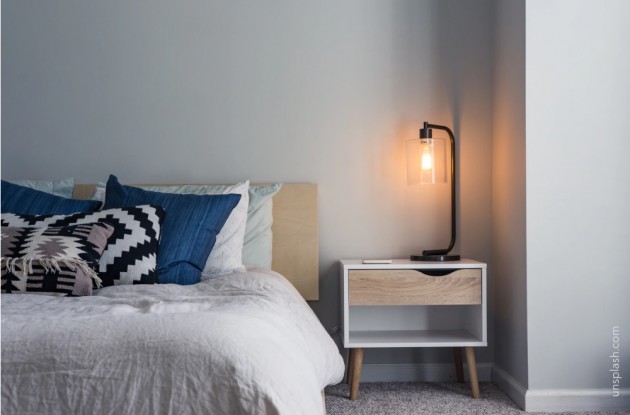 Table lamps are an excellent tool in defining zones within a home. For your living area, softer, calming lighting works best with your table lamps as many of us after coming home from work, school, or what have you, like nothing more than wrapping up, chilling out with a book or favorite TV show, and getting cozy under a soothing light.
While these types of table lamps may work well in living areas and bedrooms, they would not be the best option for a study or home office. Lamps are a great way to add extra lighting to your workspace but ambient lighting won't work well here. Task lighting in the form of table and work lamps will be a better addition. They are brighter and can be utilized to aid in completing a task, as well as keeping the mood less relaxing and more focused.
The great thing about table lamps is that they can come in all shapes, sizes, colors and styles. From small bedside lamps to bigger side table lamps, there is definitely an option for anyone's taste.
Tall & Floor Lamps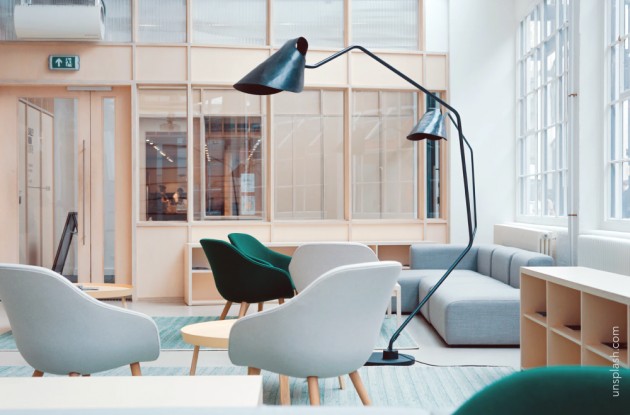 These types of lamps are a great weapon when it comes to design. They´re versatile and very practical and can make a huge impact on any room as they are one of the first "fixtures" chosen. After all, one of the oldest interior design tricks is using vertical space in order to make a place look bigger - with tall lamps you can utilize height to your benefit and minimize floor space.
Firstly, it's important to state they can be used for all lighting needs. Be it ambient, task lighting, or accent lighting, these types of lamps can function for any need.
This can be done individually or together as these tall lamps enable you to accomplish different things.
A beautiful floor lamp emitting ambient light would be the perfect addition to a reading nook or utilized perfectly to highlight an architectural feature you love. With their portability, they can be used in multiple rooms for multiple reasons.
Ceiling Fixtures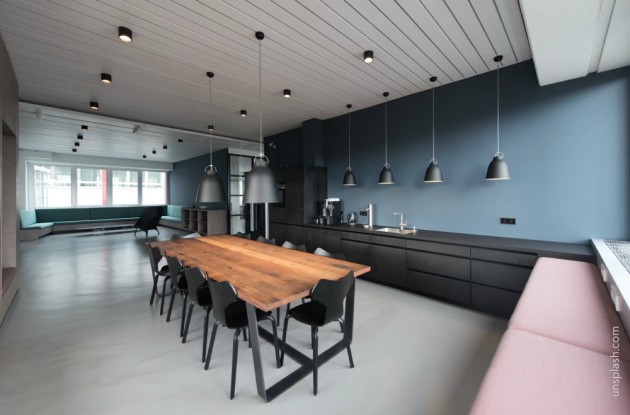 Designers tend to agree that one source of light in a room is usually not enough. You can mix up the lighting by making the most of your ceiling lights. With ceiling lighting, this is most commonly in the form of a fixture that is placed in the center of the room.
This central fixture is perfect for illuminating the entire space, of course, this is dependent on the type of fixture. If you want a bright room, go for a luminescent fixture that would work perfectly in a room that needs bright light, for example, the kitchen. Kitchen fixtures can also come in the form of multiple lights that can be maneuvered to point and highlight different parts of the kitchen.
For rooms that need more soft lighting, you can still utilize the central space but opt for something more ambient and cozy. A simple shade would do the trick and of course, an incandescent bulb or bulbs. This would work great in a living room or a cozy reading space.
You could also utilize the ceiling space for lighting by installing a row of lights that can be used for accent lighting. If you have an art piece - or multiple pieces, this would work great. Or even if you have a focal point in your room, this type of light would help draw attention and make it stand out!
Wall Fixtures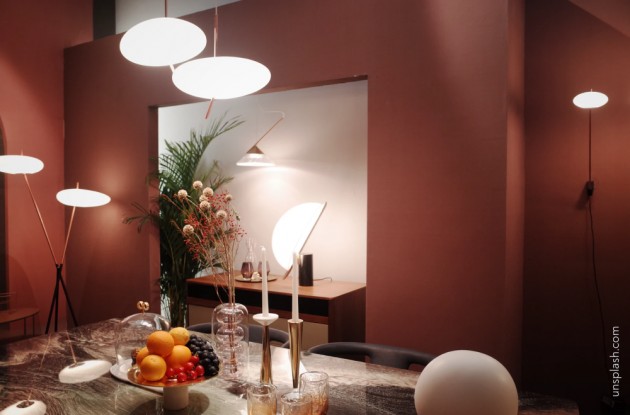 Wall lighting - commonly known as sconces, is another tool that designers use to maximize vertical space, save on floor space and make a room look bigger. They also have the added addition of being used to light the room in whichever way is needed from them.
They are a lot like table lamps, but minus the use of a counter, table, or desk space. One downside, however, is that once they are installed, there is very rarely any changing them. You can't move them from one wall to another the way you can move a lamp from one room to another, or one table to another. Hence the need to be careful when choosing design and area of installation.
These come in all shapes and sizes and offer styles ranging from modern and minimalist, to traditional and rustic. Depending on what you want to achieve, these are great assets. Hanging a painting you want to highlight? Some over or under-wall sconces lighting up the artwork would work amazing. Or maybe you want two bedside lamps but want to save on table space, wall sconces come in perfect here!
Vintage Lighting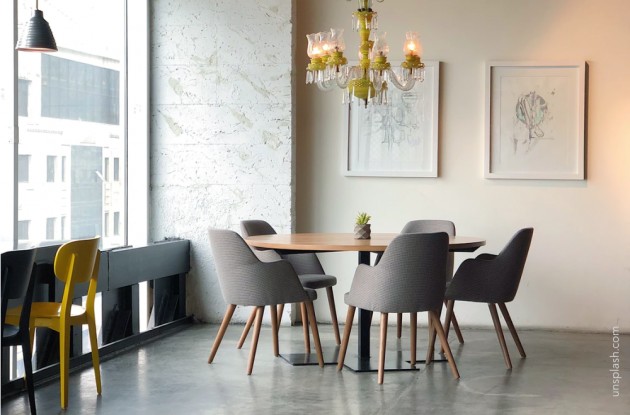 Now you have the basics down about how to use light and where, this is when the style part comes in. Vintage is a trend that doesn't seem to be going anyway and this also includes lighting and lamps in an interior.
Primarily used to create a cozy atmosphere in a home, vintage light fixtures are used to portray an "olden day" vibe. If you want some vintage luxury, this can be in the form of a beautiful chandelier, or if you would prefer a more country vibe, a hand-painted table lamp.
If your interior style is leaning more towards vintage, you´re sure to find a lamp that will work amazing in the room. If your living room harkens back to the 50s, fabric lampshades will help with that authentic touch. Although they may provide less lighting than modern lamps, they too create an interesting atmosphere and add a certain depth and charm to the room.
If you´re going for a hippy vibe, floral lampshades can work well here, or even a lamp decorated with linen. This would either collaborate or contrast in the design and will help add a unique chic-ness to your room that can work well with some other vintage pieces, like furniture.
Modern Lighting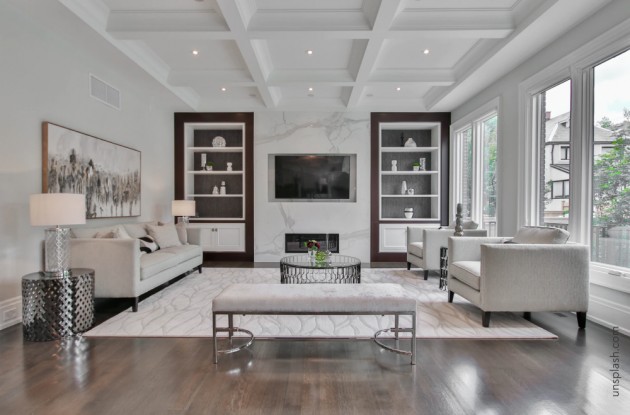 While lighting is there to illuminate and add beautiful accents to any office or living space, modern lighting gives the added benefit of character and can transform a room into a spectacle.
While the modern can take inspiration from retro and vintage lighting ideas, they tend to use this as a basis to propel the ideas into the future with the use of green tech, renewable/sustainable energies, and lighting that is all-around more efficient.
If you want to add a modern touch to your kitchen with lighting, LED wraparound lights can work great in illuminating the areas but also creating a futuristic vibe. If you want to live cozy but also modern, interesting fixtures in geometric shapes can provide a unique touch.
Another quality of modern lighting that you may either love or hate, is the use of colors. Lighting in the home has usually always been shades of white and yellow, depending on the need, but now colors like blue, green, and red are being utilized to add a twist on the necessity of lighting.
Entryway Lighting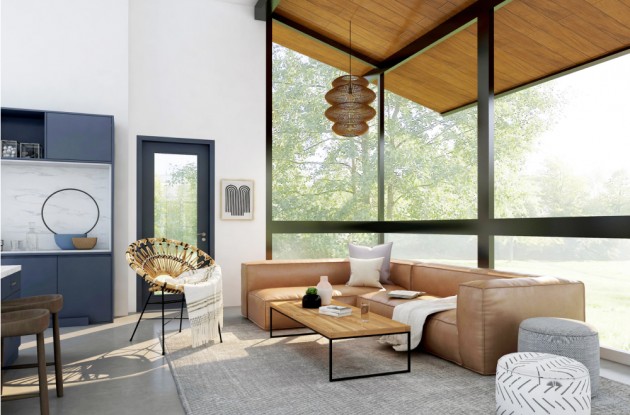 This is the first impression of your home and therefore is one of the most important. No one wants to be welcomed into a dark and cold foyer, so here it is vital to create a warm and welcoming effect. Wall sconces would work perfectly in this area.
Dining Room Lighting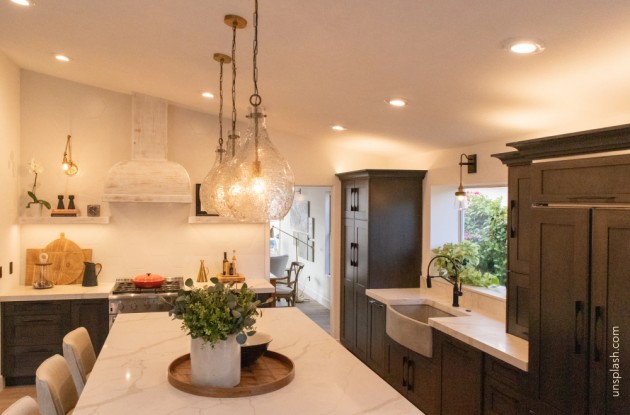 If you have a dining room or dining area, it's important to light it correctly. It's a relaxed zone so strategically placing some pendant lights overhead will light up what needs to be illuminated while the use of dimming lights can create ambiance in the room. Perfect for entertaining guests!
Bathroom Lighting
Most of us start our day in the bathroom so it should be a peaceful space that is clean and welcoming. It is a relaxation area where we can unwind and have time to ourselves before we get on with life. With bathrooms, it's important above all else that they are not dim. Bright lights here work best and installing spotlights in the ceiling is one way to keep the room illuminated, clean looking, and sleek.
The correct lighting can make a room and create depth and character, depending on how you use it. It has the power to change space from small to big, from cold to warm, and from uninviting to welcoming, so it is no wonder that it is one of the more important parts of interior design.
The biggest takeaway? Be sure to select lighting that will coincide with the style of a room but will also be functional and work well in the room where it is placed - after all, it's all about the ambiance!