43 Bedroom Ideas to Make It Cozy and Spacious
No matter the size of your bedroom, there's a way to make it feel simultaneously spacious and cozy. Read on to find out how to make your bedroom a sanctuary for sleep and relaxation.
There's little better than snuggling up in a cozy bed after a long, hard day. That's why your bedroom should be a place you look forward to returning to. It should be peaceful, calming, and beautiful.
No matter the size of your bedroom, there's a way to make it feel simultaneously spacious and cozy. Planner 5D has you covered – read on to find out how to make your bedroom a sanctuary for sleep and relaxation.
Advantages of a bright room
The ultimate way to make your bedroom seem spacious is to choose a room that benefits from a lot of light. Large windows ensure that natural light comes in – make sure that your windows are unobstructed and that your curtains and blinds open easily. If you don't have a lot of natural light in your chosen room, painting your room in light colors allows what little light there is to reflect around the space.
Hang a large mirror
The best surface for reflection is, of course, a mirror. A mirror adds depth to your room and creates the illusion of more space. It makes your room seem brighter and has the added advantage of being a decorative feature. Hang a mirror that matches your aesthetic – whether that's glamorous and gilded or something more minimalist.
Use textures to your advantage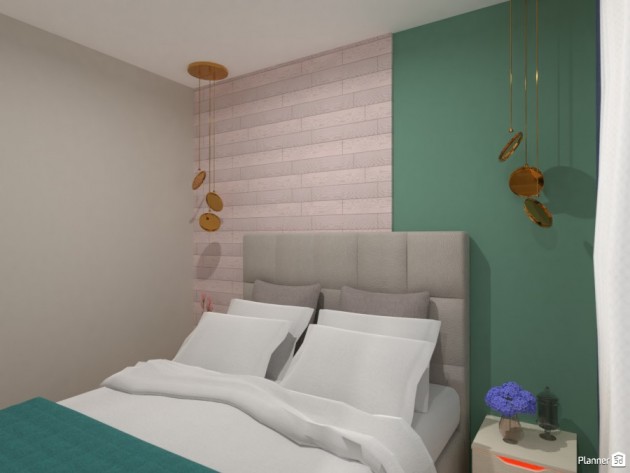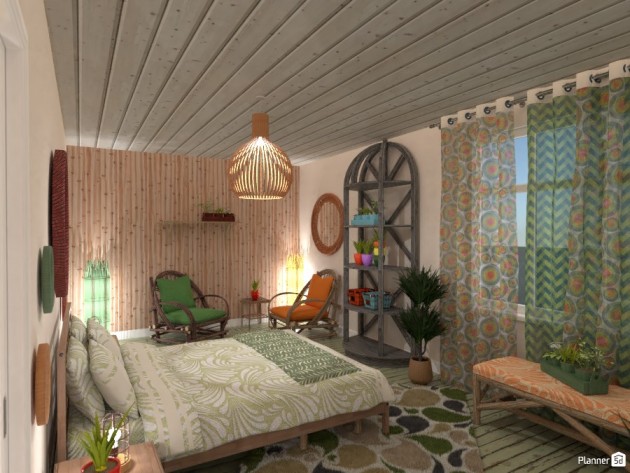 Mix up your textiles for even more coziness. Your bedding should be luxuriously comfortable, but don't forget your other furniture. Could you incorporate soft cushion covers or a tactile headboard into your bedroom design?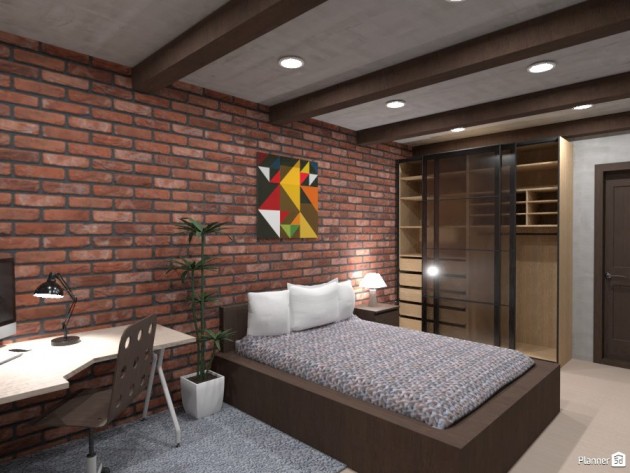 Choose a color palette
Planning your color palette is an excellent way to begin imagining your space. The right colors can create a fantastic atmosphere and a tranquil place to rest.
Blue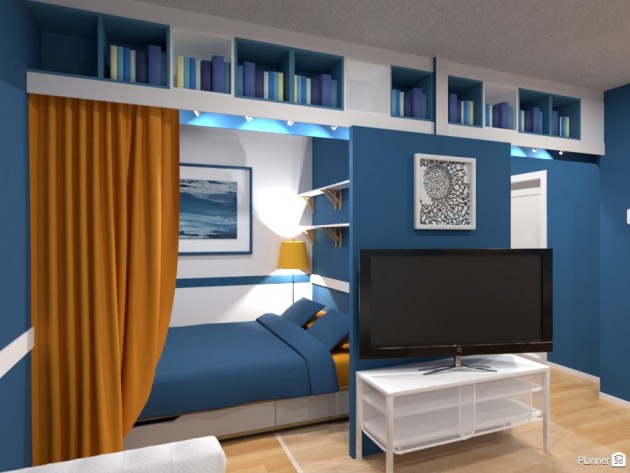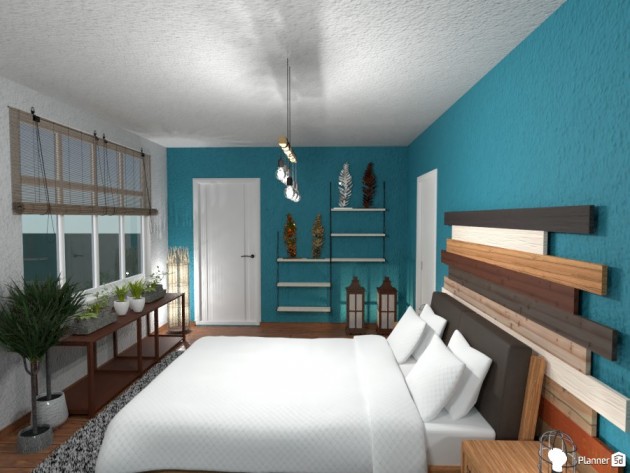 Blue is a real favorite for bedrooms at the moment. Classic Blue is Pantone's color of the year. This shade is reminiscent of the evening; relaxing and reflective, you'll be asleep in no time.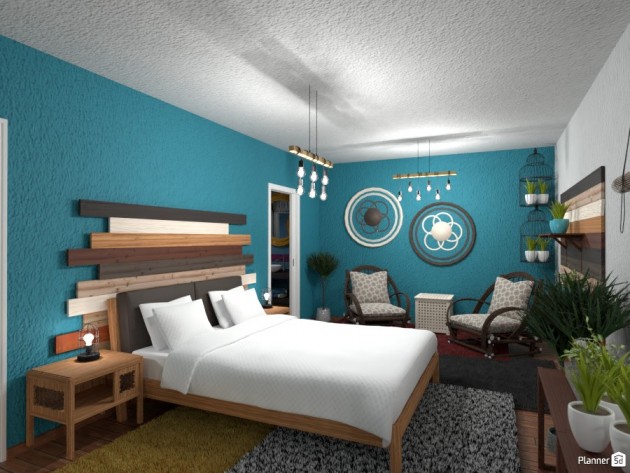 If Classic Blue isn't your thing, there are so many other shades to choose from! Cornflower blue, for example, is versatile and works well in small spaces.
Gray & other neutrals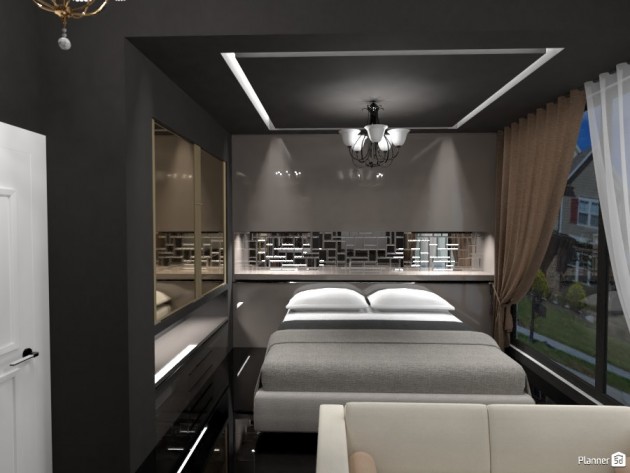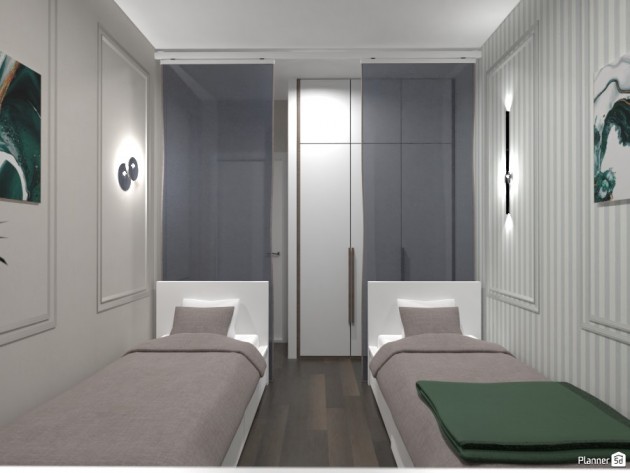 We'd be lying if we said gray wasn't having a moment. It goes with almost anything! Pair dark gray with reflective surfaces for instant glamour. If you're worried about your bedroom looking too cold, opt for grays with warming undertones and pair them with brighter accents.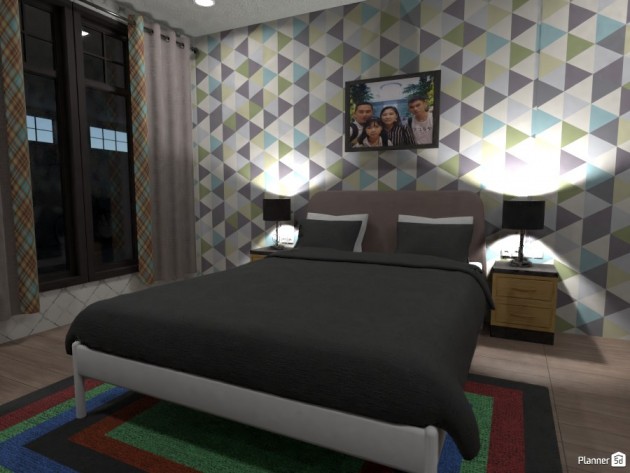 Neutrals always offer a calming atmosphere. They're tasteful and versatile and reflect a lot of light, thereby making your room feel spacious.
Red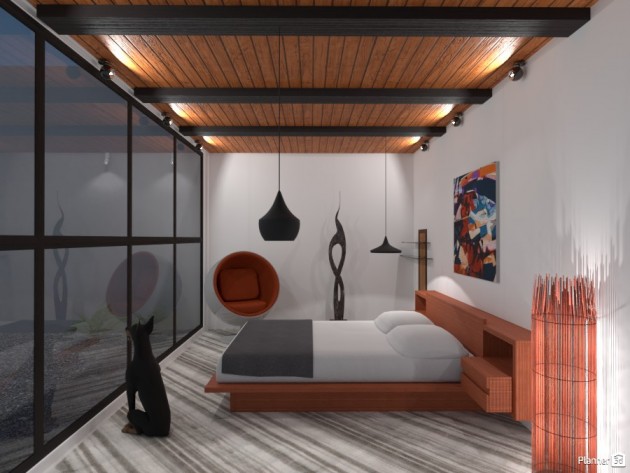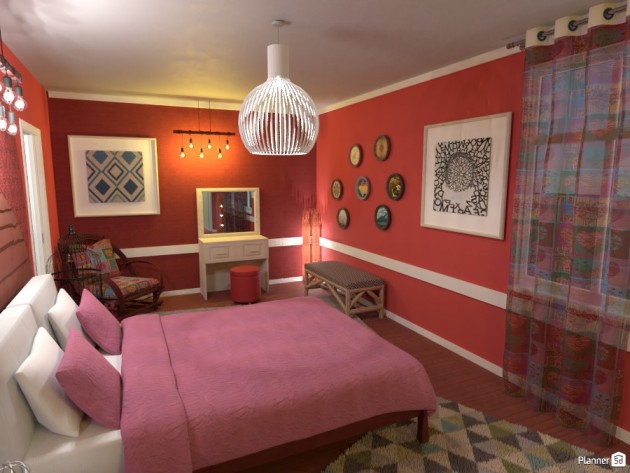 If you want to add drama to your bedroom, paint it red! But be careful: red can be overwhelming in large doses. If you don't want your bedroom to look like Tommy Wiseau's apartment in The Room, use it tastefully. You could, for example, color your accents red, or paint a feature wall.
Green
If blue is too cold and red is too passionate, why not go for green? It's peaceful and puts your room in harmony with nature.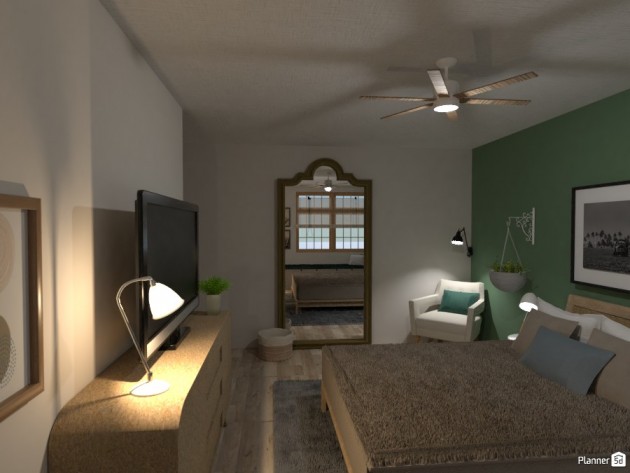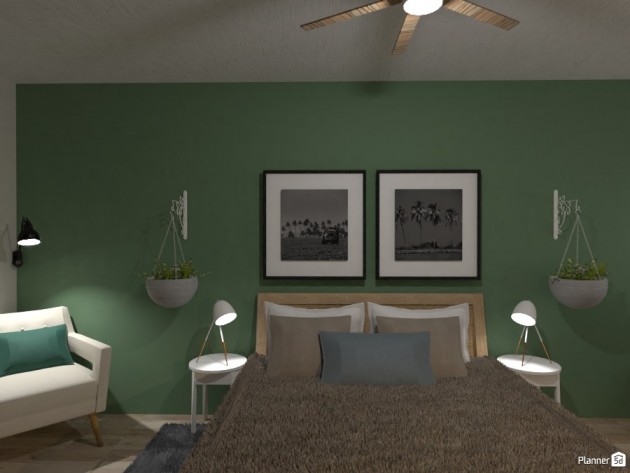 As always, there are several shades to choose from. If you want a calming, neutral color scheme that's easy to style, opt for sage or seafoam. For interior designers who want to make a statement, use green in accents such as teal, olive, or emerald.
Black and white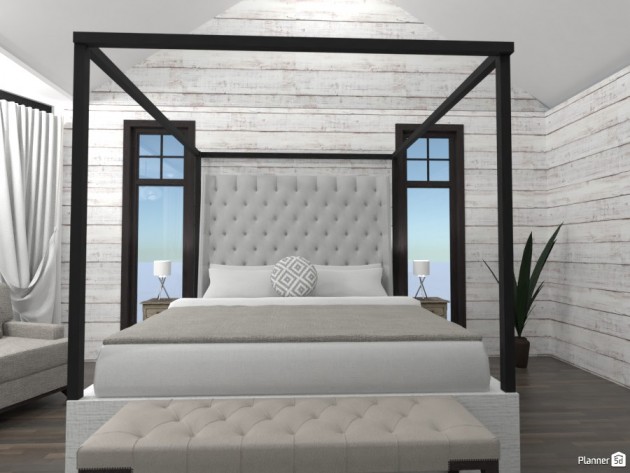 We'll tell you all about how to style this below! You'll see that monochrome doesn't have to be cold and dull – a modern bedroom can also be cozy.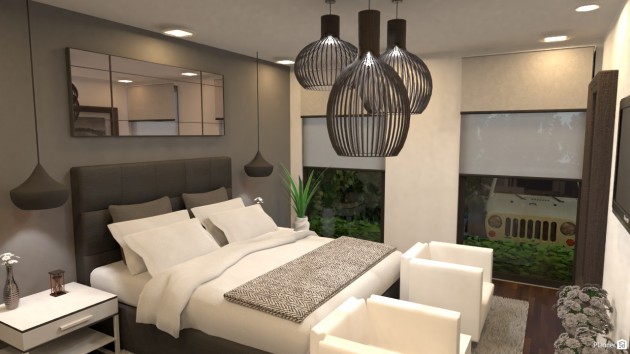 If you can't choose a color, why not consider how you want to feel in your bedroom? It should be a calm, pacifying space. A neutral color is a very safe option – beige is calming but also gives you room to play with colorful highlights in your furnishings. Other soothing tones include sage green, dusky blue or pink, or even a lilac for something brighter.
Keep it artsy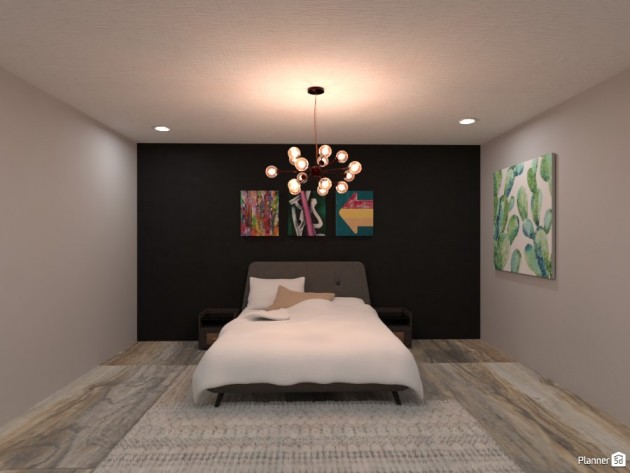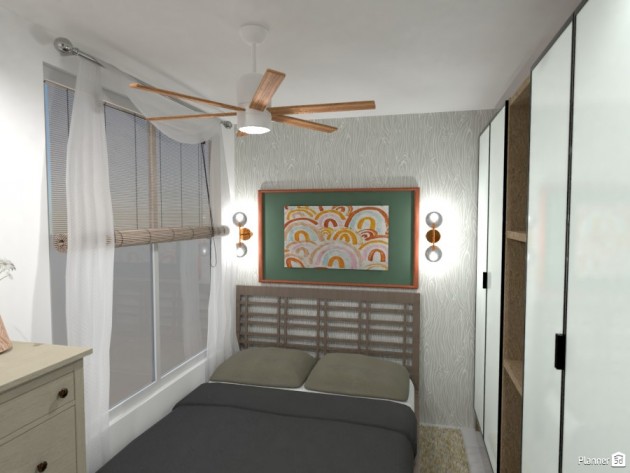 Just because your bedroom is a private place doesn't mean you can't decorate with artwork. It's a place you can choose your personal favorites to display. Choose either one large artwork as a focal point or a few smaller pieces that you can put on rotation. Make sure it's something you're happy to wake up to every day!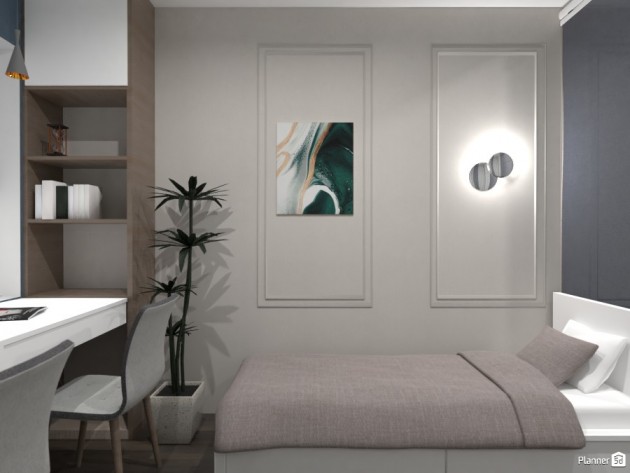 Another trend we've seen recently is hanging mobiles – they're not just for kids.
Patterns on the walls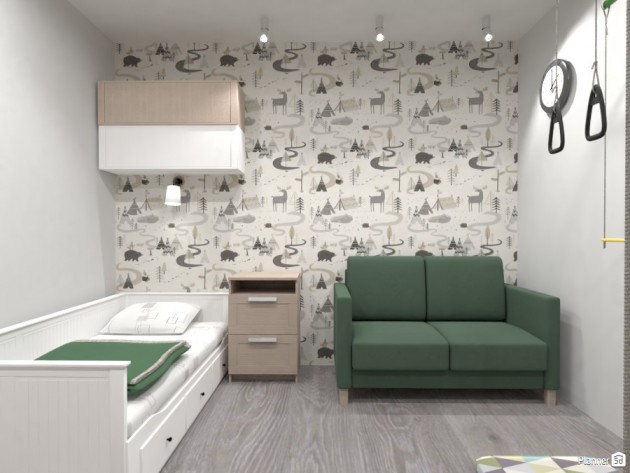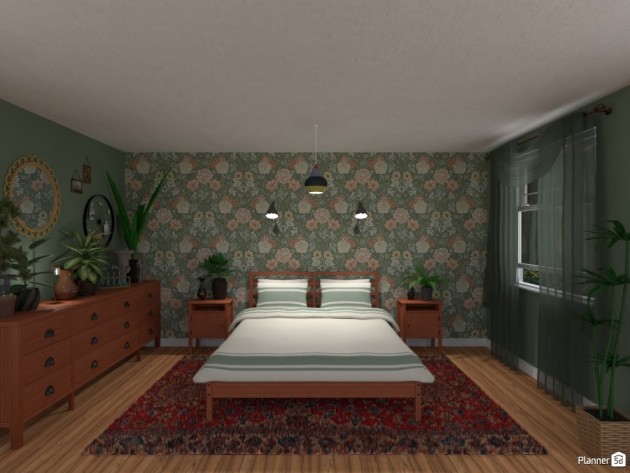 Patterned walls are a fun way to decorate. Choose a wallpaper that matches your color scheme, and apply it on the wall behind your bed. It gives the room more depth, and patterns with vertical lines make your room look taller.
Place a rug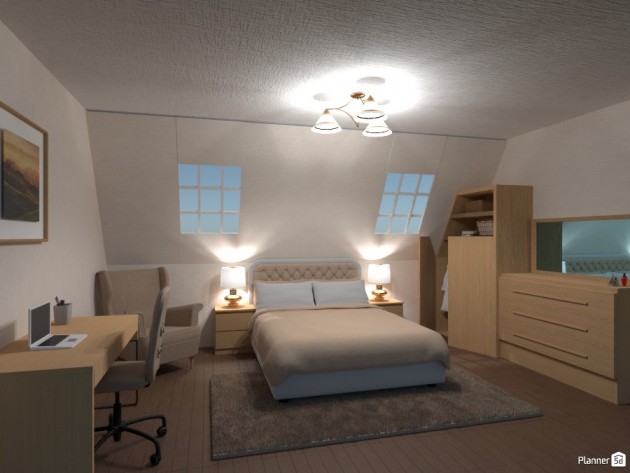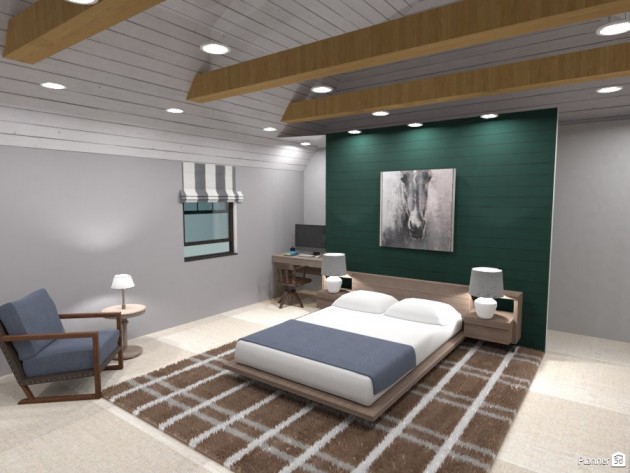 Rug placement can transform your room. In a small space, a rug creates extra comfort and coziness. You can use mats for 'zoning' in a large room – perhaps place one under your bed to anchor it. It breaks up the space and make it seem cozier.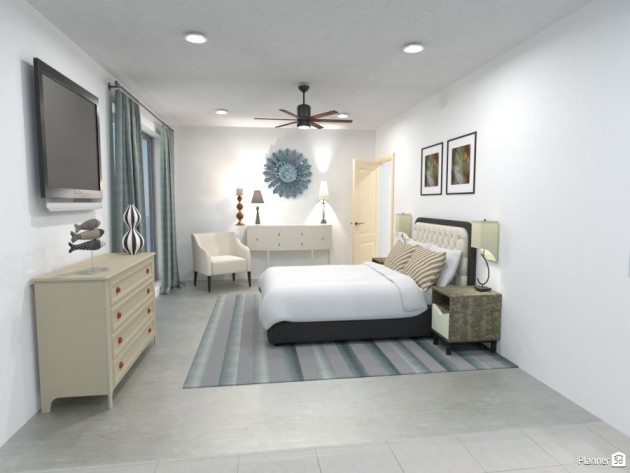 Which rug should you choose? A plush carpet makes your floor feel extra cozy in a small room, taking away some of the coldness under your bare feet. You can mix and match to create intrigue in a larger space or try out coordinated, patterned rugs.
Place accents with plants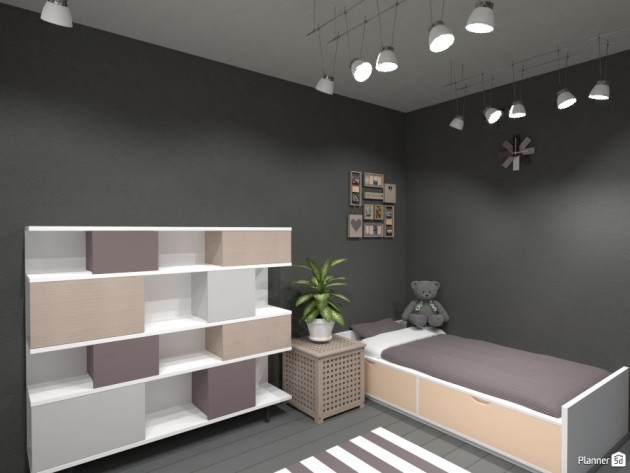 Indoor plants have so many advantages! If you've been missing nature this year, it's a great way to bring your interior to life.
Consider placing plants on a corner shelf for decor, or even hang them from the ceiling, making the most of vertical space in a smaller room. Plants are a great way to decorate light corners, especially in a larger room.
Black and white look
Black and white is a fashionable and contemporary combination. If you're not convinced that your bedroom can be cozy with a monochrome color scheme, think again!
White creates a light and airy bedroom – after all, it reflects the most light. Use black accents to make your room look dramatic without taking too much light away.
If you want to go bolder, consider a black headboard or patterned wallpaper. If you still find monochrome too cold, consider small pops of gold in your furniture, or use subtle shades of other colors to bring in some warmth. Mixed textures also work well.
Add decorative lighting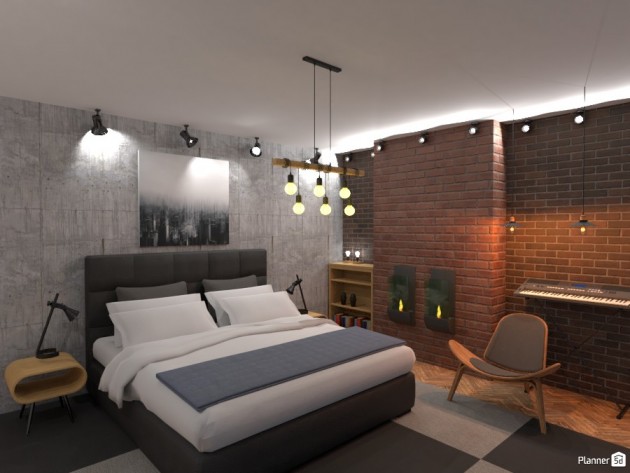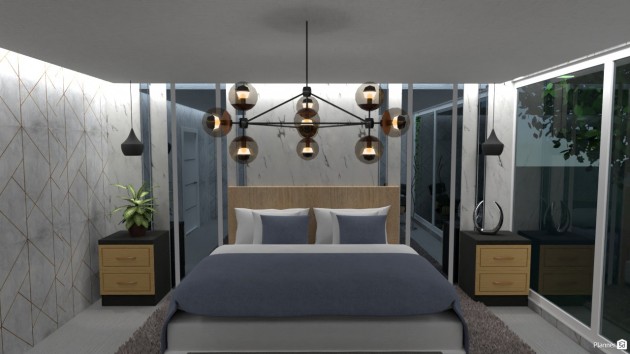 At the very least, you need a light source to light the room as a whole, plus a bedside light. No one likes having to walk across a dark room to the light switch! For a larger bedroom, use several light sources to create different areas, and if you have a mirror, make sure the space around it is well lit.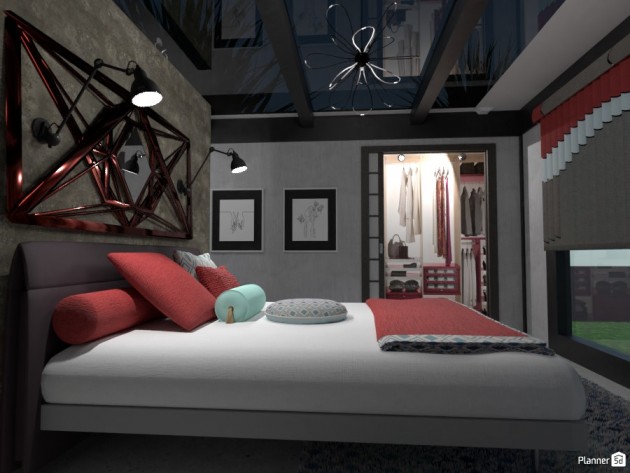 Decorative lighting is a great way to brighten up your room. It's a way of decorating that saves space with multi-functionality. Choose effective lighting that brings you joy.
How can I design my room?
Designing your bedroom doesn't have to be overwhelming. Below, we outline some of the best ideas for laying out your room, whether big or small. We also tell you how to style a rustic bedroom, a bedroom for teenagers, and a romantic boudoir.
Simple layout ideas
There are three simple rules when setting up your bedroom:
Place the bed first. It's in the name – you can only call it a bedroom if there's a bed in it! Not only is it the most crucial piece of furniture, but it's also most likely the biggest. Make sure it fits in the room and then place the rest of your furniture accordingly
Put your bed where you can see the door - you will feel safer and your doorway will be clear.
Make sure there's space on either side of your bed. There should be room to walk around it, but this might not be possible in smaller interiors.
Master bedroom design ideas
While you have more room in a master bedroom, the possibilities might seem overwhelming. We'll show you how to narrow them down.
Our most important tip is to zone the room, especially if it's long and thin. Try putting the bed in the middle of one shorter wall and then using rugs and lighting to create separate areas for seating, dressing, and relaxation.
What is the best layout for a bedroom?
The best bedroom layout depends on your space and your taste. Here's what to remember:
Balance your bedroom – try to avoid clustering furniture. If your room is big enough, place furniture opposite your bed to create a symmetrical layout.
Make your space functional – there should be enough room to pass by all of your furniture. Use the corners and verticals! Place furniture according to when you use it – if you can fit a wardrobe in your room, make sure there's a mirror nearby.
In a large space, create 'zones' using lights and rugs.
If possible, keep your bed away from the window – you'll avoid being too close to noise or bad weather. (It's also good for your feng shui).
How to make a small room look bigger
A small bedroom is perfect for a cozy nook to sleep in, but no one wants to feel cramped. Here are some tricks to make your space more spacious.
Get the light in! As we said above, large windows, light colors, and mirrors are some quick hacks.
Be ingenious about space – hang or mount your lamps. Store your books in tall, narrow shelving units, and use the area under the bed for storage.
Keep it tidy – make sure everything has a specific place and avoid clutter.
Modern bedroom designs
How do you create a contemporary yet cozy space?
Use sleek colors but keep it cozy – you can opt for 'colder' colors such as grey and silver, but make sure you include lots of textures. The contrast is exciting and looks luxurious.
Keep it simple – stick to the furniture you need. Pared-down furniture creates a minimalist look.
Make the most of the structure – if you have metal window frames or wooden beams in your bedroom, this can add an industrial touch.
Rustic style decor
Who doesn't want a bedroom that makes you feel warm and at one with nature?
We love wood – as usual, include as many natural materials as possible. Cotton rugs, faux fur throws, bare floorboards – it's all rustic and fantastic.
Get snuggly – after a long day in the great outdoors, sleep somewhere restful and warm. Lay a thick rug on your floor and cover the bed in blankets.
Technology's out – a rustic bedroom should just have what nature intended: a comfortable bed and perhaps some tasteful décor. Move the TV or computer to another room if possible.
Decorating girls' bedrooms
Teenage girls are learning to express their individuality, but still want to fit in with their friends. Here's how to decorate accordingly.
Let her choose – while you might need to help her with the logistics of decorating, let her tell you her favorite color. Unfortunately, it might not be a shade that makes the room appear spacious, so use her preferred hues as accent colors.
Consider a neutral base – this allows her to update her bedroom if her taste changes.
Personalize – teenagers are all about showing off where they've been and what they've been up to. Frame some of her favorite posters, concert tickets, and photos.
Ideas for a boy's bedroom
Personalizing also works in a teenage boy's room - here are some more of our tips:
Center it around his hobbies – whether he's into football, reading, skating, or something completely different, give him space to showcase what he enjoys.
Allow space for friends – teenagers always want to spend time with their buddies. Place bean bags or chairs for them to sit and gossip.
Use grown-up details – as teenagers get older, they expect you to treat them like adults. Consider decorating in a modern color scheme with a few personal touches.
Romantic room ideas for couples
There's more to bedrooms than just sleeping if you know what we mean. Here's how to make yours incredibly romantic:
Make your bed cozy and comfortable – a luxurious mattress and a thick, soft duvet, and you'll never want to leave.
Up the privacy – you could try putting curtains around the bed, hanging a canopy, or decorating to make it feel like a quiet haven for you and your partner.
Consider deep colors – while red is associated with romance, plum, emerald green, and purple are some other dramatic hues that evoke emotion and passion.
How can I design it online?
Use Planner 5D, of course! Planner 5D allows you to experiment with your bedroom décor, or even design the bedroom of your dreams. Visit us online to find out more.
What would your ideal bedroom look like? Let us know below, or share your renders with us on Instagram.