The Best Walk-in Closet Ideas, Design, And Inspiration
While creating your walk-in closet might seem like a challenge, it's worth it. Read on to find out why you should consider installing one, and how to do it yourself.
Let's face it, we all dream of having a walk-in closet like Cher's in Clueless or Carrie's from Sex and the City. A room dedicated to your clothes and getting dressed is the ultimate luxury. It's also useful – it frees up space in the rest of your house.
While creating your walk-in closet might seem like a challenge, it's worth it. Read on to find out why you should consider installing one, and how to do it yourself.
How to get started with designing your walk-in closet
Plan, plan, plan. The first step is to think about what you want to keep in your walk-in closet. Someone with a minimalist set-up will need something different from someone with an enviable shoe collection. Choose a space in your house based on how much you need to store
Then you can plan the basics: the shape, storage, something to sit on, and mirrors. Below, we'll explain how to organize the basics.
Long and straight, square, or a u-shaped walk-in closet?
You have a few options when creating your walk-in closet, and it depends on how you want to set up your shelving. If space is no object, consider a u-shaped walk-in closet or even a square one! Place the seating in the middle of your dressing area as a place to admire your clothes.
Walk-in closet themes
Just like in any other room in your house, your walk-in closet should reflect your style and personality. Even if it's somewhere you only visit when getting dressed, it should be somewhere you don't mind spending time.
If you're a minimalist, stick to a neutral or monochrome color scheme. Otherwise, go wild with your theme and colors – it's a relatively private place, so you don't need to play it safe. If your children will be using the walk-in, why not give it a theme like 'animals' or 'space'? Make getting dressed fun, no matter your age.
Light it well
Your walk-in closet deserves to look as great as you do. Ensure that there is a good light source in it that displays your clothes clearly and allows you to see your reflection in all its glory. As it's probably smaller than most other rooms in your home, the right lighting will stop it from feeling dark or dingy.
Mirror, Mirror in the closet
You've gotten dressed, but how do you look? Lighting is essential, and so are mirrors. Choose a full-length mirror so that you can see your whole outfit. If you are also using your walk-in closet for hair and make-up, invest in a practical magnifying mirror. Hang good lighting so that you can see what you're doing, no matter how intricate your eyeliner is.
Somewhere to sit
It's much easier to put your shoes on when there's something to sit on. If you're a 'shoes indoors' household, a walk-in closet needs a low seat to do up buckles and laces before heading out.
Seating also makes you more stable when you're doing your make-up. Consider a comfortable, adjustable swivel chair so you can easily spin to reach the beauty products you need.
Make storage simple with a wire rack
If you're looking for a cheap and cheerful solution to make your walk-in closet work, why not try a wire rack? It's more easily adjustable, and you might even be able to buy a purpose-built set.
How to store jewelry
Of course, the primary consideration in a walk-in closet is your clothes. But don't forget the smaller details such as jewelry. There are several ways to store it – consider hanging necklaces from pegs on a pinboard. Keep your rings and earrings safe in small baskets or a segmented drawer. If you want to keep your jewelry on display, why not invest in some attractive dishes on your dressing table?
Love your vertical space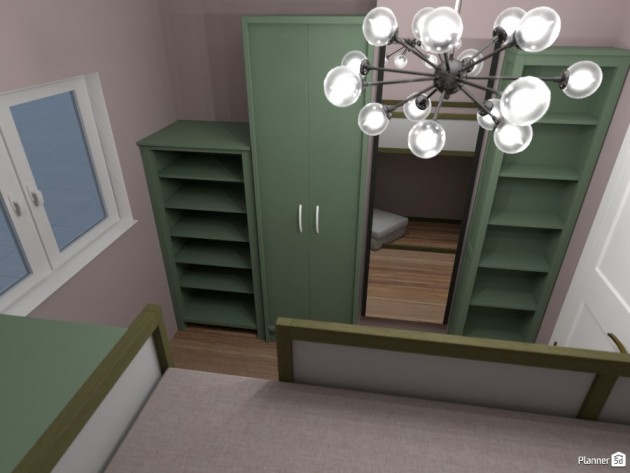 Walk-in closets of every size can benefit from vertical space. Top-to-bottom storage is highly efficient and looks luxurious. Utilize all the room you have available, such as the space below your hanging clothes and shelves closer to the ceiling.
Play with levels
If you don't have space for a traditional walk-in, consider a loft bed with room underneath for a wardrobe that you climb into in the morning. Your walk-in closet can go anywhere, whether it's in your bedroom, below your bed, or down some stairs!
Care for your knitted items
Prevent snagging at all costs. Allow your knitted, delicate items enough space so that they won't get caught on anything. Choose coat hangers covered in a soft material and fold scarves before hanging them up.
Where to keep your shoes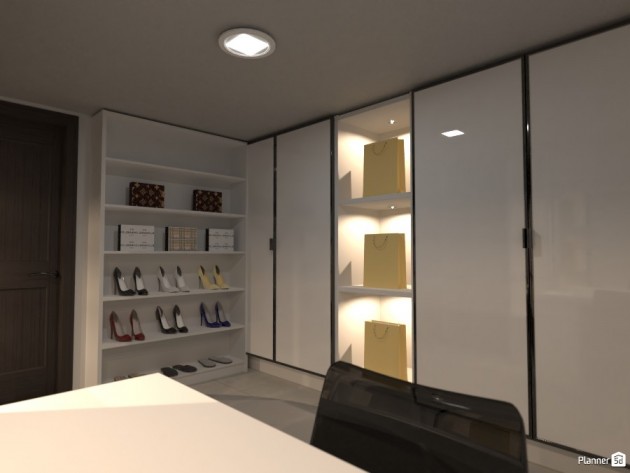 Shoes deserve to be the pride of place, just like your clothes. High heels can be stored on a rack or even hang from a horizontal pole. You don't have to bend down to reach your shoes – use that vertical space! Keeping shoes at eye level helps you see all of your shoes more quickly and uses space effectively. Don't forget to include a comfortable seat where you can put your shoes on.
Kids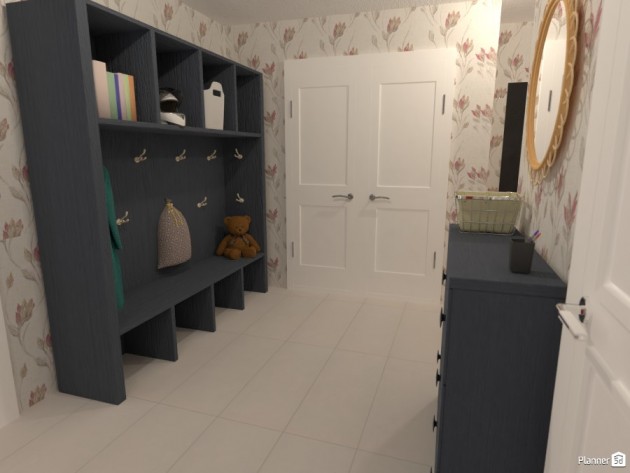 Babies, kids, and teenagers can all enjoy a walk-in closet. The first rule is that flexibility is vital. Keep all shelves at a reachable height and make sure there's room to adjust as their clothes get bigger! Get the kids used to put everything back in its place wherever possible.
Closet shelving
You can usually rearrange shelves, but it's a good idea to decide on where you want to put them in the planning stage. What can you use them for? They're great for shoes and any clothes that can fold rather than hang. Use wooden shelves for a classic look, and glass for an added luxurious, contemporary touch.
Bedroom closet ideas
Having your walk-in closet next to your bedroom is extremely handy. Go in in your pajamas and come out fully clothed! It stops your bedroom from becoming cluttered, making it an even more relaxing and peaceful place to sleep.
Hall closet ideas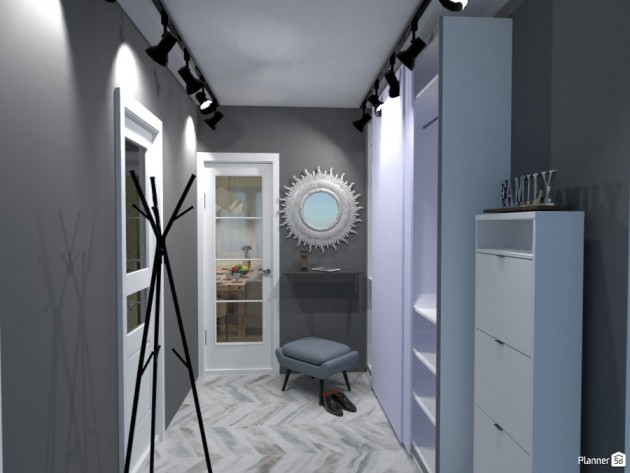 If you don't have room in your bedroom for a walk-in closet or it's just not convenient to put it there, why not install it in the hall? This way, you can share it with your family or anyone else living in the house. Keep it as near to the bedrooms as possible.
Keeping it minimal
If you have limited space, or just need an excuse to tidy up and strip everything back, redesigning your closet is a great way to do this. During the planning stage, assess how much clothing you have. Is there anything you don't wear anymore? Consider donating it or selling it.
Or make it fancy
On the other hand, if you have plenty of space, think about creating a luxurious boudoir. Opulent touches such as a chandelier, a huge closet, and velvet cushions are a fantastic way to feel like royalty. A dressing table with a large mirror creates an even more regal feel.
Cheap but customizable
If you want a walk-in closet, but you're worried about price, consider buying shelving units from IKEA. You can customize them by putting them together at a height that suits you and paint them the color you like. PAX and KALLAX are both great options.
Contemporary and chic
How modern can you go? Monochrome styling works for many rooms, and a closet is no exception. Keep the space clear and minimalist, and think about using LEDs to draw attention to your items.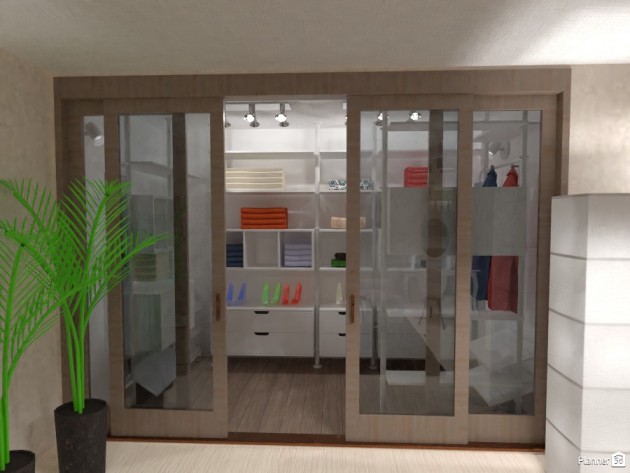 Make it yours
One way to bring in your style is to build your walk-in closet from customized items. Consider using storage in an inventive way and go for colors that suit you. After all, although the look matters, it doesn't need to be to everyone's taste, as it is a room solely for you.
Storing suits in a walk-in closet
If you're a professional who's always on the go, make sure your walk-in closet has space for your suits to hang carefully and your shoes to stay free from scuffs. Keep your walk-in closet minimal - while it should still feel visually appealing so that you start the day right, you don't want to get distracted.
White walk-in closet
White is an excellent color for a walk-in closet. It reflects a lot of light, and it also helps bring brightness, especially if you have a small space.
Play with lighting
Make your walk-in closet genuinely unique. One way to do this is to customize your lighting. Your walk-in closet should be well-lit so that you can see your beautiful reflection. But you can also find exciting ways to use lighting – mount LEDs above your hangers and consider using spotlights on your shoe shelves.
If you don't have room for a real walk-in
Smaller space and no spare rooms for a walk-in closet? There are a few ways of creating a separate area to keep your clothes and get dressed. Choose a corner or wall and split it from the rest of the room, using a curtain, cool divider, or even a piece of furniture.
FAQ
We've dealt with a lot of the different types of a walk-in closet that you can build. But what about the practicalities?
How do I design my closet?
The most crucial consideration is planning. What clothes do you have? How many pairs of shoes? And what space do you have available? That's when you can begin choosing the shape, size, and way of decorating your walk-in.
What is a good size for a walk-in closet?
Any size goes. As long as you have room to store your clothes safely, a place to try on your clothes, and a mirror, you have what you need.
How much does it cost to build a walk-in closet?
Again, that depends on your wants and needs. If you're buying shelving and a curtain from IKEA, you should be able to complete the project for a couple of hundred dollars. More extensive projects that take up whole rooms will cost far more, depending on how much you need to remodel your space. Expect to spend up to a few thousand.
Are walk-in closets advisable to be installed in small spaces?
If you have space, do it! It's quite a good idea, as small rooms are often challenging to keep clutter-free. Having the extra space dedicated to clothes and dressing takes a lot of pressure off the storage in your bedroom and elsewhere in the house, leaving you with a more spacious bedroom.
What are easy organization tips for a small closet?
Here are some tips:
Make sure everything has its own space. Decide where each item will go and stick to it. You'll save time and space when looking for it, and you'll also be aware when it's time to add more space.
Use every inch! Don't let your hanging clothes have space underneath them. Install shelves for shoes and accessories.
Be aware of what you wear and what you don't wear. One hack is to turncoat hangers around when you have worn something – it's a visual reminder of what you use. If you find that you haven't worn an item in several months (or even a year), donate it, and you'll save space.
We hope you're inspired to create your own walk-in closet! What are your favorite organization hacks? Share them with us below, and don't forget to share your renders with us on Instagram!