Summer is here, can you believe it? It's time to get outside! If you're lucky enough to have your own outdoor space, get out there and make the most of it with Planner 5D's selection of patio ideas.
A patio gives you a place to appreciate great weather. It's comfortable and convenient - not only is it a pleasant place to sit, but it's great for all kinds of activities: from reading to barbecuing to enjoying cocktails with your friends.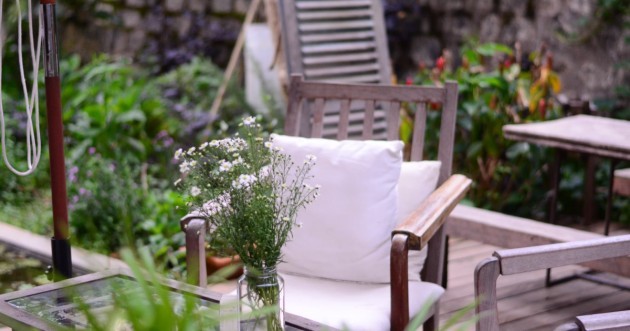 The two essential features are suitable surfaces (such as paving stones or gravel) and somewhere to sit. If you have more room, add a table, plants, and other features. Perhaps you want your patio design to tie in with the rest of your garden. Not sure where to start? Planner 5D has got your back - read on to find out about the different types of patio and what you need to make yours fabulous.
Outdoor patio design ideas
If your patio is not covered, choose a weatherproof material for your outdoor furniture such as wrought iron or hardwood. If you're into outdoor dining or even want to include an outdoor kitchen, consider how you'll keep your equipment protected from rain, wind, and even the sunshine. You could also place furniture with a weatherproof frame and bring comfortable cushions outside when the weather allows. Living in a rainy country doesn't mean you can't enjoy some luxury.
Do you have a garden? We'll talk more about landscaping ideas later, but think about how your patio links to the rest of the garden. Will it admire the rest of the garden, or will it be a cozy nook to snuggle up in?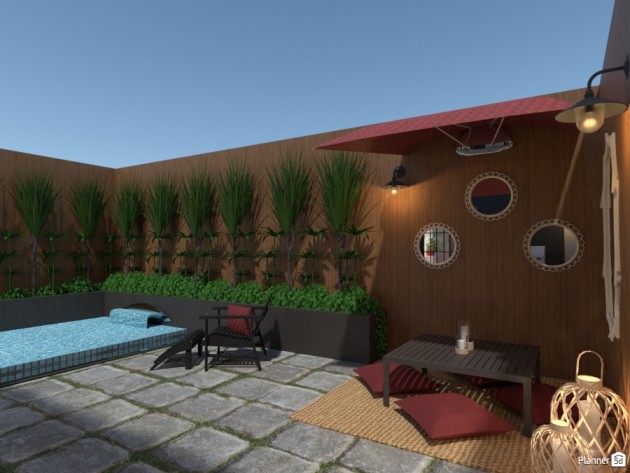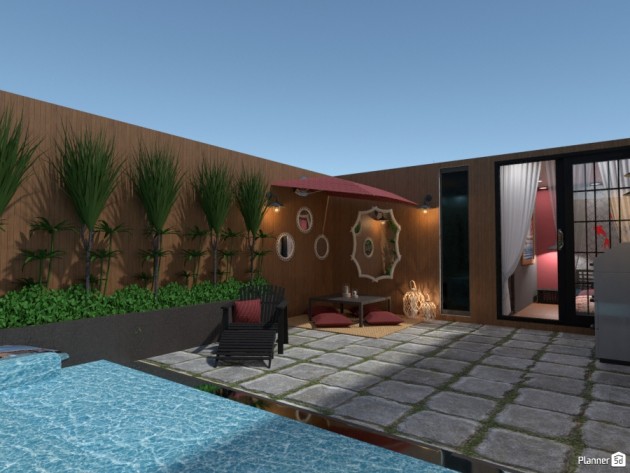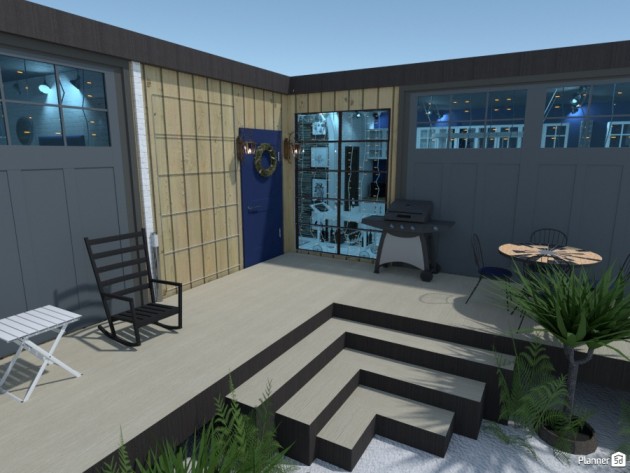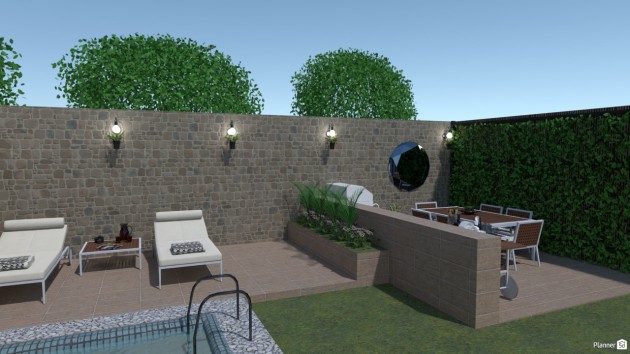 Covered patio design ideas
A covered patio involves more work, but it provides protection from rain or scorching midday sun. The material you use for a cover depends on the weather - if it rains a lot, consider a tiled roof that extends from your home. If your patio is separate from your house, perspex is an option - it provides protection from the rain and allows in more light than other covers. Opt for cloth or wood if you're in a warmer climate; otherwise, you might feel like you're sitting in a greenhouse.
A pergola offers intermittent shade and acts as a decorative structure, especially if you use it for vertical planting.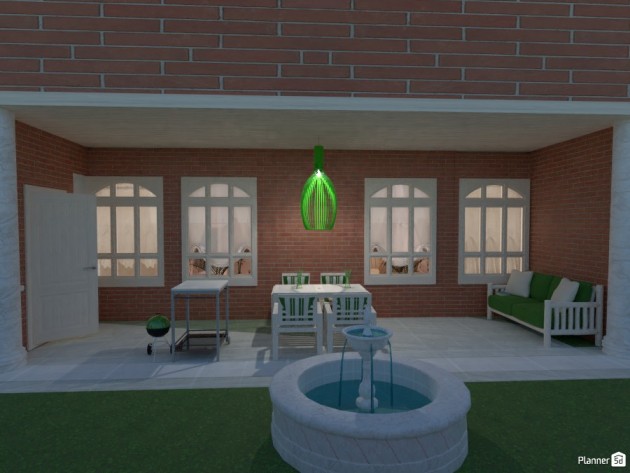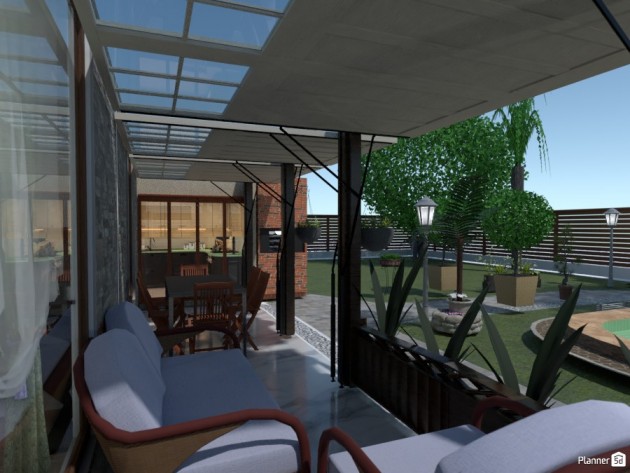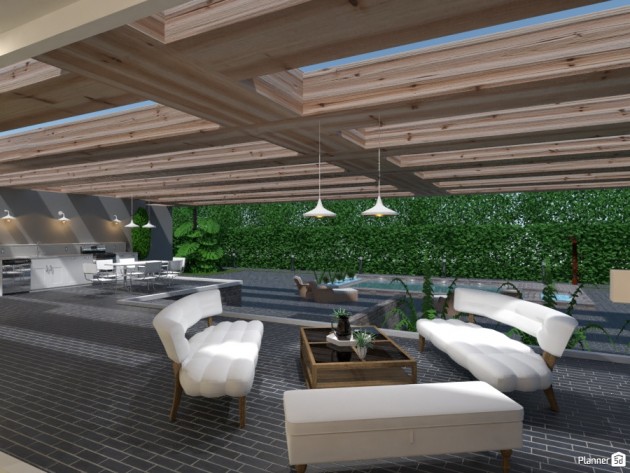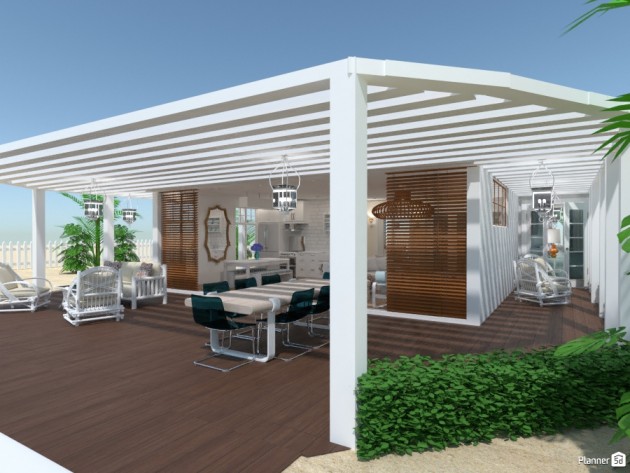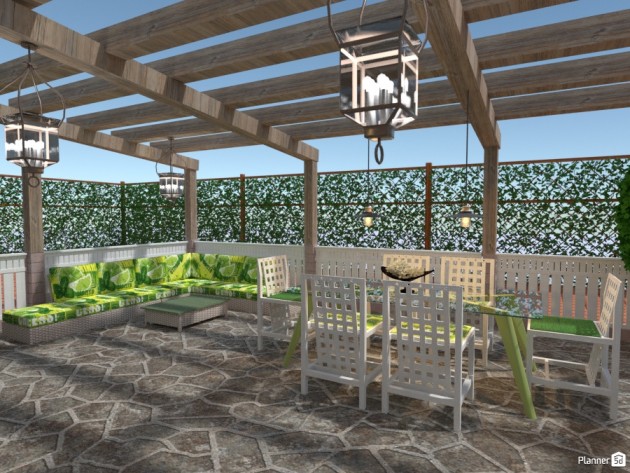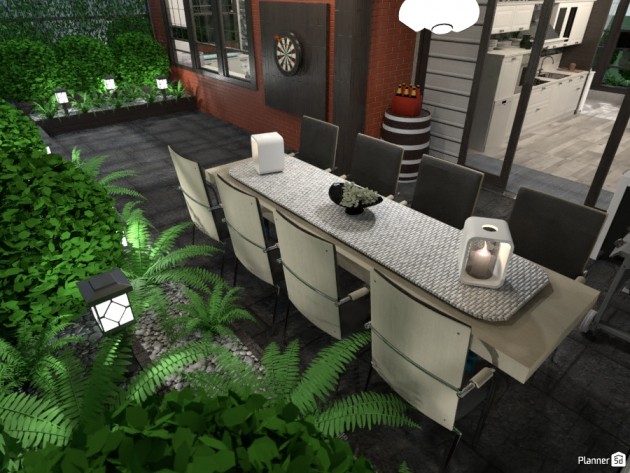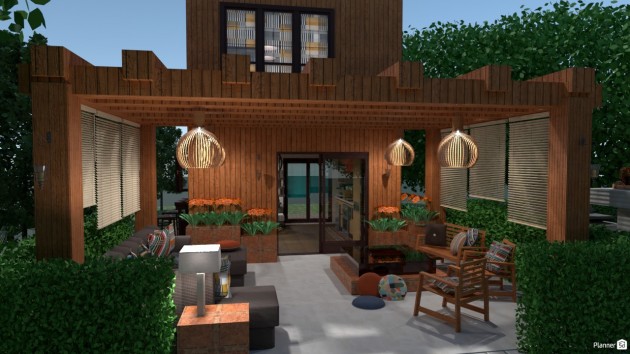 Patio garden ideas
Combine your patio thoughtfully with your garden. You can experiment with a garden at different levels, or perhaps keep it on one level and link it with a stone pathway. If a patio or a balcony is your only outdoor space, make this area into a garden. Create a small raised bed for flowers and vegetables if you have room, or place potted plants in the corners for decorative, natural features.
If you decide to include a small wall to separate the garden zone from the patio, consider doubling it up as a bench for extra seating.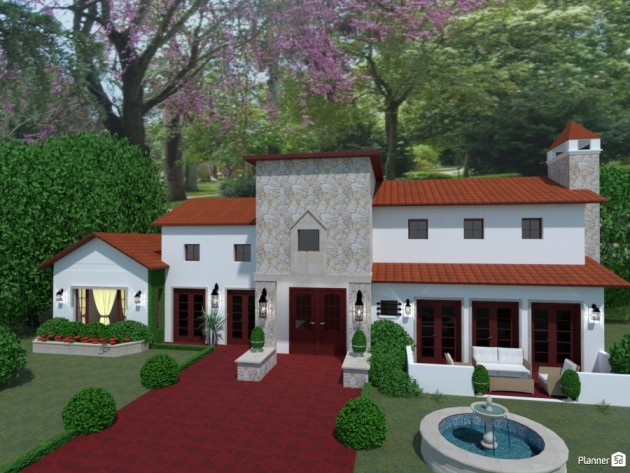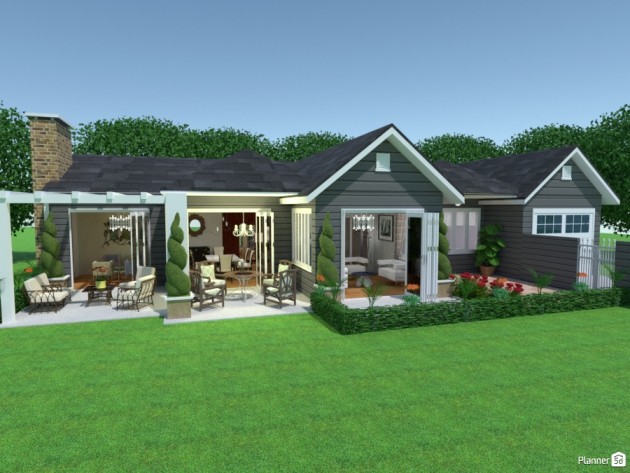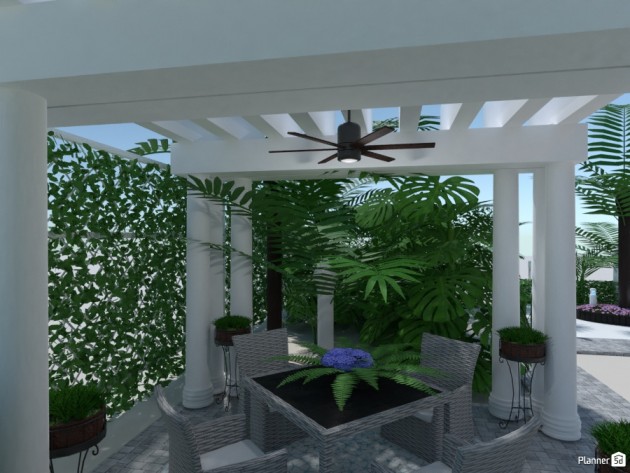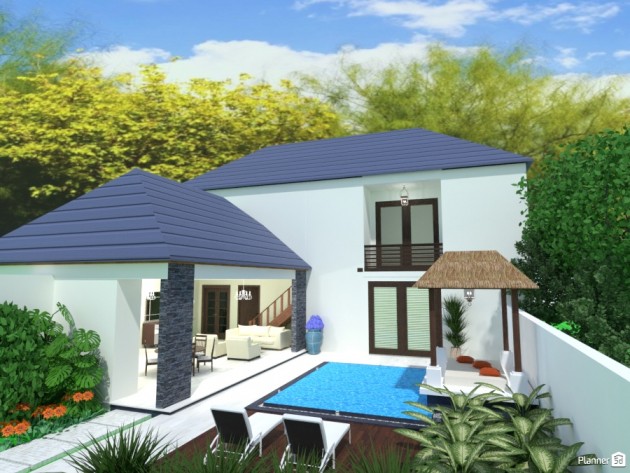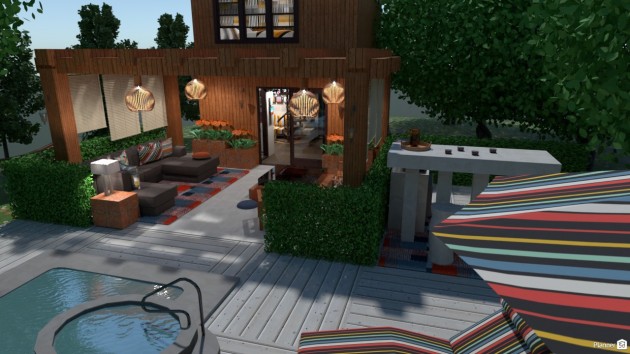 Small patio ideas
Tiny patio? It can still be magic! Try out some of our hacks.
Source a long, thin table or do away with it altogether! Most important is a seating area. Choose furniture that matches and is designed to fit together - this way, you can save space by tucking the chairs neatly under the table. If you're really stuck for space, consider a wall-mounted bench.
Decorate with light colors to enlarge the space, and use bright ones for some interest. Hang fairy lights if you want to make it really cozy!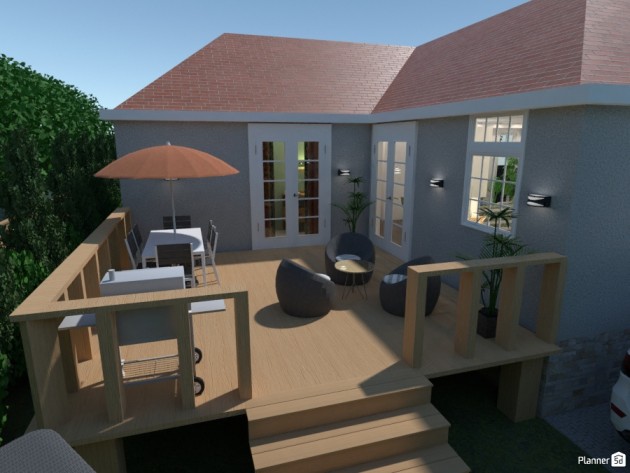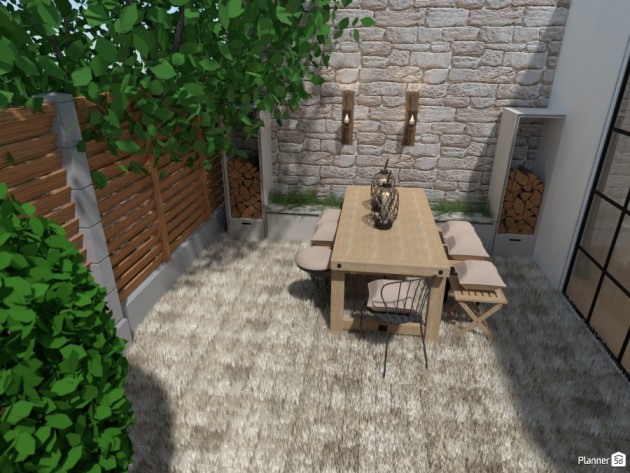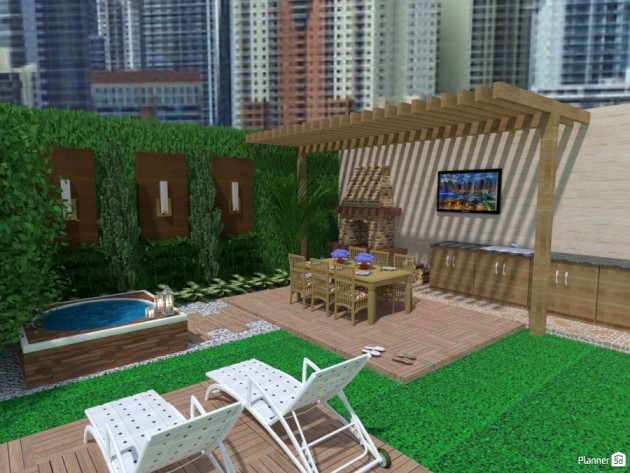 Modern style
Modern doesn't have to mean plain. Look to Love Island for ways to include futuristic neon color: enjoy it with LEDs or low-hanging strings of outdoor lights. Place strips of lights under the edges of benches or walls for a fun, contemporary look. Add a fire pit for a little drama.
For a more timeless, sleek exterior, choose bold designs with neutral colors. A concrete patio is simultaneously dramatic and uncomplicated. Why not include sculptures or dazzling stainless steel garden furniture or fencing? Bring your patio into the first summer of the decade with clean lines, low benches, and mesh furnishings. Top it with comfortable, simple cushions.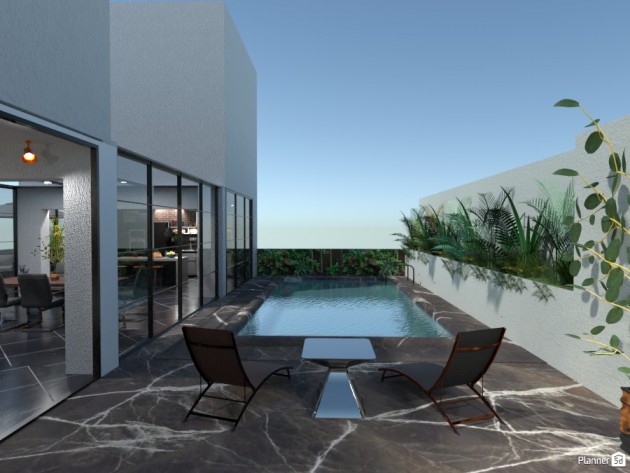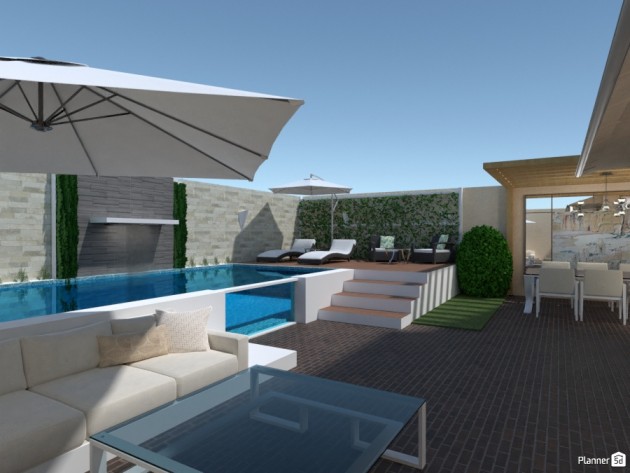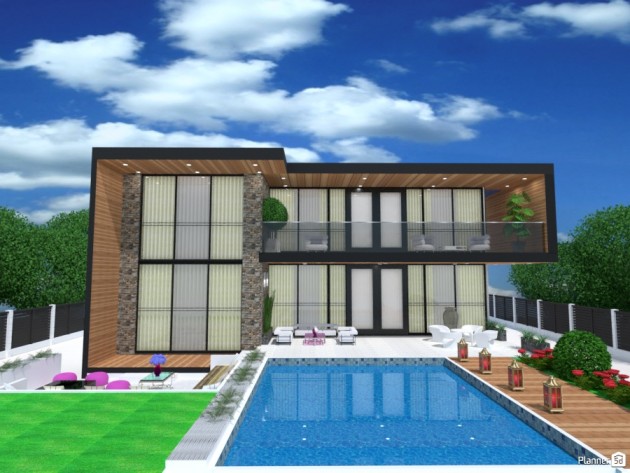 Simple patio ideas
If you're a patio minimalist, cut it right back to the basics. Lay a paving stone floor or lower your costs by covering the ground with small pebbles. A simple, matching furniture set makes your patio look neat and tidy. If you want to bring in some natural touches, choose low maintenance potted plants.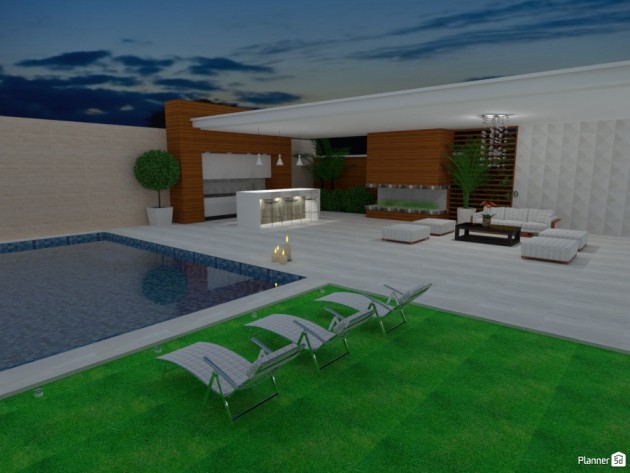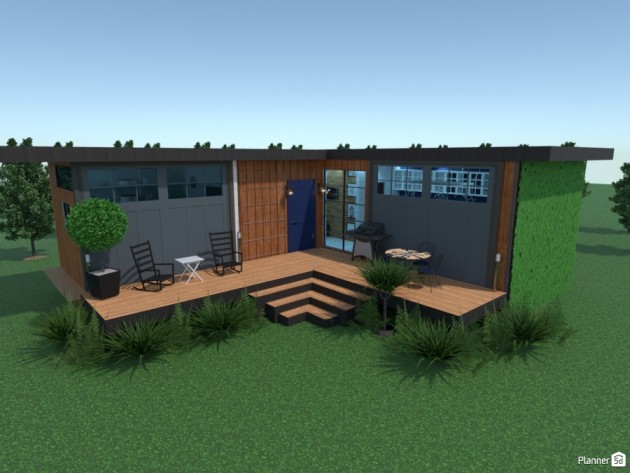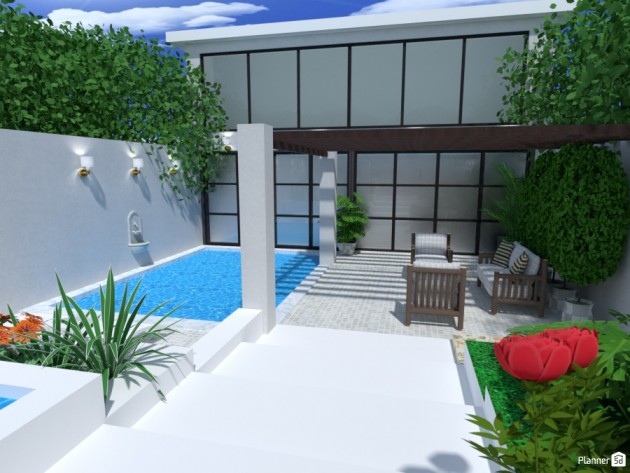 Rustic patio ideas
We love all things rustic! Get cozy with natural materials. Wicker furniture with robust cotton and polyester cushions is one way to transport yourself to the countryside. If you have a covered patio, include wooden beams and a fireplace.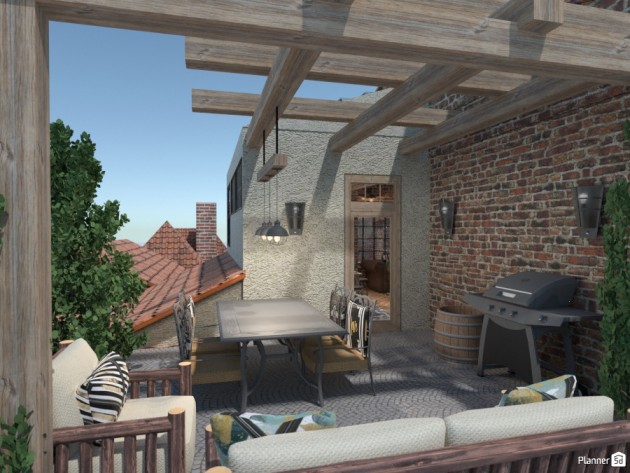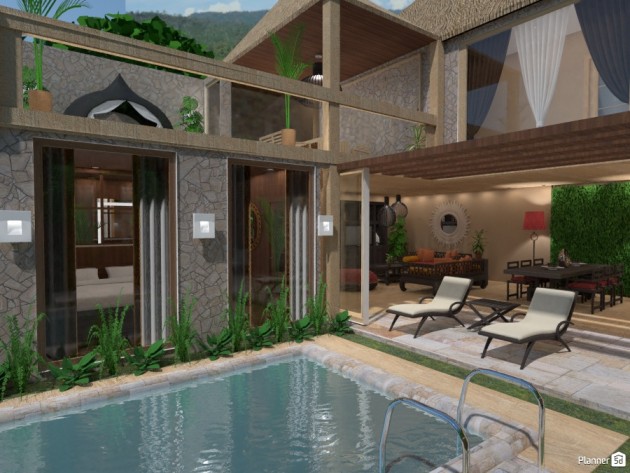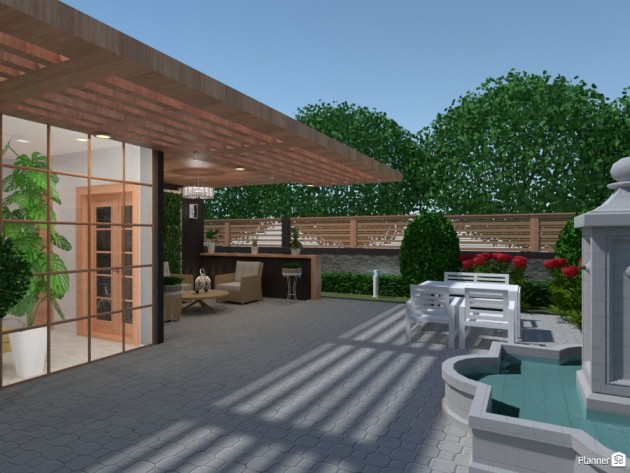 Landscaping ideas
Landscaping is all about how you plan your outdoor space. You need to ask yourself a few questions before starting. Where will your patio be located? How will it fit in with the rest of your exterior and your home?
Anyone with an outdoor space can have a patio, even if their garden isn't flat. In a sloped garden, create several levels with paths or steps between them and devote one to a terrace.
A garden can also be divided into zones - use hedges, small walls, or a raised patio to separate the different areas. Make sure it's easy to transition between the patio and the rest of the garden. You can match the patio style to that of your home - use straight, smooth lines for a modern feel or make it match a rustic house with a less formal layout.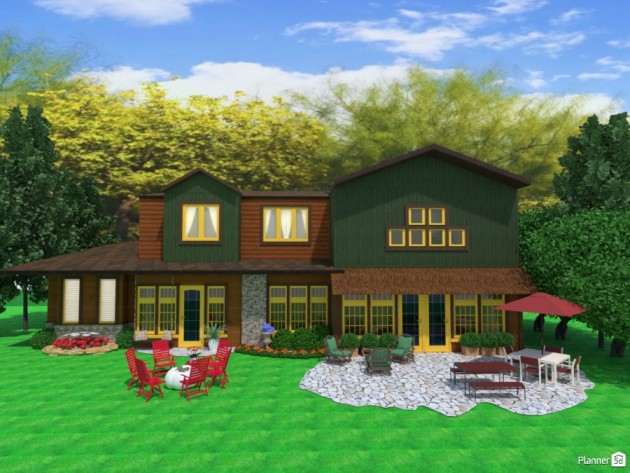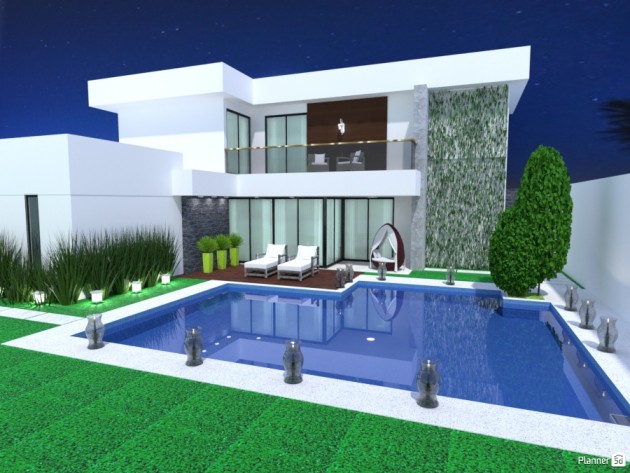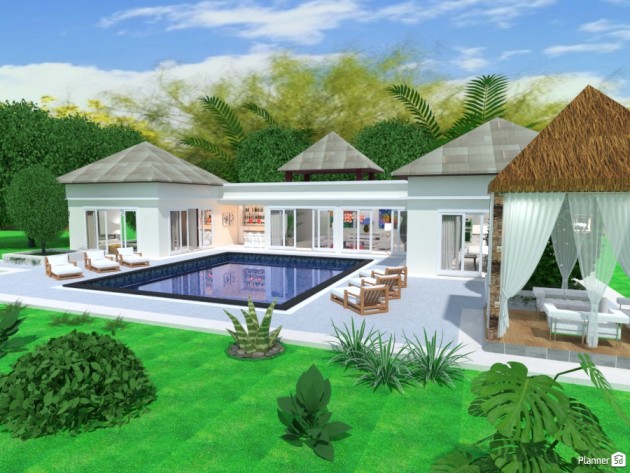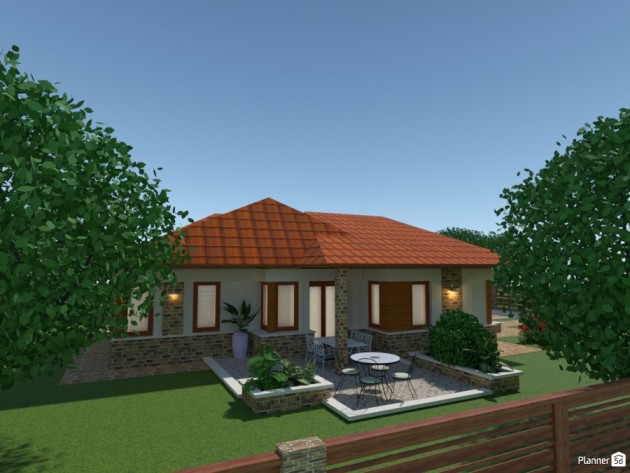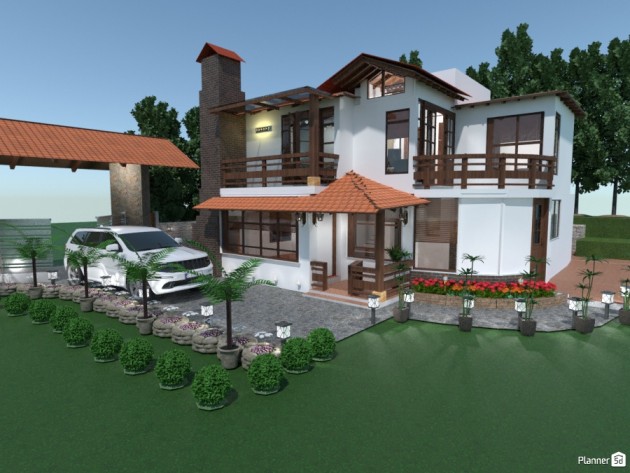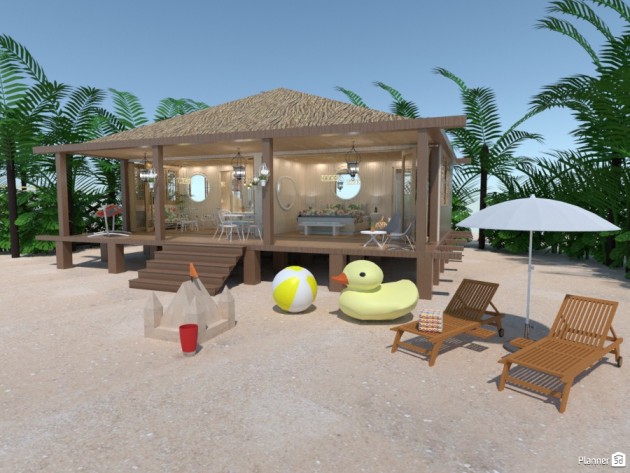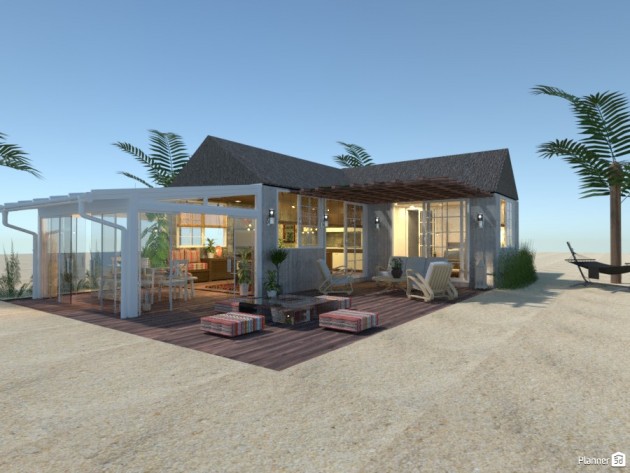 Furniture ideas
It's up to you which furniture you place on your patio! Just about all patios include some form of seating. If you want to leave your furniture outside, make sure it can drain water and be wiped down easily. Choose wooden or metal furniture if you need something sturdy that is easy to clean.
The same goes for tables - choose something low maintenance, especially if you intend to share meals around them in the summer! A picnic bench is also a good idea if you want to save room.
If you are working with less space, consider multipurpose furniture. A bench with storage inside means you've got somewhere to keep your outdoor toys or gardening tools. And choose a table with a hole for a parasol or an umbrella if you need one!
Have you thought about how you'll light your patio? We cannot stress enough the importance of making sure your lighting is suitable for use outdoors. Decide whether you'll use larger lights for functionality or fairy lights to create a romantic setting.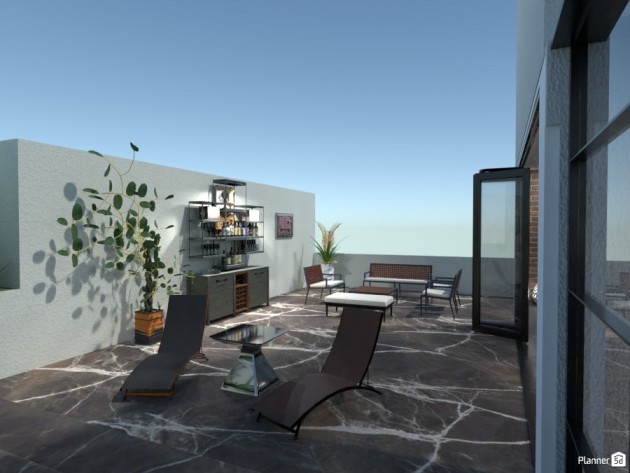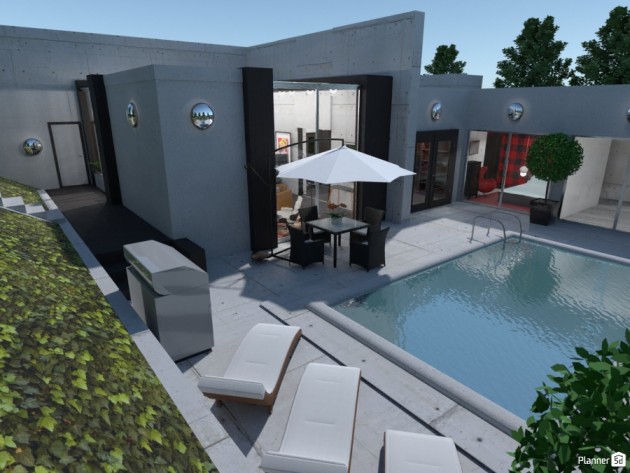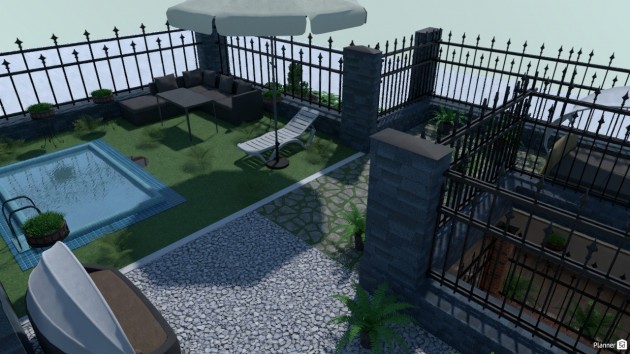 Wall ideas
If your patio is against an exterior wall of your house, use it to store and decorate. If space is limited, consider hanging a bench from the wall or mounting hooks for extra storage. You can also adopt some plants and allow them to grow on a wall-mounted trellis.
A small retaining wall separates your patio from the rest of the garden and can even be used as extra seating. Need some privacy? Consider a wooden fence or screen.
Porch ideas
Looking for ways to make your front porch more welcoming? Try laying a path or steps up to a patio in front of the house. Invest in some wicker chairs or even a swing seat to watch the world go by from! Potted plants make it look even more welcoming.
Main tips
Here are Planner 5D's main tips for the perfect patio:
Plan well. Designate specific areas and consider where your patio will be located and how it fits your house and the rest of the garden.
Make sure you have somewhere to sit. Relaxing and enjoying the outdoors is the whole point of a patio.
Remember the weather! Choose furniture and elements that will withstand the climate you live in.
We hope this has given you some great ideas to improve your patio. For even more inspiration, check out Planner 5D's Instagram, where we're always sharing cool designs. What's the best thing about your patio? Share it below.