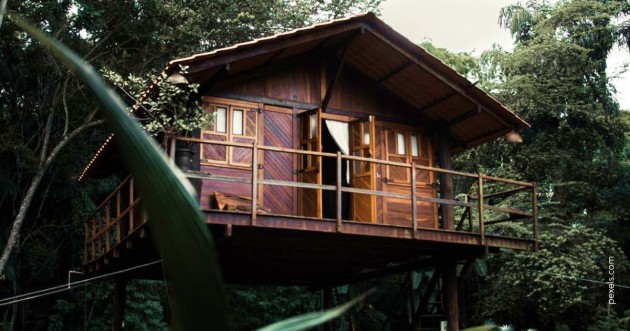 Imagination is a child's best friend and to a child, the world is full of magic. This is where the treehouse comes in. Almost every child dreams of his or her own private oasis and the idea and reality of having a treehouse can provide just that. With these easy DIY plans and ideas, let us bring the fairytale into the real world and help you design and create a fort that would capture the ideas of any and every child - as well as some of us adults who are children at heart.
From the simple and basic that anyone can accomplish, to envy-worthy, liveable houses that would make anyone want to ditch the city and live in the trees - we have it covered!
DIY Tree Fort
If, like many people, you are not that handy and find yourself panicking at the idea of building something, don't. DIY forts do not have to be crazy complicated. You can bring your children (or yours) dream to life even if you are the most amateur DIY´er.
Simple and Effective
After finding the perfect frame, you can secure a simple platform on the tree and use this form of the treehouse as an extension of a playroom. This works perfectly if you want to make the kids happy and also give them a great outdoor play area! Elevated off the ground and accessed by a ladder, this is a simple spin on the classic treehouse design.
Test the Boundaries
Running on with the simple theme and using the platform style as a basis for your treehouse, you can build up. With your base ready, secure four walls around the area and there you have the classic treehouse shape - Use the tree (or trees) above as canopy cover and not only do you have overhead protection but think of the views at night! If you want the space to be more traditional, you can opt to enclose the fort with an arched ceiling or even a flat ceiling.
Add on the Fun!
These designs are simple enough, easy to follow, and come with the added benefit of being able to add things as you go. Once you have the platform and ladder sorted as the basis of your kid's fort, you can add the walls, the ceiling, slides and swings and watch the tree deck grow as your child does.
Small Treehouses
Building a treehouse does not have to translate into building a mansion-sized fort. Oftentimes, small and simple work better and give your kids their own little fort where they can let their imagination run wild!
Leaning Fort
Building the fort up against the tree counts, right? Absolutely. If you´re going for the downsized approach you don't even need to elevate the tree house off the ground. Placing it up against the tree with a few steps up into space will do the trick and the end product will not only please your child but save you a lot of worry in regards to safety issues.
Split Levels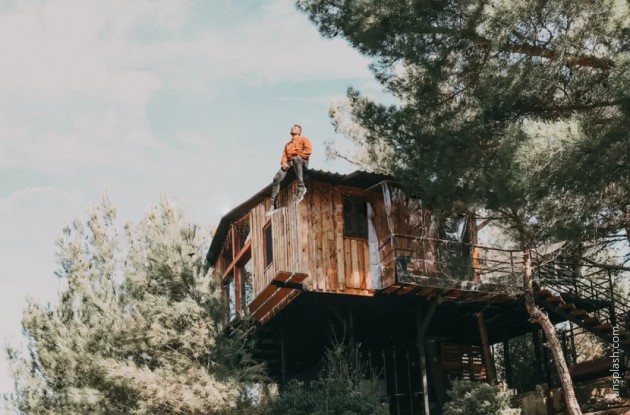 All the fun of a regular treehouse, but split over two levels. The basics are there and it's as easy as the simple platform type of treehouse but twice. This not only adds a fun element to the simple style but it saves you having to build a massively impressive type fort which is especially good if you´re not so good with a hammer.
Painting
With smaller sizes, it means less effort so go wild on the decorating, hand your kids a brush and some paint and let them get creative. Cutting out some effort by sparing the more dangerous building aspect, and saving some time, the decorative side provides you with an opportunity to bond over something you will both remember forever. You might even get an invite when it's all done.
Big Tree Houses
If you feel confident enough and want to go for it, ditch the small tree house idea and go all out! If the tree or, again, trees permit it then the space is your limit. You could finish building your own little dream home away from home.
Personal Palace
Take advantage of that old, sturdy tree and build on it. If your plan is to go big, go as big as you can! Grab your inspiration from the traditional style treehouse and just maximise it. Why not try to use your own house as a model? You can have multiple floors, exits, windows and even a porch if you fancy it.
Cabin Style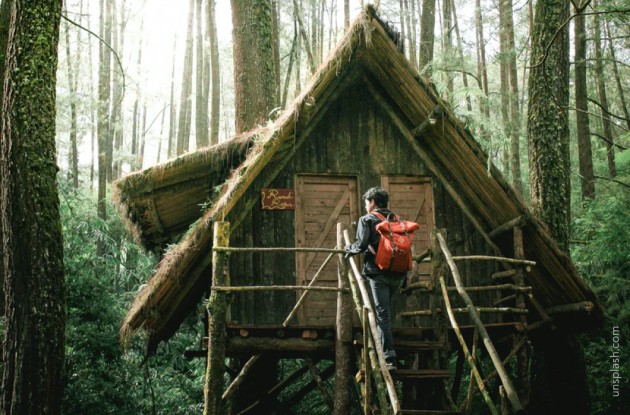 If you like the idea of having your own cabin in the woods but would prefer to not travel past your own garden, go for the cabin style. Use wooden logs or even treated wood to give it a rustic effect that gives lakeside cabin vibes. This can work both in a tree and on the ground and is great if you want to build a little vacation escape that is steps away from reality.
Modern
Modern vibes are increasingly popular for everything from building homes to creating kitchens, so why not put a modern spin on the classic treehouse. With straight lines and simple shapes, modernity might actually be the better (and easier) route!
Cube Castle
Take a leaf out of minimalism´s book and keep it simple and clean. Four walls, no clutter and with everything you need to create the perfect little escape as well as atmosphere within. This falls in line with the idea of a simple treehouse and not only does the simplicity get the job done, but it is also aesthetically pleasing too.
Glass House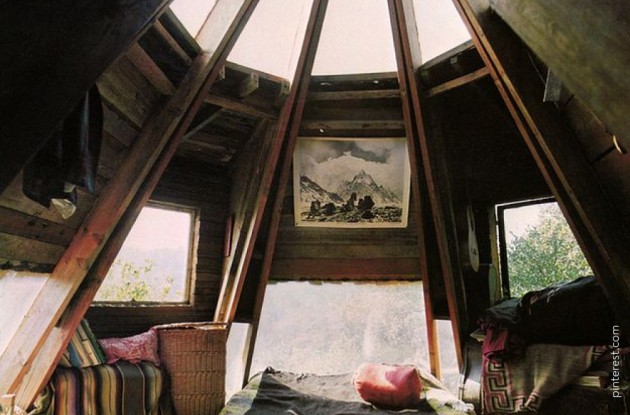 If you´re brave and handy enough - or if you can afford to hire someone, you could incorporate glass and windows into the tree house. Imagine the incredible sights at night time through a glass ceiling? Sleeping bags, starlight and memories you´ll never forget. You could also have one glass wall which would not only look incredible but help you keep an eye on the kids, too.
If you want to go all out and build an entire house of glass for the garden, go for it. Though somehow that may be seen as more for the adults than the kids, but that is up to you!
Kids Treehouse Ideas
With the amount of inspiration available to help you design and build your child's dream house, here are a few ideas that may help get the ball rolling!
Playground Classic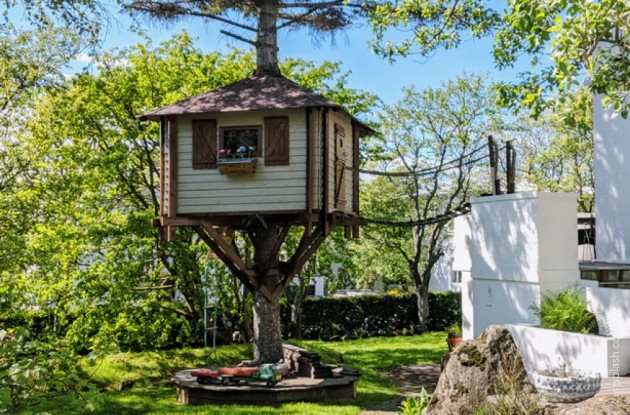 If your outdoor space is limited or you just want to kill two birds with one stone, you could go for the amazing playground/treehouse combination! The best of both worlds coming together and making you a hero in the eyes of your child. Like we said earlier, add some slides or attach a classic swing or a rope swing for a fun addition to a playground themed treehouse. You could even go the traditional route and add on a sandbox at the bottom. This idea works well both in a tree or on the ground.
Clubhouse
On the subject of combos, what child doesn't want a secret (or not so secret) clubhouse? The traditional house style tree works best for this and not only gives your child an amazing outdoor/indoor play area but allows them to have their own private space that they may or may not make kids only.
Fairytale
Why not use your imagination and sprinkle some magic onto any tree house style. Converting a simple or not so simple treehouse into a "castle" and let your kids' creativity do the rest! Add a spiral staircase ladder instead of a classic one for an extra fairytale touch.
Treehouses are not limited to boys or girls, they´re for everyone, but if you or your child wants to go for the classics, we have you covered!
Boys Treehouse Ideas
While all treehouses can be simple and accessible to everyone, maybe you have a boy who wants his own adventure space in his favourite theme. With lots to choose from, here we have some of our favourites.
Pirates at Play
Ditch the classic four wall or platform style and build your kid a floating boat. On land or in the tree, your child can play for hours on end. Add a pirate flag and a few "port" windows and let the imagination run wild.
Fort Knox
Putting the "fort" in a tree fort, you can go for an army-style/army base vibe. A lot of children are into that theme growing up so why not transfer it over into their treehouse. Slap on some camouflage paint and your child will be protecting their very base of operations.
Spaceship
The idea of space opens your mind up to many possibilities and so can a space-themed treehouse. You can create a "Pod" style tree house and call it a space ship or even just go the classic route and have it space-themed but this idea is bound to get your children's imagination going.
Girls Treehouse Ideas
The girls are not left behind! Like boys, girls also want their own space sometimes. Here are some great choices!
Girls Only
Very like the clubhouse theme but girls only. Any style works for this and when the girls want a place to hide away, they have their very own club for them alone.
Princess Castle
Another variation of the fairytale-themed but aimed at making the owner feel like a princess. Go for the classic style again with a castle theme. Paint and decorate it as your child pleases and it's guaranteed to make them feel like a princess!
Adult Treehouse Ideas
When you think of a treehouse, you think of childhood, of memories and of the dream of kids everywhere but it doesn't always have to be. Adults can have their own treehouses too! Maybe not princess-themed or with a sandbox but there are ways the grown-ups can escape into their own world and enjoy a tree deck.
Gazebo
Gazebos don't just work great in gardens, they can look incredible built up trees too. Not only would it work for kids during the day but for adults too during the night. These look great on top of stilts and can be used as a getaway with nature while the kids are done with it.
Treetop Bar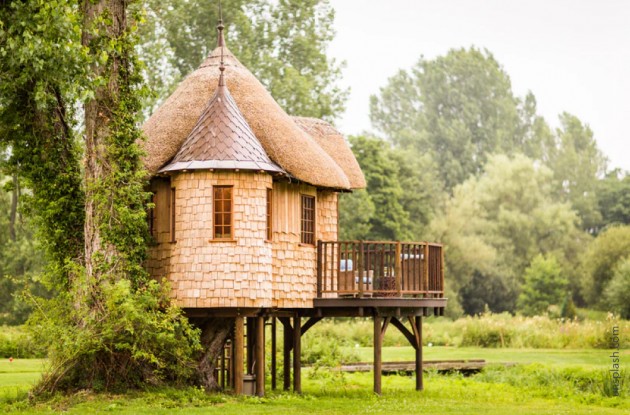 Any treehouse design or style be it for the kids or solely for the adults can basically be adapted into your own makeshift bar. If you´re lucky enough to have a lake view, ocean view or just simply an open-top to stare at the stars, imagine any of these with a glass of wine in hand or surrounded by friends.
Treehouse Interior
Although the most important part of a treehouse is getting it built and making it safe, an equally important part is the interior. While a lot of them can be empty or as plain decks - leaving the rest to the imagination, it is nice to have a dedicated space for certain things or decorated in a certain way.
Creative Collab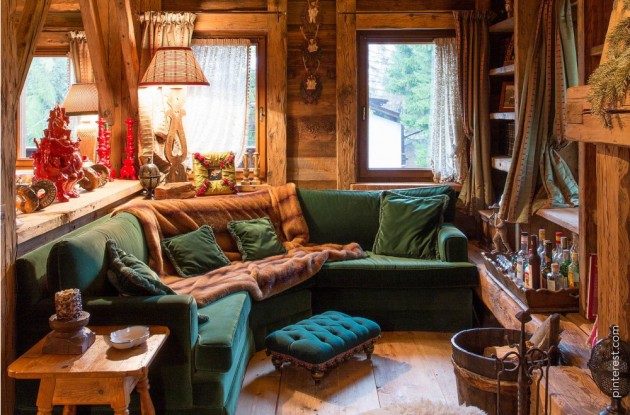 You may have been stuck with building or paying for the treehouse but you don't have to be stuck decorating it alone. Hand your kids a paintbrush and get to work! Let them choose the colour palette and get down and dirty while you create some lifelong memories.
Stargazing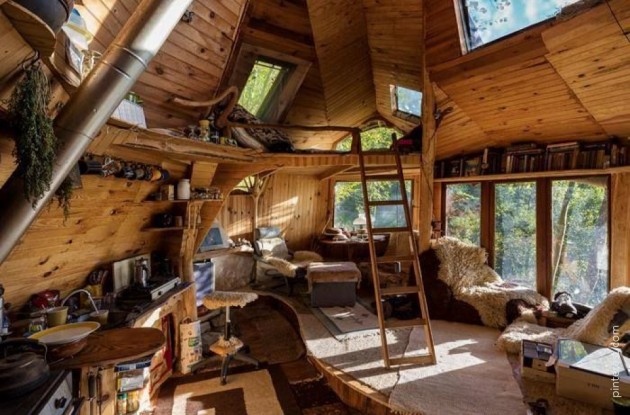 Running on from the spaceship theme, why not create your own observatory in your garden. Turn your tree fort into one stargazing fortress - make it comfortable, educational, invest in a telescope and you´re not just giving your child a treehouse but something incredible and interesting!
Study Club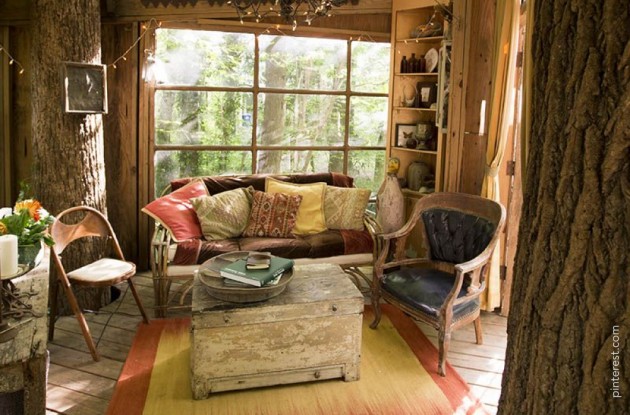 Every parent knows how hard it is to get their child to do homework, so why not use the treehouse to your benefit? Think of it as a two-sided fort: one side is for studies and the other is for playing. The reward for finishing study club? Playtime starts. It's a great way to not only invest in quality time with your child but get them to invest in their education and actually be interested in it with their own dedicated space.
Art Studio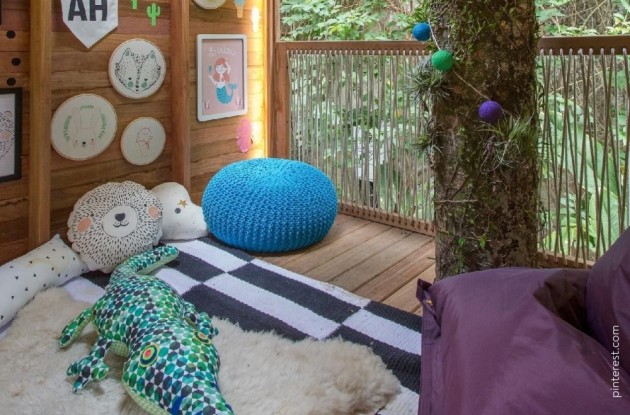 A great idea for both nurturing a child's creativity and allowing for some hobby time for the parents. An art studio in a treehouse is great for adults to get away and de-stress - especially if they are artistically inclined, it could actually double as work space! While for children it's a great way to let them enjoy their creative side and maybe develop or discover some natural ability.
Comfort and Cosiness
If you'd rather keep things simple and cool with the aim of just having the treehouse as what it is, make it comfortable! Add some chairs, some cushions, decorate the walls and add a rug. After all, everyone loves a chillout area that is not just interesting but cosy and fun.
The possibilities are endless. Once you choose the best style for you and get to work, you can let you and your child's imagination do the rest. From these examples, we are sure there is something for everyone! You don't need an endless budget, to be an expert in DIY or an archetypical prodigy, you just need the idea, the patience and the tools to create a treetop hideaway. For a child, even the simple can be magical and for an adult, everything can be improved on but with the help of this guide at least you have help to start!