The Trendiest Bathroom Wall Decor Ideas
One of the most important rooms in your home - though often overlooked, the bathroom can be just as much a design project as anywhere else. Bathrooms come in all shapes and sizes and while you may want to keep things "clean" and effortless, there is still room to get creative!
One of the most important rooms in your home - though often overlooked, the bathroom can be just as much a design project as anywhere else. Bathrooms come in all shapes and sizes and while you may want to keep things "clean" and effortless, there is still room to get creative!
Let's focus on the walls for now. Whether you´re a classic tile person, or you´re interested in adding a little personality, we have just the thing for you. Let us walk you through some of the best bathroom wall ideas that have caught our eye.
Small bathroom wall decor
Along with the kitchen and bedroom, the bathroom is a room in your house that gets the most use. It is an important part of daily life and be it big or small, the most important part is the space as a whole.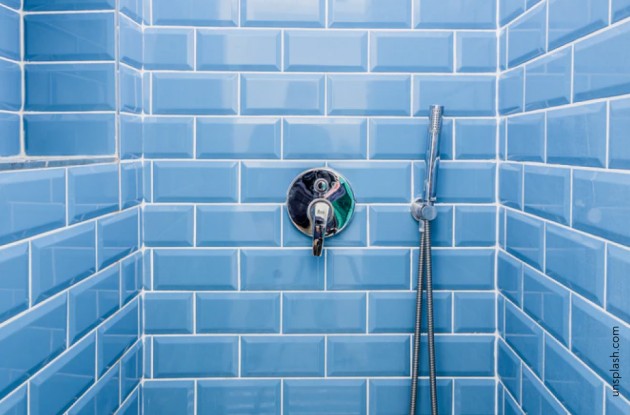 In the case of small bathrooms, you may think it will be difficult to decorate to maximize both style and functionality, but we have you covered. Here are some great small bathroom wall decor ideas.
Color additions
White is usually the preferred color for bathrooms as it gives people a blank canvas to work from but it can also be boring and uninventive. In small bathrooms, four white walls can be confining so adding a pop of color to one wall or part of several walls will allow you to add something interesting to the wall. You could do this in the form of wallpaper or even pastel colors.
Magic mirrors
The oldest trick in the book works for a reason! Mirrors are a great way to create the illusion of more space in smaller rooms so adding one to a bathroom wall not only provides you with the necessary mirror that all bathrooms need, but it allows the light to bounce around the room and brighten up the space. Match the trim with your theme or you could even go all out and create an entire mirror wall.
Unique bathroom wall decor
If the size isn't an issue and you're looking to spruce up your bathroom but want to go a more unique route, we have some interesting ways you can liven up your bathroom and make it one of a kind.
Patterns
If you´re tired of the usual white or blues that you see in most bathrooms, liven it up with a pattern - you have lots of options. You can get creative with wallpaper, opt for some patterned tiles, or even go full DIY and let your creativity flow while painting.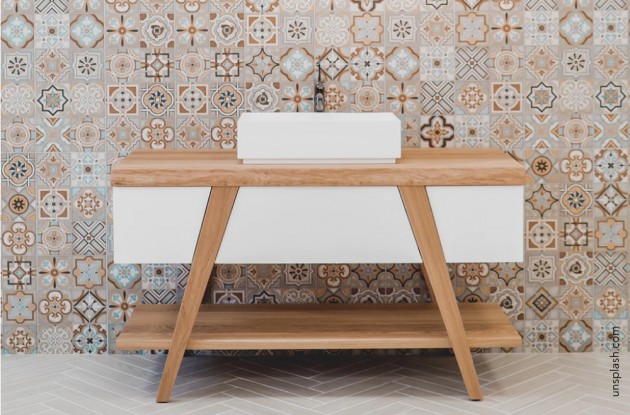 Patterns can help transform a boring bathroom into something interesting and less bland. Whether you opt for the tile option - which you can scatter throughout the walls, or a main featured pattern wall, the addition of some patterns in your bathroom decor can upgrade your room on any type of budget.
Metallics
An interesting and unique addition to a bathroom can come in the form of metallics. Gold, brass, copper or neutral shades of metals are a nice change from the classic silver or steel look. Whether they are trimming the mirror on the wall or a part of a light fixture, metallics create a nice contemporary aesthetic.
Dark walls
Not the usual option for bathrooms but it deserves a chance! Opt for a darker color on the walls and break the norm to add a bit of style to your bathroom. If you do go for a dark wall or walls, balance it out with wooden embellishments, natural elements such as plants, or, like mentioned, metallics would look great!
Decor for your bathroom
Adding art to any room not only allows you to create talk pieces but also allows you to express your personality and taste - art in your bathroom is no different. Here are some great ways you can add art to your bathroom walls!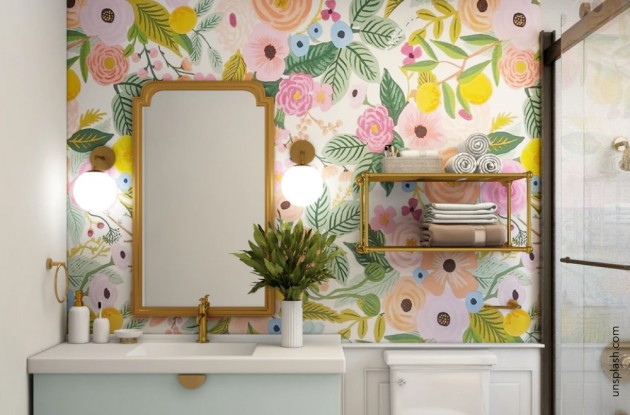 Wall art
Show off your creative side and add some framed art. Vintage magazine covers framed in different colors and different sizes add a unique spin on this idea, or you can go the classic route and add framed paintings of still life. Another option is to show off a piece you have just purchased or created and hang it in your bathroom for both you and your guests to enjoy.
Focal points
Just like any other room in your house, you can create a focal or feature point in your bathroom. Depending on your taste, choosing a prominent piece of art is a great decoration choice. It can be a beautiful watercolor or a more abstract piece that will create interest and maybe awe.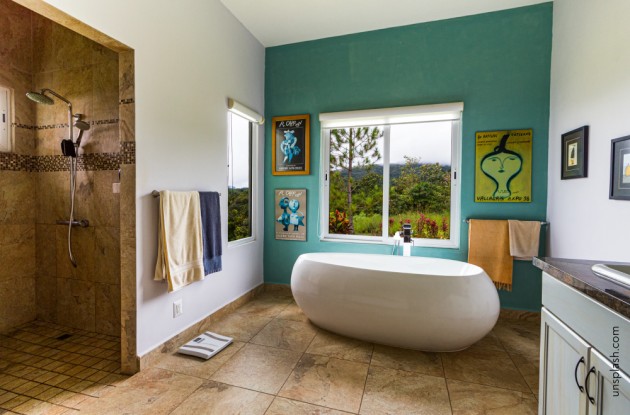 Modern vs. traditional wall decor
It's the ultimate battle when it comes to interior design and it extends to your bathroom. If you are looking to carry on the modern theme from the rest of your home then great! Or maybe you want to switch it up and go for a more traditional vibe. Either way, we have some great ideas for you.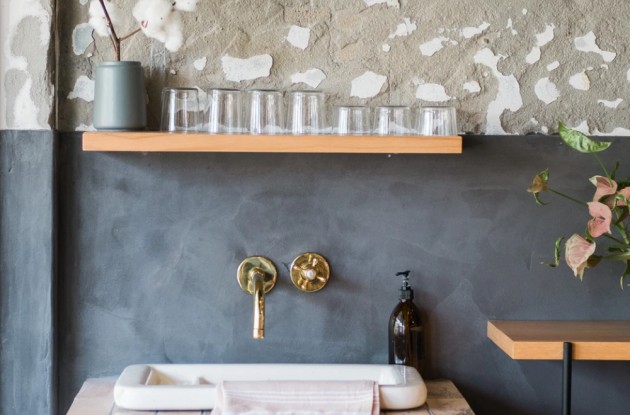 Modern ideas
A neutral backsplash gives a more contemporary feel and adds texture and dimension. Exposed brick is becoming more popular throughout homes and works great in bathrooms, too! Coupled with a large mirror hung on the wall and you are certain to brighten up the room.
Another great trick to add space and modernity is printed wallpaper that leads the eye upwards. A nature print such as tree branches extending up plays on vertical space while versatile patterns can help break up boring tiling and draw attention throughout the room.
Vintage vibes
Neutral tones can be calming which, along with a sense of cleanliness, is very important in a bathroom. If you want to go for a more vintage look, soft pastel paint colors work great or tiling with colors such as a soft pink provide the ultimate vintage vibes and help create a calming atmosphere.
Rustic themes
Use your building's original features or install some and create a wooden wall that mimics a rustic feel in a small room with farmhouse aesthetics. Add some paints and decoration for traditional vibes! If this is out of your budget or maybe not possible in your home, you can add certain little decorative features to still achieve a rustic feel. Wall hooks can be both stylish and functional or adding wooden elements can add a more traditional feel.
In an area of your home that is unavoidable, it's important to make it both beautiful and functional. With endless design options, limitless ideas, places of inspiration, and a never-ending amount of decorations, there are ways you can create your dream bathroom wall both on a budget and by splashing out. This list is to get your inspiration flowing and aid you in creating beautiful walls that both show off you and your bathroom!
Check out some of our frequently asked questions for some more help!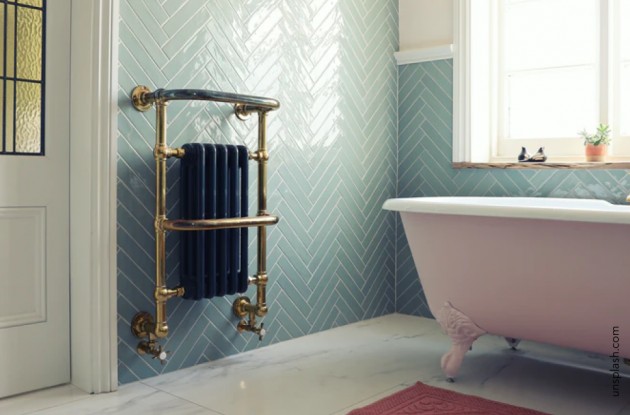 FAQs
Should I paint or decorate my bathroom entirely white?
Like any decor in your home, that is entirely your choice! It's important to know what you want and what you like but in this article and throughout our blog we can help provide many ideas and inspiration to add a little extra spruce to an all-white room.
I´m on a budget but want to liven up my bathroom, is it possible?
Absolutely! Decoration ideas are available for every and any budget. Everything listed here can be done on a budget and with a little hard work and some DIY.
What can I put on a blank bathroom wall?
The options are endless. From mirrors to tiles, from paint colors to wallpaper, you have everything at your disposal. First, decide on the color and/or theme and go from there. If all else fails, a beautiful mirror or vanity cabinet works 100% of the time.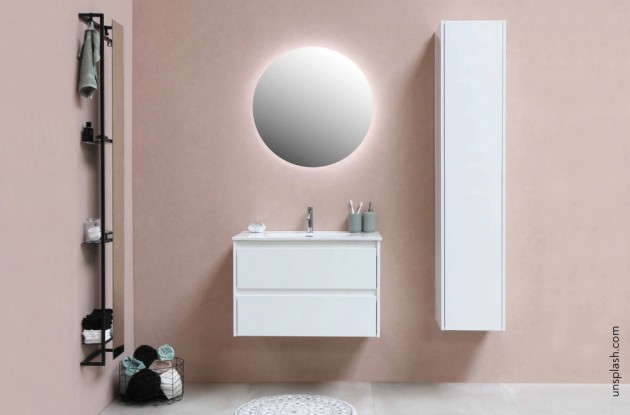 I like my bathroom walls but I feel like something is missing, any suggestions?
It depends on your space and what you are lacking but in general, adding a few things can help. If your bathroom walls are white or blank, add some color with art or plants. If you have color on the walls, crisp white towels look sleek and elegant. It's always a great idea to contrast.
How can I make a small bathroom look nice?
Smaller spaces don't have to suffer in the decor department, it's all about what you do with space! Paint or decorate it white to create the illusion of space - adding a mirror helps, too! Against the white, contrast with pops of color throughout, and utilize your vertical space with vanity cabinets, shelves, and storage for toiletries and bathroom products.