With more time spent at home than ever, a lot of people have chosen to flex their creative muscles and spruce up their interior style. Whether this is simply rearranging some furniture or overhauling your style completely, there are a number of ways that you can add a fresh take to your interior.
It may not be a huge mansion or a sprawling estate but it is your home, and it's what you do with it that counts. City dwellers unite as we help you spruce up your apartment. From small studios or attics to comfortable one-bedrooms or penthouses, we have you covered! Follow our tips to find out how you can elevate your apartment's style to the next level.
Colour Scheme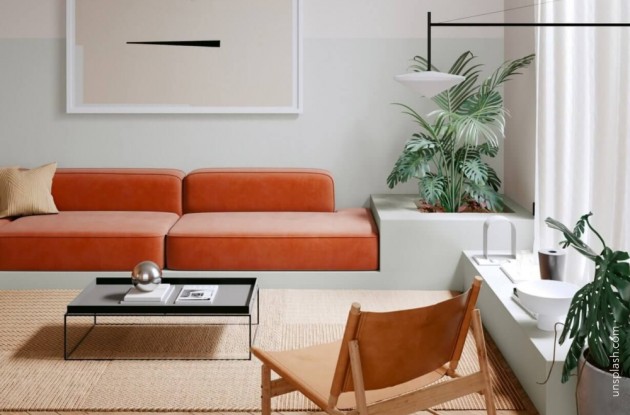 It is simple, yet effective. Colour plays a massive role in any interior as it is more or less the base that we build upon when creating a room to match our style. While minimalistic colours and monochrome will always be on-trend for some, there are other colours that are becoming increasingly popular and can be utilised by you to help bring your room to that next level!
Vibrant colours like yellows, teal and fuschia are on trend right now and bring with them a positive and inspirational atmosphere - especially handy if you're a creative type working from home. These colours when used correctly can help you add some life to an otherwise dull room and, as always, read up on the psychology of colours to decide the vibe you want to go for. If bright colour is a no go, you can still create an impact with darker, moody colours such as blacks, blues, purples, and green tones.
However, if you're not brave enough - or not permitted, to change the colour of your apartment you can still add a pop through the use of pillows, blankets and rugs to make the place more lively and add that vibrant touch that will definitely add a nice depth to your apartment.
Accent Walls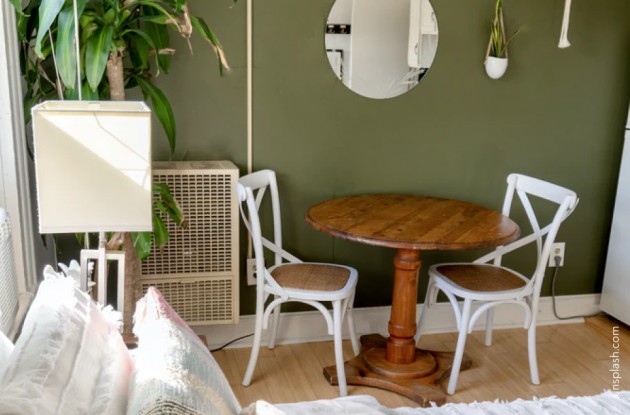 When done correctly, accent walls can be a showstopper in your apartment. They're the perfect way to add a nice elevated design touch with minimal effort, as they are low cost, low commitment and take barely a couple of hours to pull off!
You need to pick a wall in your apartment with the most visual impact - whether it's in the living room, bedroom, bathroom, or even all of these rooms - and go from there. Walls with a fireplace, behind your bed, behind the bathroom sink, or even a window wall work great as usually the eyes are drawn to these walls instantly when entering the room in question.
Once you have your chosen wall or walls, you now need to decide on your vibe. Accent walls can be simple and sleek or bold and graphic, it really depends on what you are going for but the most important thing - which is also their most low maintenance thing, is that they are eye-catching, as they are only one wall! For simple prints that still add visual beauty, try some floral patterns which can work well in more rustic or traditional vibed homes. For a more chic and designer vibe, go for some geometric prints in bold colours like black and gold - this will definitely spruce up a room and create a massive impact.
Functionality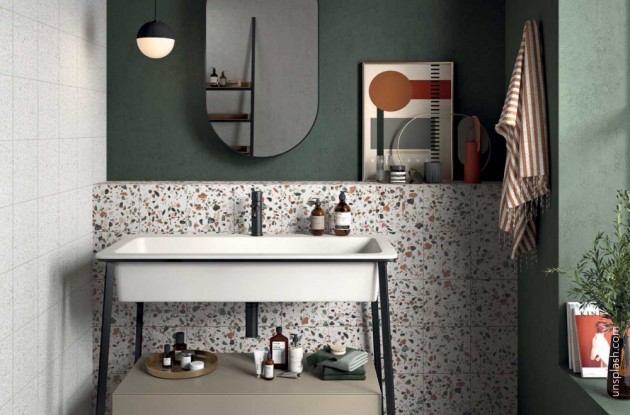 Definitely not a surprise addition to any interior design tip-list this past year but there is a reason for that. Functionality in the home and multi-purposefulness has not only became a necessity for those of us living in apartments but it has also become a way for us to change the way we look at our apartments - for the better, as we transform them into better and more efficient versions to serve any purpose we may need whilst being at home.
Whether you are working from home or not, making your apartment entirely functional in every way is a great way to ensure you are making the most out of your square footage. We understand not all apartments have a lot of space so that is where zoning comes into play.
If you are working from home, then you will need to have a dedicated workspace - you can read more about this in our Home Office Trends article, but simply put you will need to find and/or create a place where you can work in peace and be productive. While this will not increase the value of your apartment per se, it will create a massive impact on your home and work life as you will have a clear division of each. This can be done in the bedroom, living room, dining room or - if you're lucky, in the spare room.
There are many ways to create these zones and spruce up the limited space you have in your apartment, but why not do so in a trendy and aesthetically pleasing way. If you've been keeping up to date with our blog and trends in general, you will know that room dividers and partitions are particularly popular right now and are a great weapon for anyone - professionals and amateurs alike, to have in their arsenal if they're looking to make their apartment functional as well as stylish. You can add the classic room divider to separate your workspace from your sleeping area or, if you are working in your living area, use tricks such as rearranging your shelving units or sofas to create a separation between relaxation and work.
This trick in a small or big apartment helps create order in the spaces that you have at home and allows you to customise the room to your liking. It not only spruces up your space in your apartment but makes it more versatile and functional, as well!
Personal Touches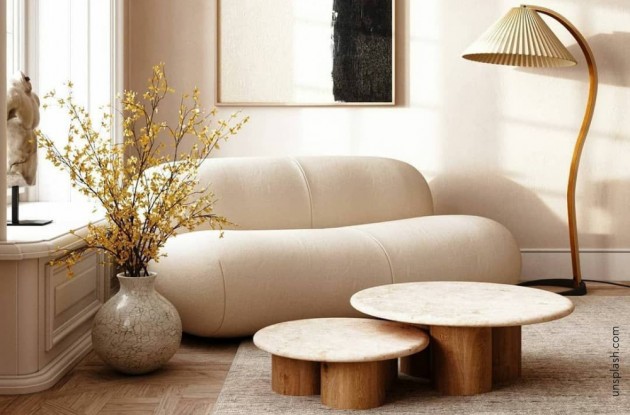 A lot of the time in interior design and decorating the focus falls more on beauty and aesthetics, where sometimes personal aspects and nods to our lives can be lost in trying to reach a standard of beauty in our homes. While it is always important to keep your apartment to a standard you find beautiful, a way to elevate this to the next level is by adding personal touches throughout your home.
Yes, in the beginning stages of designing and decorating you do add your own personal style and vibe to the overall aesthetic of your home - through colour choices, design quirks, pattern ideas and in general the items you wish to buy, but in this section of our tip-list we want to focus on the things special to you and how you can incorporate them into your home.
We spoke of an accent wall earlier and this is always a great choice to make your chosen room more personal. Take this accent/feature wall to the next level and transform it into a gallery wall. Choose a colour (or don't) and use that as the base to build your memories upon. Different size frames in differing colours or shapes, filled with memories throughout your life is an interesting decorating tool you can utilise. It is not only unique and interesting, but it is a beautiful nod to your life, your family, and your friends that you can incorporate into your home life.
While this is not the only personal touch you can add, it is a very striking one as we all know how pictures can speak louder than words. Asides from this you can get crafty and personal with ideas such as patchwork throws or family heirlooms. If you have old t-shirts from your younger days or any clothes that carry memories, think about giving them a new lease of life and turning them into patchwork quilts or blankets to use in the bedroom and/or living room. Likewise, if you have inherited any family heirlooms or furniture, use this to your advantage. It adds a great personal touch to your home while also becoming a conversational piece and elevating your interior to a new level of uniqueness.
Nature's Touch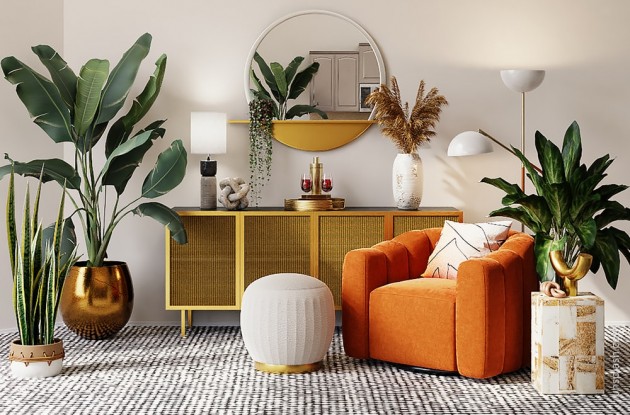 Adding some natural elements to your home is the oldest trick in the book, but it is a very successful one. With people spending more time at home over the past year or so has come a newfound appreciation for the outdoors, and with a growing interest in having some outdoor features inside your home.
If you are looking for a tried and tested way to elevate your interior to the next level, then look no further than adding some of nature's touch by way of plants and flowers. They come in all shapes, sizes, types and colours so you are sure to find one or more that will not only fit with your decor but bring out your personality and create an amazing home with organic elements.
Flowers are a nice way of adding colour to a room, especially if you are going the more neutral route but still want a pop of colour. Plants can be relatively high maintenance but don't worry, you can still add some natural touches to your home with low maintenance options such as the classic cacti.
Another option to add some natural vibes to your apartment is to use naturally occurring elements in places like furniture, flooring, and decor. Wood, leather, and stone all spring to mind and wood flooring can be a perfect choice, depending on your budget and willingness. Stone elements work great in any room too, especially the living area and kitchen. Lots of apartments these days have stripped back the walls to reveal the natural stone of the building - this not only creates a unique and fresh interior but a feature that looks natural and elevates the entire look of the apartment.
Outdoor Spaces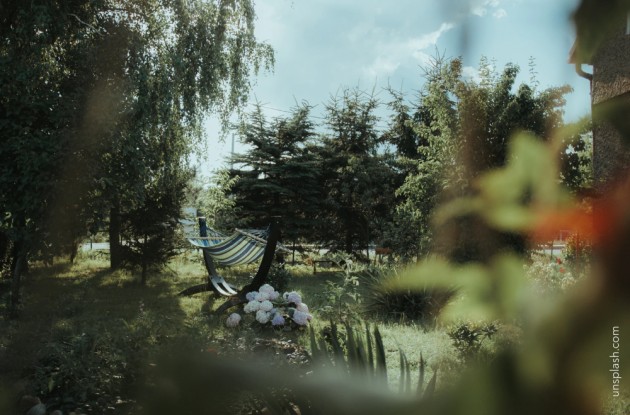 Not always a reality in apartment buildings but if you are lucky enough to have even an inch of outdoor space, use it! In the same way, adding some natural elements to your home can help you elevate your apartment to the next level, utilising any outdoor space you have can do the same!
If you are a city dweller that isn't lucky enough to have a terrace or patio but you do have a balcony, you might just have enough room to put a table and chairs out there to enjoy the cooler nights with a book or some wine. If there is no space for some tables and chairs, combine the idea of natural elements and grow some herbs or even chillies - always a great talking piece should you have friends over.
If you have been blessed with a larger outdoor space, spruce it up and be the envy of your friends. Invest in some patio furniture or a simple table and chairs, and enjoy the best of both worlds while being outside but still in your own home. Go the extra mile and install a bbq, some homegrown vegetable patches, or even a fire pit for those colder evenings. Whatever you choose, utilising any outdoor space you have is a way to elevate your apartment to a level that will ensure you aren't jealous of those living in the suburbs or countryside!
As our lives are constantly transforming we can always transform our homes, also, and take them to the next level of amazingness. Living in an apartment does not mean fewer opportunities to experiment with your style and design, it just means you have to think outside of the box and get more creative.
As always, it's what you do with your space that matters and there is an endless number of ways you can change or upgrade your apartment to create something impactful and incredible. Whether you go the simple route or fancy going for the all-out overhaul, these tips are in place to help you and inspire you to spruce up your apartment's style!