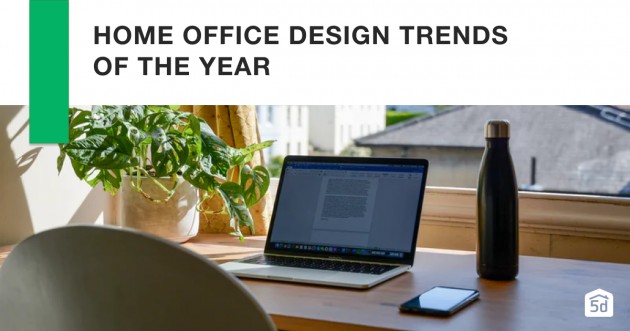 Over the past year, it seems as though the home office has become a must for everyone and we're not just talking about a dedicated room. Whether you´re sitting at the dining table or have taken over a spare corner of your room, the biggest trend in home offices this year has been to make the most of the space you have to be productive during an unexpected time.
With the ongoing restrictions and uncertainty across the globe, it looks like working from home is showing no signs of stopping. With this in mind, maybe it is time to give your home office a makeover. Here we invite you to get inspired by the biggest home office trends this year.
Bedroom Office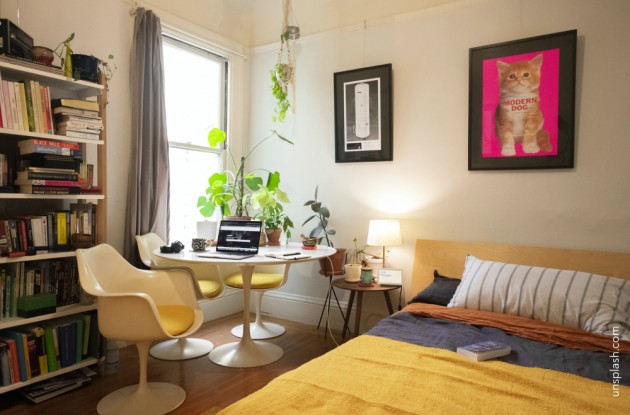 Not the ideal scenario but we make the best of what we have and the space we can work with. Whether you live in an apartment, cottage, or house, you may not always have the spare room or additional space needed to create your own home office with its own dedicated room, this is where spare space in the bedroom comes into play. With the events of the past year or so, this has had to become a trend!
There are various options for installing a desk and therefore a workspace in your bedroom, and depending on the size of your room you will need to choose what is best for you. For bigger spaces, you may be able to fit in an entire desk that takes up its own place in the corner of your room, and there you have created mini office space, for smaller rooms it may be a better idea to invest in either a portable table that can be propped up when you need it or a fold-down table that you can install into the wall and use it when needed.
The options here are endless as there is literally a desk for any size space or any need, so if you are looking for one within any type of budget - big or small, then you are sure to find one that suits you. Either of these options will work well if you are confined to work from your room and either of them is better than working from bed - think of the productivity that will come from a desk!
Guest Room Combination
Another trend this year has seen people convert their spare rooms into office spaces and although not everyone has the extra space to convert, there are ways you can work around it. If you do have the space, that's great! But if you don't and you happen to have a spare room you use for guests then you can enjoy the best of both worlds! It's the same principle as the bedroom, installing a desk to fit the space and using it as necessary but if you want to overhaul the room to provide equality for both uses then there are ways.
Start fresh and think about desks. After all, with the perfect workspace comes the perfect work. It's all about productivity as if you are used to an office this idea of working from home will be shock enough, so try to replicate this feeling at home by setting up a desk in the room, an office chair and any essentials you may need to work to the best of your ability in these strange times. Desks can come in all shapes and sizes therefore you should be able to find one for even the strangest shaped guest room and if the room has a bed in place, and not much space for anything else then you have options.
One option in the event of the room originally having a bed, is to think about removing it and instead investing in a sofa bed. That way you can enjoy the option of taking breaks from working at the desk in the room and relaxing on the sofa that also happens to double as a place to sleep should you have friends or family stay over.
Parent and Kid Study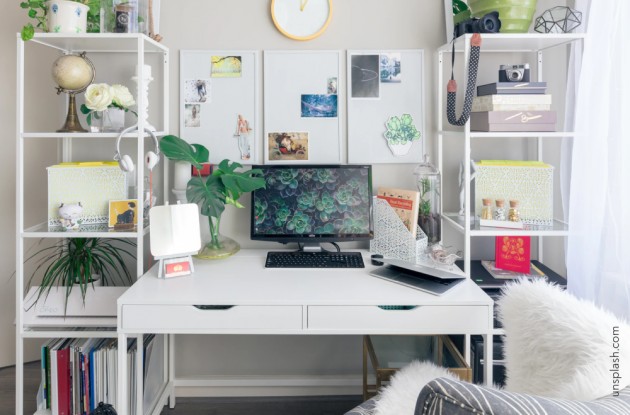 It wasn't just the adults that were working from home this year, kids and teenagers were going through the struggle of remote learning and as such are in need of space for them just as much as the grownups, so this year saw a rise in people coordinating with their children to create co-working spaces with them. Generally with kids at home space can be tight, but there are ways that you can get around this and promote joint productivity.
Like the guest room situation, this can be converted into both a study area for the kids and a working area for the parents. We understand scheduling issues could be a problem so there are other ways around it if space does not allow for everyone in the same room.
If you have a storage room that is strictly used for Christmas decorations and the like, think about editing this to make use of the space. Decorations, old clothes, old toys, and things like this can always either be donated to charity, stored under a bed or in the attic which gives you the chance to make the most out of that wasted space.
The good thing about kids is they are smaller than adults and require less space, so with the storage room cleared out and the space opens you should be able to get a desk for the grown-up and a desk for the child in which both can work from home in harmony.
Utilizing Desk Space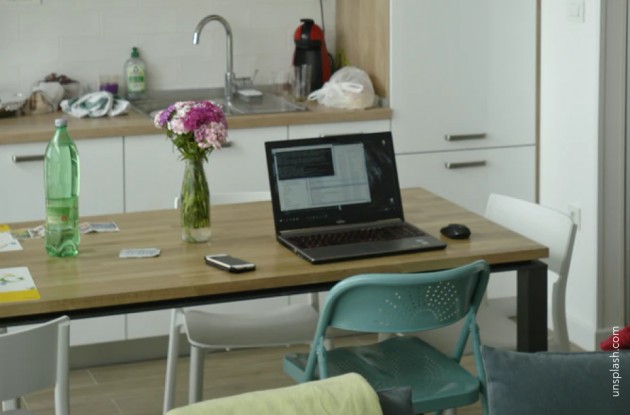 Storage room options may be a no-go and not everyone has the luxury of a guest room - and in some cases, it's just not possible to get a desk into your bedroom, in these situations people have had to think outside of the box. In doing this, you can come up with something that will allow you to work and be productive from home. While it may not be a "trend" it has become the reality for many - don't worry, we have you covered!
Regardless of which type of home you live in, big or small, you are likely to have a table and counter space. Be it a dining table or coffee bar, an open space carries potential and with this, you can make the most out of your limited options.
If you have a dining room or kitchen table in which you usually eat, here is where you can set up shop. Explain to your partner, family, or whoever you live with the situation and we are sure they will be more than understanding. This will allow you to escape the temptations of working from bed or the sofa and create in your head the mindset of going to work as you will be sitting at a physical desk. Likewise, if you have a coffee bar or some counter space you can do the same. As a matter of fact, studies show it is unhealthy to sit for long periods of time therefore standing while working may be better for you in the long run!
Colour Palette
Now that we have discussed which area, room, or space you can work from, it's time to talk color! While trends come and go, some colors are timeless for a reason especially with workspaces as it is important to promote productivity, especially when being at home can prove tempting to be unproductive. In doing this, the psychology of colors comes into play but we have this covered for you.
Blue has a calming effect and has great benefits to the mind and body. Certain shades can represent knowledge and power and are therefore a great addition to an office.
Black signifies simplicity and functionality. It is versatile and can be used in virtually any space. It is modern and elegant and would look amazing in an office space. Contrast it with white furniture or modern accents and it can be stunning.
White is pure and innocent and can be used to convey fresh simplicity. It can be used in minimalist spaces as it illuminates the areas in the space and creates a sleek feel. Its tranquil ambiance makes it a great tool for office spaces.
Red is daring and dramatic, often rousing emotions like passion and excitement. The ambitious tones in the color make it perfect for productive spaces such as the office. At its core, it's powerful and strong but in its variants, it can be rich and beautiful.
Natural Additions
Another trend this year has not only been seen in home offices but in the home in general as people were encouraged to stay indoors, therefore because of this they found themselves less exposed to the natural world. This trend saw people try to integrate more natural and organic elements into their homes and a great place for this was the office.
There are so many benefits to having plants in offices and the home in general. They can improve air quality, productivity and can provide a touch of color and nature into the area they are used in. While there are a lot of plants that do not thrive indoors, there are many that do and among these, there is a lot that is relatively low maintenance and in their simplicity can provide a great boost to office space, cacti for example.
Whether you choose some small plants to sit on your desktop, a tall plant for the corner, or multiple throughout the room, it's always a good idea to add some natural elements to any part of your home!
Maximizing Vertical Space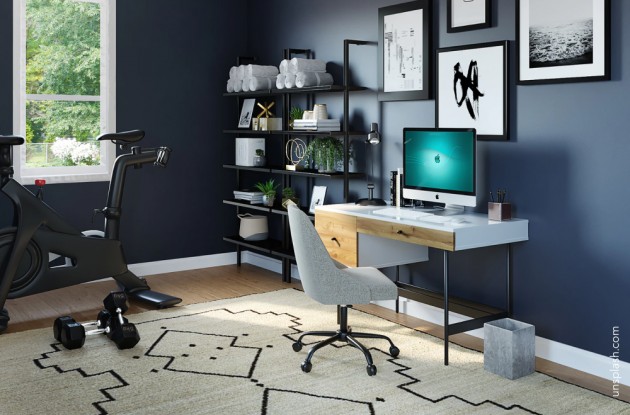 While not so much on trend this year as a necessity, maximizing vertical space in the home became more important than ever in the same way that people had to find a space at home to work from. There are many ways to do this which are surprisingly easy and probably result in you questioning why you haven't done it sooner.
With vertical space, it's all about minimizing what is on the floor and building up. If you have an office space or desk area in any room, place it up against the wall and use the wall space that the width of the desk covers as your "office area". Shelves come in extremely handy here as they can be placed on different levels to maximize the amount of space you have. Invest in some storage boxes and you can maximize this space even more.
It's important to remain productive when working from home and this is hard to do when the office space is boring and bland. With this vertical space, you can also hang pictures, place sticky notes with motivating messages or decorate it with an interesting piece of art or even wallpaper! This will help a lot more than plain white walls which will eventually put you off getting to work.
Extra Tips to Stay on Trend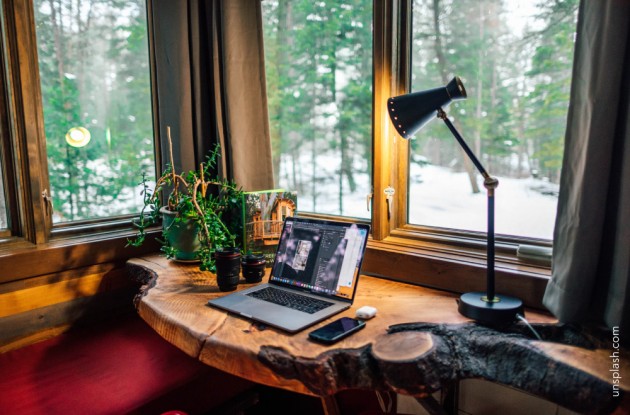 Here are some other ways you can add to these trends and keep your home office space fresh and useful.
If you live with your partner or others and both of you need to work from home but you don't know if you have the space, think about investing in a slightly larger desk that will fit the space you do have - here both of you will need to work strategically to make the working situation work. This can be done by dividing the table in two or creating working areas on each end.

While the space to work is important, it's also important to not feel confined. In office environments, there are usually big, open windows so that the employees are not claustrophobic and feel like they are in a basement. Try to replicate this at home by placing your desk or working space close to a window, door, or somewhere with a view. This will help you stay relaxed and make the space feel more open.

Make the most out of corners or awkward areas! If you cannot find an office space at home, look around and you are bound to find a space where you can set up shop, even if this is just a tiny corner or hallway. Desks come in all shapes and sizes and you will definitely find one that will fit that weird-shaped corner in your living area or that long hallway in your home.

Lighting is incredibly important in your home in general, maybe more so in your home working space as this will keep you focused and improve your productivity. If you are stuck in a dark room or corner you are gonna feel less inclined to work so natural lighting and/or task lighting will come in handy here!

Most importantly, take breaks! Just like in the office it is important to take regular breaks from the computer and desk, not only for health reasons but also to aid in keeping your brain recharged as a well-rested person who takes breaks will work better than a tired person.
With remote work becoming increasingly popular and the working from home era continuing, it is important that you provide yourself with the proper area and tools so you can get the job done. Whether you want to spruce up your tiny little corner or completely overhaul your home office space, there are ways you can do it to stay on trend and fit your needs.
We hope you take inspiration from these trends and follow our tips to transform your own little workspace into one that will aid in you working to the best of your ability!