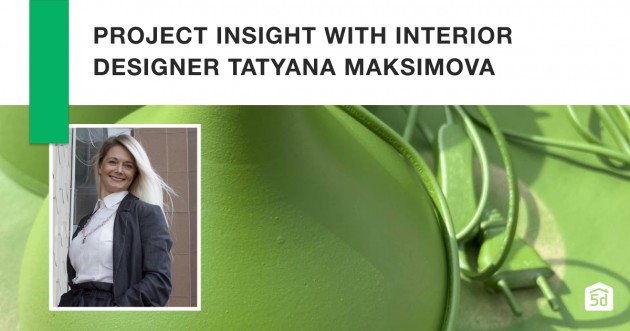 This week, Planner 5D spoke with Tatyana Maksimova, a professional interior designer that is widely known in the design community and in Russia. We sat down together to discuss some of her career and some insight into her latest project. Read on to discover a bit about Tatyana, her work, her projects, and more!
Career
Tatyana is not just an interior designer, it seems she is working on a lot of different projects within the field. We asked her to open up a bit more about her day-to-day life and career as well as explain to us the concept behind her TV gig as she is currently the host of the 'Affordable Interior' TV project. She tells us that the project is about "real ideas and ways to bring them to life." The interesting part is that it's all about showing people how they can spruce up their interiors without breaking the budget, she states that "we show and describe how you can create a harmonized interior and what designers you can use. We show how you can renovate and reorganize your space with minimal spending." She gives a bit of great advice also when it comes to design and how emotions are just as important as anything else, "The apartment should be measured with the emotions as well as square meters."
Alongside this, Tatyana is also an interior stylist who works to add the final touches to finished interiors. Stylists such as herself work with the private and the public and tend to bring their expertise to projects that need interiors filled with decor and textiles. For example, exhibition halls, salons, and shop windows, but can also be of great help in situations such as for photoshoots. Tatyana explains how these stylists do this by telling us the process these professionals go through, she states that "the stylist picks the accessories, creates compositions, and makes the whole visual image. At the same time, they keep the original idea of the project and just make some additions that make the interior better and prettier."
As we've said, these aren't the only areas that Tatyana lends her expertise to, she is also a coach for Leroy Merlin. She explains that the staff for this company goes through vigorous training in order to meet the customers' needs and to the highest standard, "The staff is being trained in different things, and the foundations of interior design as well. Our organization that includes 25 designers all over Russia conducts training both online and offline – courses, marathons, webinars, master classes." Upon completion of this training with Tatyana, the sellers in Leroy Merlin are equipped with the knowledge she has provided to execute their roles to the best of their ability and with the relevant information to do so, "The seller that has completed the interior design foundation training can pick items from all departments and not just ones that are in his/her area of responsibility, that helps satisfy the customer's needs fully."
Another example of Tatyana's passion for interior design is shown by her own creation of a large apartment showroom in Russia. She explains how she was the author of this project and worked with a large developer when they started building Smart apartments and worked towards creating a showroom of five different apartment types with the end goal of giving the clients a real experience of living there prior to buying. She explains that the apartments were fully renovated "with furniture, textiles, and décor." and that "The customer could make a 'test drive' of the apartment, 'try' it in real life – sit on the sofa, lie on the bed, sit by the dining table and drink a cup of coffee."
Previous Projects

We wanted to get to know a bit more about the work that Tatyana has recently done or is working on so we asked her to open up about her last project and it did not disappoint! Her last client happened to be the same developer that she worked within creating the showrooms and she explains how she loved to get down too busy and work with her hands, explaining that she herself four houses and a little bit about the styling, "I decorated the halls of the first floors of 4 houses from the 'Scandis' apartment complex. This complex is unique for its technical equipment as well as decoration. The halls of the first floors are decorated in the hygge style: panoramic windows, fireplaces, a relaxation zone, and natural materials." She continued that the most important part of her job is creating the atmosphere, "My job as a decorator is to complete the hall decoration to make it cozy and create a special atmosphere. Hall of a residential apartment building is a place for meetings and communication where each resident and guest can have a comfortable and quality time."
One of the more interesting parts was Tatyana letting us in on the difficulties that can occur with projects and we think it's important to know as it's equally important to be realistic in designing. She explained that "Often the difficulties in projects occur because of the short period of time and budget limitations." She continued with some great advice, "In reality, these 'difficulties' make a professional production and help them find original ideas." She explained that as a professional it's important to think outside the box and these negatives can spur a person to look in other places to complete a project, speaking of her own experience "I collected the décor for the space decoration from various trade spots and even from antiquity stores and private collections. Thus, a private collection of 500 books appeared in the interior: fiction, classic literature, psychology books, etc."
Following on from this idea, she told us how you can get creative with decor and still remain on budget by thinking on your feet and using what you have. On her project she explained that "We used bottles as vases – firstly they were transparent, but we wanted to add some color to the space."
Another interesting part of our conversation was when Tatyana spoke about colors and the psychology with them, which we have touched on in the past in one of our articles. Here is her take on colors, trends, and a bit about the psychology surrounding them, "No matter what color is trending, green always remains relevant. Green is a combination of yellow and blue, thus in psychology, the meaning of that color remains twofold. On the one hand, it means endless energy, on the other hand – absolute calm. For any person, green subconsciously means growth, development, and harmony in nature." With this in mind, she continued to explain how this color helped shape the rest of the decor, "we had that green bottle vase. We used this color to paint some other interior and décor objects as well."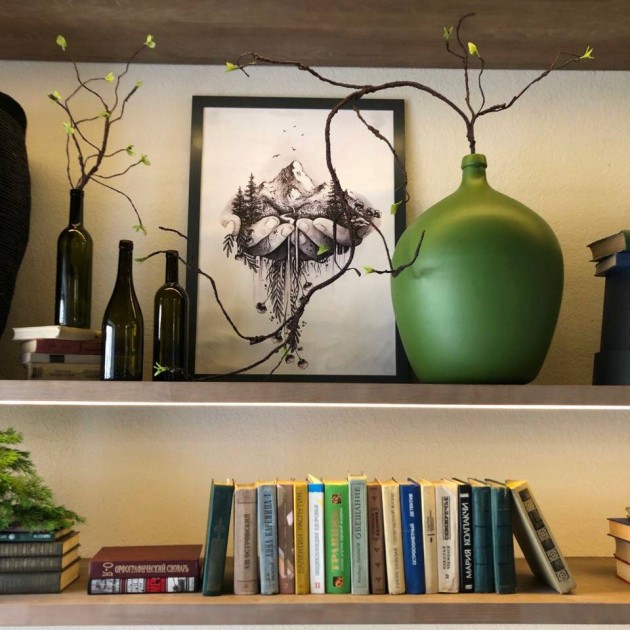 While on the topic of this project, Tatyana let us in on a bit more of the reasoning behind certain decor picks. She told us that the feature in this particular interior decor was the scene on the 'Hands' poster and how the symbolism behind this had a massive impact on the interior. We were wondering why hands, and she told us that "A hand is a symbol of power (both secular and spiritual), action, strength, domination, and protection. Such symbolism is based on the major role of a hand in human life and faith in its ability to transfer spiritual and physical power." With this symbolism in mind, Tatyana explained how it is historically a powerful symbol and dates all the way back to cave and rock art. By using this in her project, she explained that she wanted to send a message about what the project was about, stating that "stretching hands are holding a piece of nature symbolizing respect for nature and calling to protect it. That scene highlights the philosophy of the whole residential complex."
Style and Inspiration
Now that we knew a little bit about some of Tatyana's work, we wanted to get a bit of an opinion on style so we asked her what her style preference was. She explained how in the industry nowadays people tend to focus more on style trends rather than style, telling us how "Now, in the interior design market people usually use style movements instead of particular styles." Among these movements, she gave us her preferences explaining that she prefers "modern, kitsch, eclectic, loft, neoclassical, fusion." Tatyana continued that she can always see details from another style that has influenced a movement and how she uses them to complete the project, "Even if it's a classical movement, you can see the distinctive detail from another style, but I'll integrate it organically in the whole composition." This proves that it's not about what you have, but what you do with it that matters!
The information Tatyana provided us with is incredibly useful and more so, interesting. It's always great to get first-hand knowledge from someone in the industry as we can pass this knowledge on to our users. Let us know what you think, we love hearing from you!
Don't forget to check out Tatyana's content on her Instagram or her website below!
Where to Find Tatyana Maksimova
Want to become an interior design pro like Tatyana? Join our Online Design School to learn the secrets of right color choice, zoning and much more!