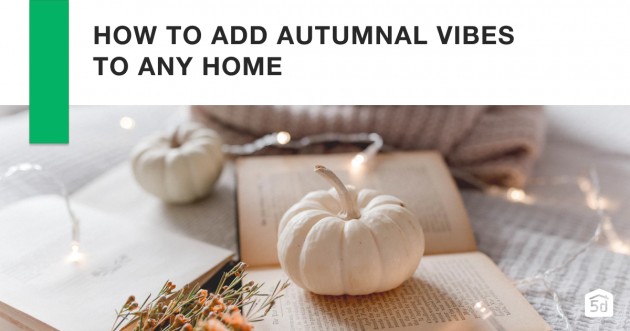 With summer coming to an end, the school season starting and Autumn is just around the corner now is the perfect time to start adding a few new touches to your interior as the nights get colder and darker and we head into snuggle season.
Whether you live in a tiny apartment, a country home or by the beach, there are many ways you can add a little bit of that autumnal feel into any corner of your home. Let us introduce you to some ways you can inject a little bit of fall into your interior!
Colour Palette
Autumn is a period of change; of constant flux and flow as we move between Summer and Winter. With this comes a mix of both light and bright colours, as well as deep and dark - and everything in between!
If you want a drastic change heading into the new season, then get ready to open a can of paint. This is easy, effective, and relatively cheap and can change an entire room with just a couple of hours of work. Whether you´re going for one overall colour or a mix, repainting to match the Fall vibe is a nice choice as there are endless options to choose from that match nature's changing colours right outside your window.
For a neutral vibe that has a nod to Autumn, why not go for deep browns or greys. This is a nice addition as it evokes ideas of the trees or the clouds, but also creates a nice comforting sense throughout the room. This works great in a living area or bedroom as after all, what is cosier than wrapping up in a blanket when there are grey clouds outside?
Likewise, if you want to go a bit more colourful but still keep on theme, you can go with deep greens or rich oranges to mimic the changes in the leaves and flowers. These colours would work great in a living area or kitchen!
Pattern Additions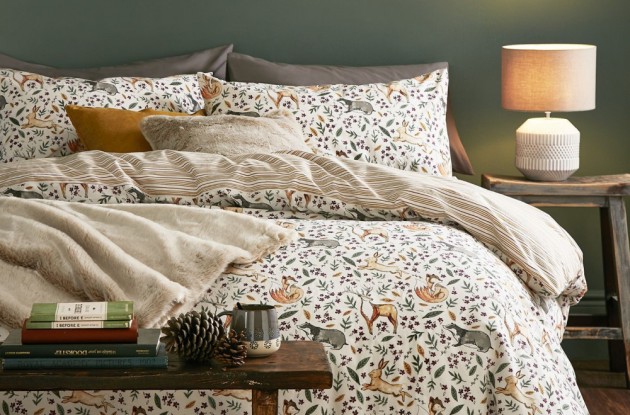 If you don't want to overhaul the colour of your interior completely but still want a little touch of Fall in your home, you could simply add a pattern or print. This can be done in a number of ways but one of the most popular would be to add a wallpapered feature wall. The design of the print is entirely your decision, however, a print with florals or leaves is always a great go-to!
The colour palette you have or choose impacts your choice here but we think a colourful floral print wallpaper would be a great addition to any neutral themed interior as it adds that pop of colour that is sometimes necessary. On the other hand, if your room is already colourful, you could contrast this with a neutral wallpaper print of some green and brown leaves, tree branches or anything that doesn't clash too much with the current design and decor.
If the wall is a no go but you want to add some patterns elsewhere, you can pretty much do so wherever you feel like! Some beautifully printed pillows for your sofa work great, or patterned curtains for your bedroom, or even something as simple and useful as investing in autumnal themed dinnerware set for your dining area. The Fall theme can literally be implemented and look great anywhere!
Natural Elements
It's important to appreciate the little and big things such as the wonder of Mother Nature. With what is going on outside and all around you during the Fall season it would be foolish not to take advantage of the gifts of nature to add some (free!) Autumnal themed natural elements to your home.
Pick a day, or an evening, or even just an hour free from your day and go scavenging outside for decor gifted by the season itself - this is a great idea if you have kids, also! As the trees shed their lives and flowers process through their life cycle, you can benefit by collecting organic elements such as these to showcase in your home. It's easy to take some dried leaves, twigs or anything else that catches your eye and decide what to do with it! You could encase them in a clear vase or candleholder, press them and frame them to hang on a wall if you're feeling crafty, or - if you want the kids involved, get them to create their own Fall scenarios with realistic elements that you can showcase on the refrigerator or throughout your home.
If this doesn't interest you, you can still add natural elements to your home in other ways. A bouquet of year-round flowers in a vase can brighten up any home, or if you want to bring seasonal and festive to the next level, pumpkins! There's a tonne of ways you can add little bits of Autumnal beauty with the help of organic additions.
Fabrics and Soft Furnishings
While pillows are a great start and, as we have said, a great way of incorporating patterns and autumnal prints into your home and decor, it's not just pillows that can succeed in doing this. There are many ways you can use fabrics and soft furnishings to spruce up your decor and add Fall vibes, especially if you don't want to do anything too drastic!
Textures are important here as they add an additional depth to your decor that you don't really get otherwise. Fall is all about chunky knits, woven fabrics, and velvets and there are numerous ways you can add all or some of these elements into every room in your home. In the living room, a chunky knitted blanket that fits nicely with your interior gives off perfect comfy, Autumnal vibes. In your bathroom, woven baskets and hampers are great in staying on the theme for the room and on-trend for the season. Additions such as velvet pillows, blankets, throws and bedding covers could all work great in the bedroom, or in areas like the living room or foyer in the form of curtains.
Another way to add depth to your home, as well as add Fall vibes, is through the use of autumnal prints. This can be done in a number of ways, for instance, canvases and pictures throughout your home, but for now, we will focus on applying this idea to the fabrics and soft furnishings in your interior. Pillowcases in your living or bedroom can have nature-themed prints like foliage and flowers, whereas your bedding or blankets can have geometric prints which are interesting, unique, and very one trend!
The important thing when adding Autumnal vibes to your home via soft furnishings is to exude warmth and comfort, as that is what this season is all about!
Extra Tips
Whilst there are a number of ways you can add a nod to the Autumn season throughout your interior - some of which we have just spoken about, there are an endless amount of other ways to do so. Here are a few more tips!
While the days are getting shorter, the nights darker, and your need for comfort stronger, what's better than making the most of the light situation when you can. At night instead of wasting electricity, add to the comforting Fall ambience by lighting a few candles and curling up on the sofa to enjoy the fresh evenings. Likewise, during the day make the most of the light as this is becoming less and less heading into winter. As an added bonus, think of what you're saving on electricity bills and also helping to be more environmentally conscious!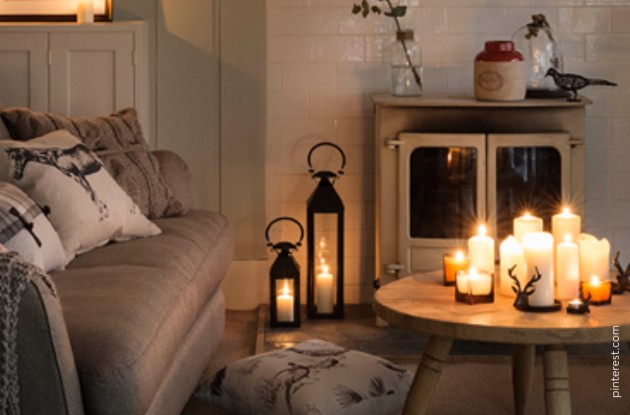 A great and simple way to effectively add Fall vibes to your home is to take advantage of and embrace autumn scents. Whether you have a wax burner to burn some pumpkin scented waxes or a candle that you bought as it is your favourite berry scent, these are great ways to not only embrace Autumn but to exude it, also, as when you have guests over this will be one of the first things they notice and will love. A few other ways? Baking some fresh cookies, preparing hearty meals like soups and stews, or just placing a few cinnamon sticks around your home to fill your interior with incredible smells.
If you don't want to change your entire decor, try and incorporate a cosy corner for drinking some tea, coffee or hot chocolate while snuggling up to read a book. All you need is a bit of space in your living room, bedroom or spare room, lots of blankets, lots of pillows and a good book - this takes comfort levels to the extreme and is definitely top-notch Autumn vibes!
If you are privileged enough to have a fireplace, take advantage of it! Whilst it isn't practical all year round or during all seasons, Fall and Winter are perfect for cleaning it out, getting some firewood and having incredibly cosy nights by a nice fire. What else is more relaxing than the crackling of a fire, the heat emanating from it and the idea of roasting marshmallows?
With Autumn comes delicious seasonal fruits and these Fall fruits are a great way to add a nice healthy and edible touch of the season to your home. Apples, pears, nuts and any other seasonal fruit or vegetable would look great jarred in the kitchen, in a fruit bowl on the dining table or placed appropriately in the living for guests or your children to help themselves - or even just to help yourself!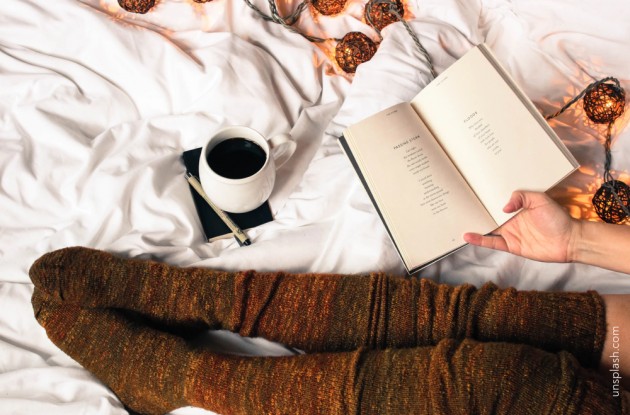 If you want to take this to the next level and you have the bonus of having an outdoor area, keep it cosy. Decorate with pillows and blankets to bring that comforting interior vibe to the outside. If a fire pit is feasible, install one as these look great and work great in the colder months as well all year round - even an outdoor heater is an amazing idea! If you want to keep it simple, just add some decorative lights so that you can sit and enjoy the autumn nights.
Whether you want to keep it simple with a few candles or pillows, or go all in and overhaul your entire interior, there are many ways that you can do so as Autumn is such a versatile season that can be utilised to the max when thinking about adding Fall vibes to your home.
Think about what your options are and go from there, as we understand not everyone wants to open a can of paint or completely change their decor, but there are incredibly easy ways to add your own unique touch of this season into your own home, follow our tips and tricks to find out which one works best for you!