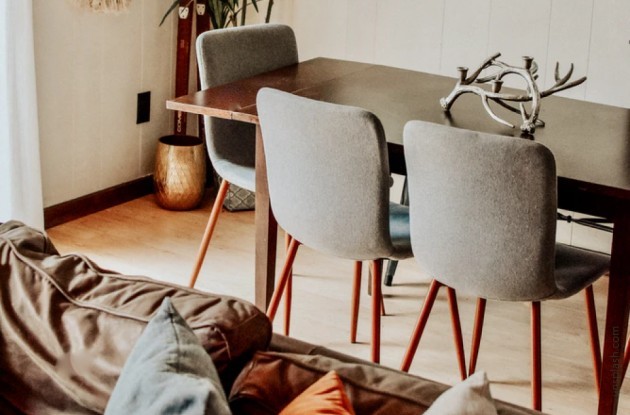 Get creative and vibrant, and go boho in your interior. With its mix of colours, fabrics and furniture it's no wonder this style is gaining momentum this year. Not only a design trend for free spirits or those who just want to switch up their style, the bohemian vibe and its eclectics is catching the eye of a lot of people so let it catch yours.
Whether you're all about patterns, mixing colours or combining furniture styles, or you just want to give a room a fun and creative makeover, we have the answer with the casualness of bohemian style. Listen to our tips and follow our tricks and you can perfectly utilise this funky aesthetic in your home!
Colour Choices
Like any design, it's important to start with the base and that usually means colour. The great thing about boho design is that it is the perfect opportunity for self-expression and therefore basically any colour choice is the right one.
The colour scheme itself depends on the direction you choose to go in, for example, if you choose to go beach-boho then calm and neutral shades are a perfect choice. You can mix it up with colours or choose a dominant one, like a beige or brown. This type of style works great in a living area. Likewise, cool blues could work well in a living or dining area, mixed with whites to create a tranquil vibe in the room.
The eclectic nature of boho-chic opens up a lot of opportunities to get creative. Don't just think that you have to stick with a colour palette that is calming and simple, express yourself! Try out colours you normally wouldn't go for and get adventurous, after all, you can always paint over it!
Mix and Match
Whilst overcrowding is never a good idea in design and decor, with boho you can push this to its limits. Under-decorating a room can make it feel bare and cold whereas over-decorating does the opposite, but if you can find the right balance, you will be able to successfully pull off this vibe.
Think about furniture and additions to a room that will work well with each other and "mix" with the style. This mixing is about curating pieces that will help keep the room alive – some woven chairs placed with a glass table is the perfect choice for a dining area or kitchen as the glass table provides a more modern touch but the addition of the woven chairs is what makes the "eclectic" idea a huge part of boho.
Likewise, some vintage lighting is great when paired with a brand new sofa as it keeps the living room vibrant and interesting. Add in some natural elements like tall plants or even small fruit trees, if the space and the sunlight allow it, and you have a "living" living area.
Floral Patterns
One of the well-known staples of boho is the addition of florals in almost everything. This is another way to mix and match with design and decor. Take for example the living area. While you can keep the walls as simple as you want with neutral paint and the furnishing simple wood or metal, you can add that touch of bohemian through the sofa or chairs which would give off that fantastic vintage/traditional vibe if upholstered in a floral design or even covered with a floral designed blanket.
Likewise in the bathroom – usually a place where you might avoid wallpaper, you could make the room unique with the addition of floral wallpaper, in the colour and style of your choosing. Pair this with some wooden or wicker furniture and you have that amazing rustic, bohemian vibe that you are going for.
Another way to add florals into your home to try and go for that boho chic is to literally add florals into your home. Fresh cut flowers spread throughout your home in stunning hand-painted vases are a nice way to keep your place filled with natural elements, add a nice smelling touch and create a lively and chic vibe throughout each room.
Soft Materials
When adding the final touches to your home to pull off the perfect boho vibe, even the smallest furnishings are important. In the bedroom, minor details such as the pillows and blankets need to be on point to successfully be boho. Here it's as simple as adding soft and plush textures, like some interesting cases for pillows or a textured blanket – the more rustic looking the better, and of course, colours are always a bonus!
If you are keeping it cool in your living area with neutral shades and simple furniture, a way to add an extra pop of boho is by utilising the floor space. Here you can install patterned tiles, some hardwood floors or even something as simple as a woven rug. Another great use of floor space is by creating cosy corners – placing a rug and pile on the pillows for your own little meditation or relaxation area.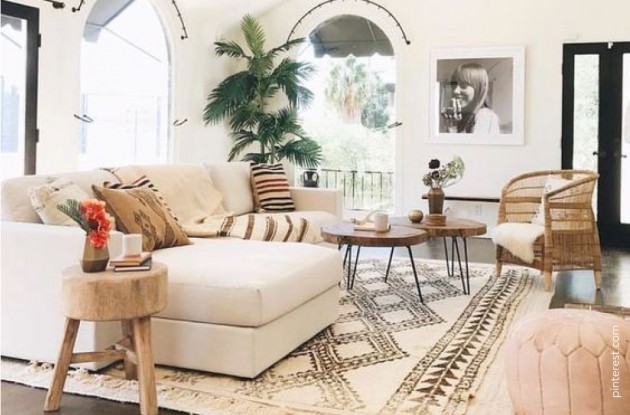 Wall and ceiling space is important too and often an overlooked area after painting and/or decorating. If your home has some structural elements that are interesting, show them off! Paint the ceiling beams an interesting colour or showcase an exposed brick wall or ceiling – this all helps towards the eccentric vibe of boho chic.
You could also hang a textile pretty much anywhere, in any room and it would add both a pop of colour and add more to that boho vibe you are going for. We think additions such as textiles work great behind a headboard or bed and keeps the room cosy and unique.
Even though boho style dates all the way to the 1800s it is showing no sign of slowing down as a lot more people are opting for the calm and carefree attitude that comes with bohemianism. At its core, it's about being yourself and relaxing, which is why we can understand why people are drawn to it.
Bohemianism is in no way limited so you can be as adventurous and carefree as you like when taking the plunge and adding it to your home, however, whether you're a boho enthusiast or just ready to step outside your comfort zone and try something new, we hope these few tricks will help you in your design journey towards successfully pulling off this chic aesthetic!