Designing your dream home with Planner 5D isn't just fun – it's a great way to learn key concepts in science, technology, engineering, and math. That's why schools around the world are bringing the home design tool into the classroom. We take a look at how Planner 5D is helping to engage a new generation of learners.
Bringing education up to date
Although STEM is a major focus of the curriculum for many schools, teachers sometimes struggle to find innovative ways bring together the academic disciplines of science, technology, engineering, and mathematics in a way that engages and inspires Generation Z.
Planner 5D gives educators an easy, accessible and interactive way to reach them.
Technology makes learning fun. And by employing technologies such as 3D virtual reality – familiar to younger students through video games – Planner 5D brings learning to life.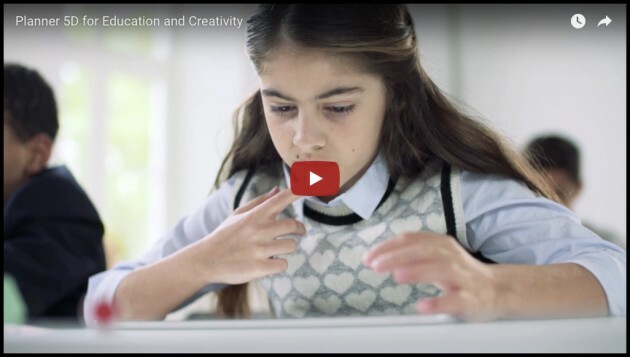 Developing key skills
By using Planner 5D to create floor plans, customise furniture and other objects, students engage in practical, hands-on projects that make them address key questions in design and math. Abstract ideas such as geometry or calculating areas suddenly make sense, as students find practical applications for their knowledge – with the reward of walking through an immersive, 3D rendered creation of their very own!
Because Planner 5D encourages students to think creatively about the way they tackle real-world issues, it helps develop their problem-solving abilities, together with cognitive skills such as a spatial awareness.
Learning together
Planner 5D brings students together to work on project-based activities that produce real results. By encouraging collaboration and developing key skills such as teamwork, Planner 5D turns learning into a fun, interactive group-based activity. Every student gets the chance to make their contribution and discover their own areas of interest and expertise.
Planner 5D also helps to transforms the traditional, passive teacher-student relationship, enabling students to explore and discover new concepts for themselves - with the teacher acting as encourager, adviser, and coach.
Connecting science, technology, engineering, and math
One major challenge that educators face is finding ways to integrate the different disciplines involved in STEM education.
As a classroom tool, Planner 5D helps students not to think of disciplines such as math, science, and even art separately. Because interior design involves working with real-world concepts, learning with Planner 5D seamlessly merges design, math, and engineering concepts, while enabling students to develop their own sense of aesthetics.
Using Planner 5D, students learn to think in practical ways about issues such as usability, how and where to place furniture, windows, doors, and other objects to maximise light or make their designs efficient.
Planner 5D brings a powerful, practical dimension that allows students to see the relevance in what they're learning – and exposes them to a variety of industries.
Seamless learning in class and at home
Planner 5D works in any browser without the need to install any extra plug-ins, and is available for Windows, iOS, and Android – so students can use it to carry out homework assignments outside the classroom, too.
Download Planner 5D for Education from Microsoft App Store, iTunes, or visit our education website https://planner5d.com/edu