The term "eco" is becoming a new trend in different fields. Self-built homes are not an exception. People strive to live in more environmentally friendly conditions utilizing some new approaches that are becoming a dominating force in the construction field as well. Renewable, sustainable, green, eco – we all hear all these terms a lot these days but a few people realize what they mean in references to eco-friendly homes.
In this article, we will define some key factors and criteria that differ from a conventional home from an eco-house. You will find out more about "green" materials to use when building a house as well as some beneficiary approaches to make your home look more ecologically appealing.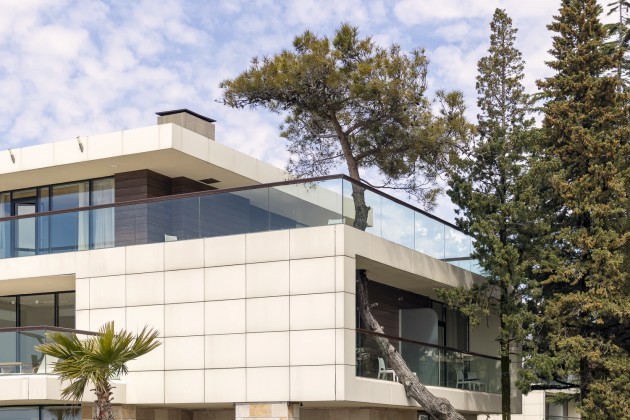 What Is Eco House?
To define the term "eco-house", we need to think in a bit more ecological way. An environmentally-friendly home is not supposed to counteract the natural ecosystem. In other words, it is supposed to be constructed using specific materials that do not pollute the environment with carbon dioxide or other substances, that are safe, long-lasting, and durable.
What's more, eco house maintenance should require fewer resources. A good idea is to use renewable energy options such as solar batteries, eco fuel, etc. Of course, we should always take into account the budget. This is why eco houses must be affordable enough to offer more sustainable living.
Ways to Design Eco House
The idea comes first. It should have a purpose. What do you expect from your future home? Should it offer a healthier ecosystem to live in? Is it supposed to reduce maintenance costs and bills? The answer will define a selection and type of materials as well as construction concept. Here are some simple ideas to start designing your future eco-friendly house:
Think of fabric first.

Use materials that do not contain carbon.

Utilize the idea of a healthy environment inside your home.

Connect the house with surrounding nature using the Biophilic concept.

Use alternative design ideas and holistic decoration elements.

Build a house made of 100% recycled and natural materials.
It does not mean you need to stick to a single concept. It is possible to mix different approaches creating a perfect eco blend for your future home.

Essential Eco House Features
What features define an eco-house from a conventional one? First of all, it offers more daylight and a higher level of insulation to create a healthier and more environmentally-friendly atmosphere inside. As we mentioned earlier, the home should be linked with the surrounding nature. This is where superior double or triple-glazed windows can do the trick bringing more air and light to each room. What's more, they appear to be more energy-effective thanks to heat-loss reduction properties and the ability to let in more sunshine.
Heat management is one of the core features that define an eco-house. It can be achieved through improved air conditioning, brise soleil, and some other tools not just to reduce heating costs but to create a warm and cozy atmosphere despite the weather outside.
We have already mentioned renewable energy sources as the major industry trend today. The same can be applied to eco-homes. To provide hot water and heating, it is possible to use solar energy, biomass, or heat pumps that are becoming more and more popular, although not all families can afford such technologies because of their high price. Green electricity suppliers are also a good idea along with collecting rainwater, using natural finishing and building materials without plastic, etc.
Materials to Use When Building an Eco House
While we are speaking of an eco-house, we still expect it to be safe and durable. Selecting high-quality sustainable materials can be tricky., especially without having a deep understanding of how those materials were produced, what properties they have, and if they are good enough to build an ecologically friendly home.
You may consider some of the following options:
Natural materials – wool, straw bale, natural wood cellulose insulations, and other materials of this type are the first that comes to our minds when we talk of eco-homes.

Recycled materials – you may build your house using reused or recycled materials.

Low-carbon materials – a good idea is to opt for materials that contain no or less carbon dioxide footprint, which is considered the main reason for many environmental problems.
No matter what type of sustainable materials you use, make sure you know where and how they were sourced. While eco does not always mean cheap, you will have to deal with generally premium materials. To reduce the cost and eventually come up with an affordable eco house, it can make it smaller, for example, as it will require fewer materials.

Eco Home Design Ideas
Eco houses are all about connecting with nature, which means endless ideas for design and décor. The best way to link your home with green surroundings is to create green walls and planted roofs. On the one hand, you are not supposed to create a garden on the roof. The idea is to use simpler plants that do not attract insects or animals.
A green wall is actually the same as a planted roof although placed vertically. It does not mean that all walls in your house should be green, making you feel like living in jungles. You may use only one wall or only a half of it to make green using different plants without having a dramatic effect on the overall interior design concept.