We at Planner 5D love to showcase our users and their original ideas, so from time to time we will pick a "Design of the week". This week me, Alisa, an interior designer here at Planner 5D have been chosen to pick a project, and for this week's "Design of the week" we have chosen this wonderful dark design submitted by one of our users.
One of the big reasons that this design was chosen this week, was because of how it shows that dark walls are a great stylistic choice if done right. In this case, we can see a great example of it being done right.
The walls, doors, window frames and the ceiling are painted a very dark gray, but the fairly light floors and decorations bring in that much needed balance, so the room doesn't actually feel dark or cramped. Even though dark walls are becoming more and more trendy, we completely understand the concern of redesigning your spaces and the big investment that comes with doing that. However we think that it's a classic trend that will not go out of style for a long time.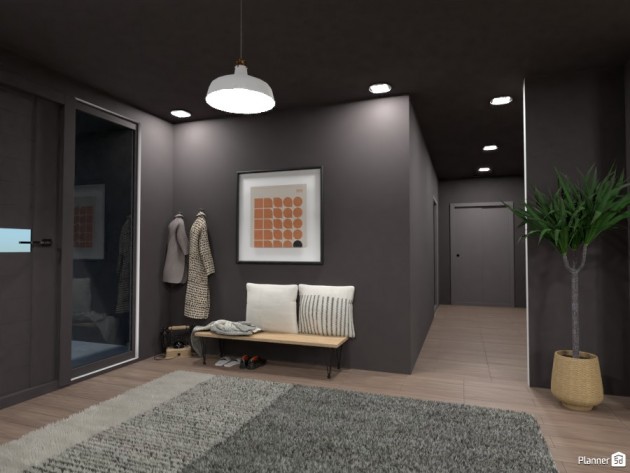 Bringing the ceiling lights a bit closer to the walls have given it an almost gallery-wall feeling, also brightening up that wall to make it feel more accentuated. While the pops of orange and green give it more life and playfulness, while still feeling balanced.
Moving from the hallway up to the dining room and kitchen area, you can see quite a contrasting change of colours from the dark gray to a more yellowy-beige. But it does not seem out of place, because the window frame, the legs of the furniture and the accessories, as well as the lamp shades are all dark, tying the rooms together. The depth and drama of the hallway space keeps it from feeling too one-note.
The dining room portion of the space makes great use of an area rug beneath the dining table that precisely defines the area without having to build any walls.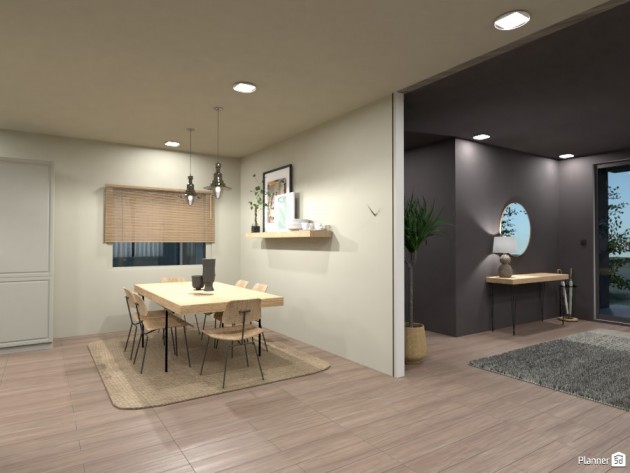 The kitchen is more simple, but not at all boring. It also features dark hardware, so as to tie it in with the rest of the rooms, but is kept light and airy by having light cabinetry and tabletops, and also having a grand big window that leads out to the back yard. Not only does it make the room look and feel much bigger, but it also gives so much natural light during the day. And another big advantage to having your backyard next to the kitchen is that it's very easy to bring food in or out during the warmer months, when you are sure to be spending more time outside.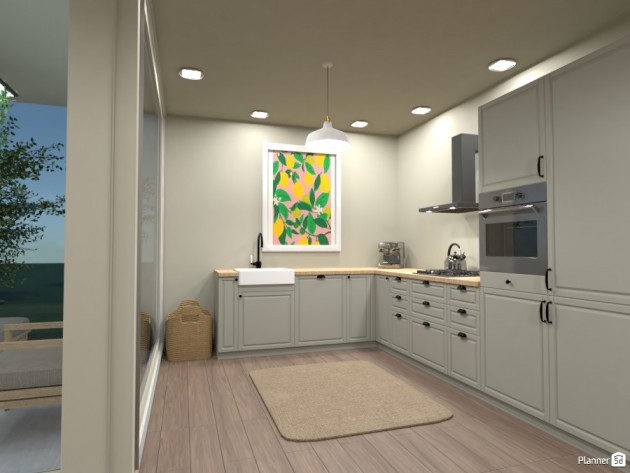 The bathroom is a great example of showing how you can fit everything you need into a space, while still keeping it looking stylish and not at all crowded. The black walls offer a perfect contrast against the white tile, fixtures and accessories of this bathroom, while the colorful rug and plants offer up that much needed pop of color to tie it all together for a cohesive and balanced design. The dark and moody room adds a lot of character and sophistication to the room.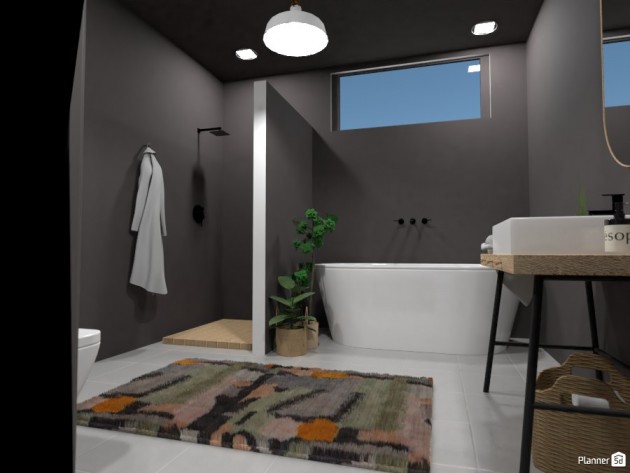 The window that is located above the bath is a great way for the room to get plenty of natural light during the day, while also keeping the highest amount of privacy, so you don't have to worry about anyone seeing you while doing your business.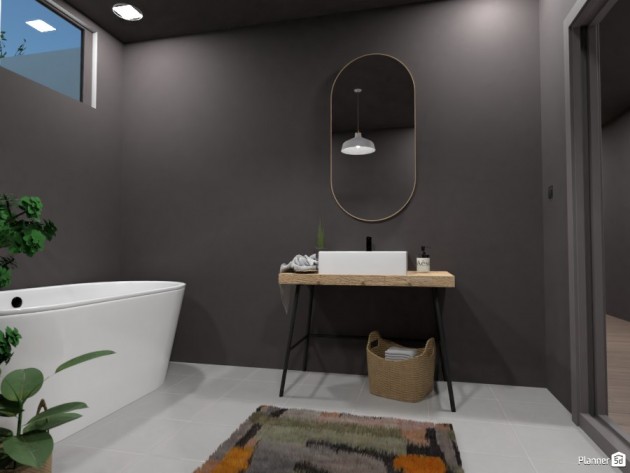 For those who are afraid to paint their rooms in dark or black colors, it is a great idea to experiment with painting your bathroom first, because not only will it make the space more cozy, but you also don't have to commit to a huge room for the small chance that you wouldn't love it.
If you'd like to see more projects like this one, you can go to our gallery.
In conclusion, many of us would probably be hesitant to use dark colors in our room in the fear of it looking too dark, but take this design as an example of how you can make it work , if not in your home, then you can at least try it out while designing your spaces in the app with a bit more courage. Go ahead, and good luck designing!