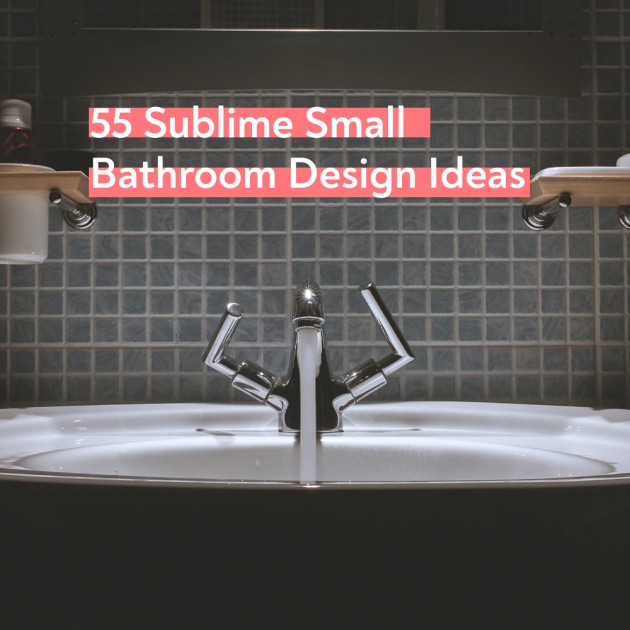 We reveal our top tips for remodeling a small bathroom to make it look bigger. Be warned — our massive selection of pictures will blow your mind. Keep reading and dreaming with Planner 5D.
When it comes to bathrooms, it's not about size, it's how you design it and make the most of it. Maybe you associate luxury bathrooms with loads of space and gigantic bathtubs, but even a small bathroom can become the bathroom of your dreams.
With a little imagination, a tiny bathroom can become your own private haven. It can become a place to relax, rather than somewhere you visit only when you need to use it. There are many ways to improve your small bathroom: find a layout design that fits everything you need. Experiment with lighting and color to make your bathroom seem more spacious. Clear up the clutter and store toiletries smartly. In this article, we'll give you a massive list of ideas and images to inspire you to transform a sad, drab cloakroom into the bathroom you deserve.
Small bathroom layout
What makes your bathroom seem like a 'small bathroom?' Perhaps it's a little dark. Maybe you don't think you have room for a bath. Or it's super narrow. The bathroom ideas below will help you to create a layout that adapts to the space available.
Basement bathroom
A small bathroom in the basement can be just as inviting as one elsewhere in the house. Planning is essential, as you might find your plumbing options limited. Consider creating a wet room makes the most of space by eliminating walls, or open it up with a seamless glass divider separating the shower. Glass designs divide the space without darkening it. If the room has no windows, create your own light: a wall sconce is a good option here, as it can illuminate the whole space. Install your lighting somewhere where it will stay dry, as basements often retain moisture.
¾ bathroom
A ¾ bathroom is one with a sink, a toilet, and a shower. Although it doesn't contain a relaxing tub, it's still possible to make this kind of small bathroom space utterly divine. Choose a layout that gives you room to change into and out of your clothes - no one likes bumping awkwardly into a hard corner! Keep the toilet and shower away from the bathroom door to achieve this. A bi-fold shower door saves even more space, as it doesn't need to open into the bathroom itself.
Master Bathroom
If your master bathroom is really limited for space, why not try a pocket door? It leads on seamlessly from your bedroom without compromising for hinges. A corner sink also frees up more space for luxuries such as a statement tub to unwind in, even in a small bathroom. Your master bathroom should be zen - make it cozy by allowing enough room for the essentials.
Narrow Bathroom
A narrow bathroom is an opportunity to get creative. Incorporate slimline designs such as elongated sinks and mixer taps. If you can, keep one of the long walls bare - this creates more space and makes it easier to move through the bathroom. If the shower or bath can fit along one of the short walls, perfect! It balances the space out and makes your small bathroom seem roomier.
Storage — when size doesn't matter
For storage that makes the most of the bathroom you have available, we have plenty of hacks for you. First, make sure every single item has its own dedicated space - from your towels right down to your bobby pins. Then, embrace the verticals! Storing items on walls frees up that essential floor space in a small bathroom. Get innovative by using little nooks and cubbies: mount a shelf above the door, store toilet paper on top of the toilet in a sleek box or basket, and add extra pockets to the back of cabinet doors. Magnetic strips are handy for storing metallic items, and if you don't have room for a closet, hang your towels and bathrobes on hooks. Hooks take up such a tiny amount of space and add a decorative, vintage design to your bathroom walls.
Main features of the small bathroom
Even if you have a small bathroom, there's room for all the essentials. For example, choose a toilet that comes in one piece rather than a separate cistern and bowl. Make use of corners, multipurpose items, and floating vanities. Below, we reveal how to accommodate a bathtub, shower, and sink into your bathroom without it feeling like a squeeze.
Bathroom with tub
Every house deserves a bathtub, even if the bathrooms are tiny. Consider a bath that has a shower attachment so you don't need a separate shower. Let's hear it for multifunctional design! Think minimalist: if you have a choice between a beautiful bath/shower combination and a cramped bathroom with loads of furniture, go for quality over quantity. There's no reason to skip the luxury in a small bathroom.
Small shower ideas
Showers with bi-folding or sliding doors save a tremendous amount of space. Shower curtains add a splash of color, but glass doors keep your bathroom design sleek and seamless. A corner shower maximizes space, while a walk-in shower makes the bathroom seem roomier. Combine it with a glass wall to avoid dividing the area too much. A shower that is wider than it is long can feel extremely luxurious, even in a small bathroom.
Sink
Wall-mounted taps are a great way to save space while also looking minimalist and modern. Fill up a spare nook with a corner sink - this is a great way to fit a more generous piece into a small bathroom. If vanities are your thing, choose a floating design! This creates the illusion of more space. It also gives you somewhere to store items temporarily and is a neat spot for underlighting.
Tile ideas
The right tiling can make your bathroom space look much more extensive. Create illusions by taking the eye on a journey along longer lines. Diagonal tiles trick the mind into thinking you're looking at a broader room, not a small bathroom. Consider which color scheme and design will achieve the right look. Lighter colors reflect natural illumination and make your space feel larger. They're also a fantastic choice for creating a peaceful, neutral effect. Play with light by using glossy, reflective materials such as marble or metro tiles. They're elegant and create a classy atmosphere while making your space shine. If you love patterns, use them to create a feature wall to distract from the small bathroom.
Lighting and colors
Natural light is not the only one that matters. Be creative with your lighting design, but keep it simple. Avoid overwhelming a small bathroom with powerful or complicated lighting, as this can lead to your bathroom feeling cluttered. Fitting underlighting to your cabinets is a very subtle way to light a small bathroom while keeping it cozy. You can also install a sconce on a wall or the ceiling to illuminate the whole bathroom while taking up as little space as possible.
It's usually best to keep your colors neutral. White and other off-white shades are very popular, but if you want to break out of the ordinary, try out an accent wall to vary your bathroom's decor. This type of design distracts from the small bathroom, as it draws the eye away from the floor. Stick to similar shades to make it seamless: overdoing it with all kinds of colors can make a small bathroom seem cramped, cluttered, and overwhelmed.
Decorating a small bathroom
Decorating is arguably the most exciting part of remodeling a bathroom. Just because it's a small bathroom doesn't mean there's not space for a few enjoyable details. Never forget that floor space is short, so any art or gallery pieces might need to be attached to the walls. Keep your sink clear from clutter, and use storage solutions to keep your toiletries tidy.
For decorative storage, consider using picture ledges. Picture ledges come in all shapes and sizes, with minimalist options as well as vintage designs available. They fit much more easily into a small bathroom than floor-based decorations. Make them match your color scheme with a splash of paint. You could also attach storage baskets made from natural materials to the wall. These floating details are both excellent options for keeping your toiletries tidy and decluttering your surfaces.
Big mirrors are your friends. Mount large ones on the wall to create a feature that attracts the eye - after all, everyone likes looking at their own reflection, rather than a small bathroom space. Mirrors are yet another reflective surface that accentuates the light available. If you're into bold design, why not accessorize with a mirror with its own inbuilt lighting?
Fond of that natural touch? Bring plants inside to purify the air and brighten up a small bathroom. They can sit proudly on a shelf as a zen decoration, or even dangle down from a higher point. This extends the space by creating an extra vertical line.
Gallery walls are an excellent option for a focal point when you have little floor space in a small bathroom. Put them at eye level and above to draw attention up and away from the floor. This layout design provides something to look at and will make you forget your bathroom is so small.
DIY Small bathroom remodeling tips
Inspired by the above tips and want to put them into practice in your own small bathroom remodeling project? DIY is one way to save money. However, remember that remodeling a bathroom is a lot of hard work and might take you a while. Don't be ashamed to ask a professional to design or complete the parts that you're not sure about!
If you decide to go it alone, the key is to plan, plan, plan. Make sure you are 100% aware of where your electrical fittings, fixtures, and plumbing are located in your bathroom before jumping into the design process. Be mindful of your measurements when remodeling a small bathroom - it's no use deciding you'll put a toilet in one place and then finding you can't open the door later. With that in mind, think about where your pieces will go. This vision will decide everything else!
Once you've installed all your fixtures, start on tiling. Make sure you choose the right tiles and the right design, as they will influence the whole look of your bathroom. And, even more importantly, measure and triple-check to avoid wonky tiling. In such a small bathroom, mistakes will be obvious.
Follow on with painting, wallpapering, and finally, add those finishing designs like vanity and any little details. Your small bathroom is almost finished! Some guides suggest leaving the toilet until last to avoid damaging it while remodeling and decorating.
So whether or not you're taking on the remodeling yourself, there are so many ways to make a small bathroom seem larger. Try out different layout designs and take advantage of vertical space. Use materials such as glass and reflective surfaces to accentuate natural light, and use your own artistic touches to distract from a lack of space. Don't limit yourself: a small bathroom still has the potential to be a place to relax. It's your bathroom, make it beautiful.