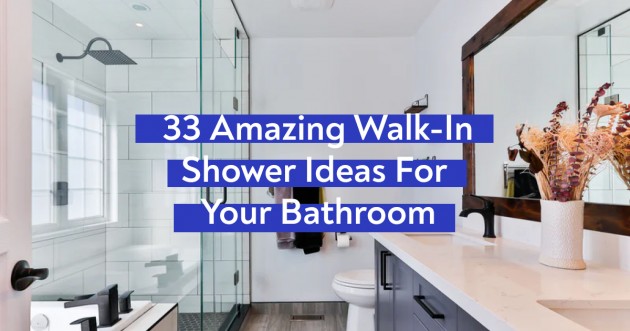 Imagine a spa in your own bathroom. Enter: the walk-in shower.
A walk-in shower is a shower that either has no step, or a much smaller step, than a regular shower. You can incorporate the shower into your bathroom seamlessly by transforming your bathroom into a wet room. If you'd rather keep the space separate, introduce a small step up and keep the rest of your bathroom floor dry.
This type of shower creates luxury and relaxation in your bathroom. It is also more accessible than the traditional shower with a small tub. It fits beautifully into minimalist interiors and makes smaller bathrooms look more extensive, as it doesn't interrupt the space.
If this makes you want to build your own walk-in shower, read on to find some Planner 5D walk-in shower ideas and answers to your frequently asked questions. As always, we've got loads of pictures to inspire you.
How-to
A new walk-in shower might seem like an undertaking, but we'll break it down to make it simple.
Placement
Decide where you're going to install your shower. If you have a small space, this decision might be made for you – perhaps you'll put it in the corner. If you want your shower to feel extra luxurious, take up a whole wall with it. With a glass divider, this makes it seem almost like standing under a waterfall.
Floor
Whether you have a walk-in or a wet room, the biggest concern is making sure the water can drain away easily. Install your shower correctly and that there is enough of a slope on the floor or tray for water to find the drain.
The floor is obviously going to be the part of your walk-in shower that gets wettest. So choose a surface that can deal with moisture: opt for a non-slip, water-resistant tile or non-porous stone. One way to make sure your floor doesn't get too slippery is to lay tiny tiles. With the extra grouting, it offers more grip.
Design ideas
How can you make sure your walk-in shower as feels luxurious as it can be? Make sure you design it well! Whether it's a spa feeling you're going for, or a beachy feel, the way you plan the basics makes all the difference.
Walls
Whether your walk-in shower makes use of one or two walls, choose the material wisely. Something water-resistant, of course! Unlike the floor, you don't have to worry about whether the wall is slippery or not, so use your imagination.
Glass tiles are a way to make your walk-in shower look fresh and contemporary – they're also easy to wipe down and come in many colors.
Glass isn't your only tile option. For a slightly more industrial look, try subway tiles. Depending on how you style them, they can seem trendy and modern or classic and retro. This makes them a timeless option. You can create a shower that's fit for a spa by using larger tiles made from stone.
Dividers
Most walk-in showers use a glass divider to keep the water from the rest of the bathroom. Glass offers a seamless transition to your shower, and keeps the space open and airy.
There are other ways to divide your walk-in shower from your bathroom. Consider installing a ¾ tiled wall at the side of the shower. This goes really well with a beach theme, but can also make you feel like you're at a spa. It gives you an extra feeling of freedom as you're not cut off from the rest of the room.
Finally, there's also the classic shower curtain! These are falling out of favor, as they tend to be harder to keep clean. But there are some great options out there - you don't have to settle for ugly plastic, choose one that's bold with a pattern. It's great if you want more privacy.
Taps and showerheads
The taps and showerheads you choose will make a huge difference not only to the look of your walk-in shower but how you experience it. Firstly, your choice of showerheads depends on your space. If you're working with a smaller room, it might make more sense to have a handheld showerhead that you can hang back up.
If you're creating a big, luxurious, spa-style walk-in shower, consider installing a rain shower head. The larger showerhead increases the water coverage and provides the ultimate in tranquility. This type of showerhead doesn't have the same pressure as a small handheld or fixed one, so think about installing one of these as well – that way, you can enjoy convenience without skimping on luxury.
The materials you choose for your taps and shower head also affect the general vibe of the bathroom. Match them to what you have in your bathroom already, but if you're renovating from scratch, think about what style you want to create. Metals like zinc or steel are most common and are great for a timeless bathroom interior. Brass taps lend the shower more of a classic feel, while black matte fixtures give the space an industrial look.
Details
Colors
An excellent walk-in shower is somewhere you feel relaxed and clean. Choose the colors accordingly. We've talked about a beach theme already – you can achieve this with blues, yellows, and whites.
A monochrome look doesn't have to be dingy. As long as you have enough light in your bathroom, a black and white walk-in shower can make your space look simultaneously trendy and classic.
For a spa that reconnects with nature, stick to earthy hues. A gorgeous brown or coffee-colored tile works well for this.
Storage
In any shower, walk-in or otherwise, it's so important to think about storage. Bending down to rummage among a pile of bottles isn't that luxurious – install a shelf to make things easier. There are several options: install a corner shelf to keep your toiletries in order. Or create a shelf in an alcove. Light up the nook with a waterproof LED to really set it off. It's also worth mounting a hook to keep your face cloths and loofahs within easy reach.
Luxury touches
While you don't 'decorate' a walk-in shower in the traditional sense, there are some small details you can include to make it a space to enjoy. For example, many walk-in showers now include a seat - this gives you more space for shaving, scrubbing, and taking time out. If you don't have room for a long bench, consider including a waterproof stool or create a corner seat.
Another way to keep tranquil is to reconnect with nature. Include plants in your bathroom design and make sure they're within eye-line when you're showering. A fantastic way to transport you from the shower to somewhere peaceful.
FAQs
We've shared some ideas, but we're sure you still have questions! We'll try our best to answer some here, but if you have any more, reach out to us on Instagram and in the comments!
How much does a walk-in shower cost?
According to HomeAdvisor, a walk-in shower can cost between $750 and $6850. It's not necessarily cheap, but the benefits will be worth it.
What are the pros and cons of a walk-in shower?
Pros:
It feels super luxurious.
It is more accessible, especially for people with mobility issues.
It makes your bathroom feel more spacious.
Cons:
You might get cold more quickly if you have no door or curtain.
It's easier for water and steam to get into the rest of the bathroom.
There's less privacy than a traditional shower.
Can you put a shower curtain in a walk-in shower?
Yes! Although most people tend to avoid shower curtains, a dramatic one stretching from floor to ceiling can also create a luxury feel. Choose one made from good-quality material with a motif that matches your bathroom.
Is my bathroom too small for a walk-in shower?
Of course not! If you install a low wall with glass above it as one of the shower's sides, you can use that wall for storage. You could also place your shower in a corner or in a natural alcove in your home. Remember to decorate with light colors and reflective surfaces to make the room seem bigger. A small bathroom might seem like a challenge, but there are many ways to manage it. See our guide to small bathrooms here.
Whether you're designing a small or a large bathroom, a walk-in shower is a great fit. It's easy to access and totally luxurious. We'd love to see your walk-in shower ideas, share them with us in the comments or on Instagram.