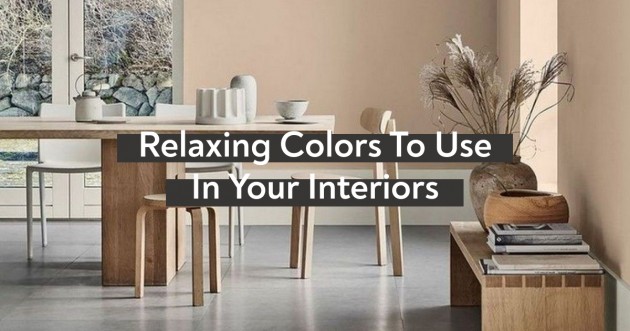 It's well known that the choice of a color can affect your mood, appetite, and even ability to sleep. This is known as Color Theory. It's the examination of how colors can affect humans and how they react to them. For interior design, this knowledge can be used to create a space that has intent and wants to be sure in setting a specific mood in the space.
In this article, we're sharing 7 colors that will get your space feeling like a zen oasis with just one coat of paint. Don't go to sleep when looking at these super calming photos though!
White
A lot of people think white is the lazy pick when it comes to choosing a color for an interior, when in all actuality white is one of the most refreshing and revitalizing colors! White can replicate the feeling of light and create a sense of spaciousness. Like a blank canvas, white walls or white furniture will feel like a fresh start to any day! It's recommended that the white has a warm undertone so that the space doesn't feel too stark or cold though. While this is a color that can be used in almost any space (whether big or small), entry spaces, living rooms, dining rooms, kitchens and bathrooms would all be a great place to use a refreshing white tone.
Light Blue
Just like the sky above us all, a light blue tone in a space creates a cheerful and positive atmosphere which in turn makes a person feel peaceful and tranquil. Helping the mind relax, a light blue tone allows a person to manage their stress more easily, slow the heart rate, lower blood pressure and ultimately lessen anxiety. Great spaces to use this color in would be bedrooms, dining rooms, living rooms offices and bathrooms.
Green
There's a reason why getting out into nature feels good, it's not just all the fresh oxygen that has you feeling rejuvenated but the abundance of green colored life that your eyes absorb. Using soft green tones like sage, mint or seafoam green in a space can imitate this same feeling that nature provides of balance, harmony, growth and life. Green makes an environment feel serene and where recuperation and relaxation can take place ....like a spa does! Spaces that benefit from a green color palette are bathrooms, a dining room, kitchens and garden areas.
Pink
Although normally considered a feminine color that's used in young girls rooms, pink is a color that expresses feelings of love, sensitivity, nurture and calm. Using pink in a space will lift your spirit and make you want to lounge around all day in this safe and comfortable cocoon. Spaces that benefit from this intimate color could be an entryway, an adult or child's bedroom, a bathroom or even living room if executed well! To keep a pink space feeling relaxing though, it's best to use a light pink color that has a warm undertone.
Yellow
Like our good friend the sun that shines down upon us daily, the color yellow breathes energy, joy and optimism into life itself. So, bringing this warmth into a space you can make a room feel playful and light-hearted and therefore create happiness and relaxation. Be sure to keep this a soft shade of yellow rather than a vibrant one so that your interior doesn't feel loud or overwhelming though! Great spaces to make use of this cheerful tone are kitchens, hallways, or a sunroom.
Purple
Purple has a reputation for being a regal and elegant color. Like the lavender flower that has the calming properties of scent and color, a light purple tone in a space can inspire creativity to fantasy while also providing peace of mind. Make a space like a dressing room, entryway or living room feel cozy and inviting through the use of soft pastel purples.
Beige
An organic tone in nature, whether from wood, sand or a rock, beige is a tone that can have either a cool or warm undertone and psychologically elicits feelings of dependability, comfort, and rest. Beige is a great color to combine with other neutrals in order to create an overall serene environment that feels inviting and cozy. Many interior spaces of the home can use beige like bedrooms, living or dining rooms, kitchens, or bathrooms.