How much does it cost to create a proper studying area for kids? You will be surprised by a selection of affordable desks delivered by major retailers from Amazon to Walmart. They come with a set of up-to-date features available at a reasonable price.
The studying area will require proper furnishing and equipment, as your kid will have to spend much time learning new subjects. The following list with the top 15 affordable desks will help you create a compatible educational environment with additional perks delivered out of the box.
The model comes in different variations. Depending on the room interior style, buyers may choose from a white painted desk to continue the concept of lightweight and clean design or opt for Dover oak with a wooden accent. The desk has a separate bin for books.
Features: a drawer for pens, pencils, and copybooks.
Price: starting at $110.
Store: Walmart.
2. Melissa & Doug Kid's Desk
The manufacturer offers a ready-to-use study set for the kid's room with a lift-top desk and a wooden chair. It is a great option for a room with limited space and those, who prefer small and practical furniture instead of a bulky design. The chair totally fits the desk, which is a relief for parents, as they do not have to look for a perfect match.
Features: a desk + chair.
Price: starting at $87.
Store: Amazon.
A stylish student's desk that will suit any interior. It comes with great finishing that can be different in color. Buyers will have a chance to choose from walnut or weathered oak. Each desk comes with two types of shelves. They include a fixed and adjustable one to keep different stuff.
Features: an easy-glide drawer.
Price: starting at $79.
Store: Walmart.
IKEA furniture is known for its minimalistic Scandinavian design. This particular desk is not an exception. Although it does not have much space to store books, it comes with a convenient drawer and additional opening to get cables and charging wires out of sight.
Features: An opening for cables.
Price: starting at $50.
Store: IKEA.
The model is called Smart Basics. It offers plenty of space to store books and stuff on the shelves and inside a drawer. What's more, it has an extra shelf on top of the desk along with a moving keyboard tray. Available in several colors and configurations.
Features: a moving keyboard tray.
Price: starting at $108.
Store: Walmart
Another example of a minimalistic and ergonomic desk from the Swedish manufacturer. Although compact in size, the desk will easily settle a laptop or a notebook with additional storage space and shelves. The configuration involves a simple height adjustment with three different levels.
Features: adjustable height.
Price: starting at $70.
Store: IKEA.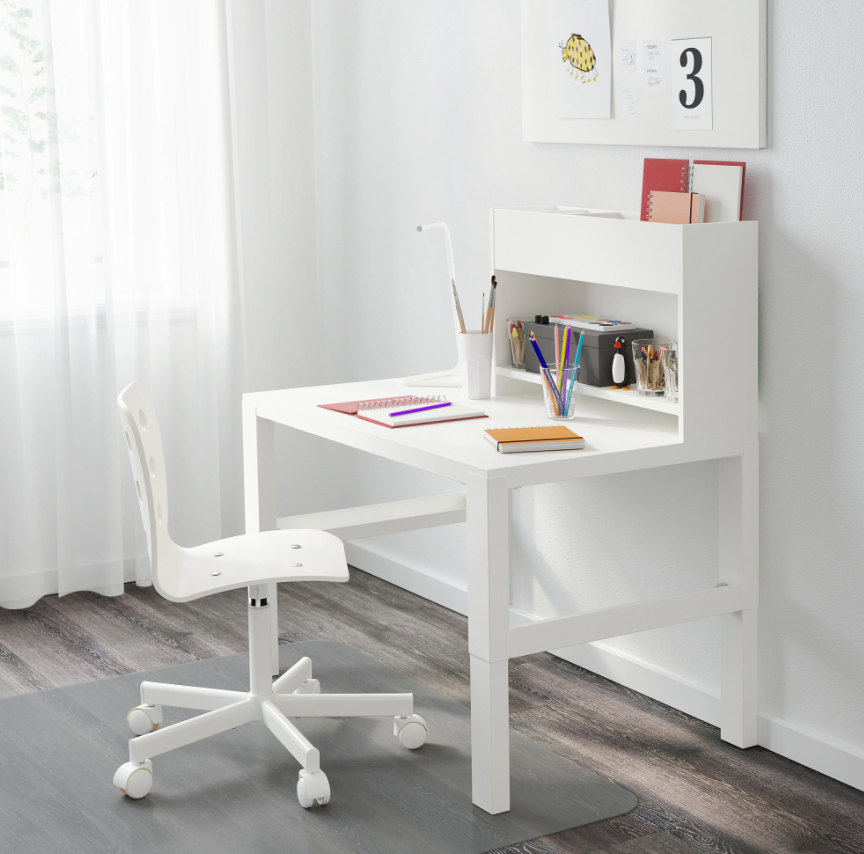 The set consists of a chair and a study desk both with adjustable height. The set is fully equipped with all necessary devices to ensure a proper learning process. It has a LED lamp, a drawer that can be easily pulled out, and a bookstand.
Features: adjustable chair and desk.
Price: starting at $191.
Store: Overstock.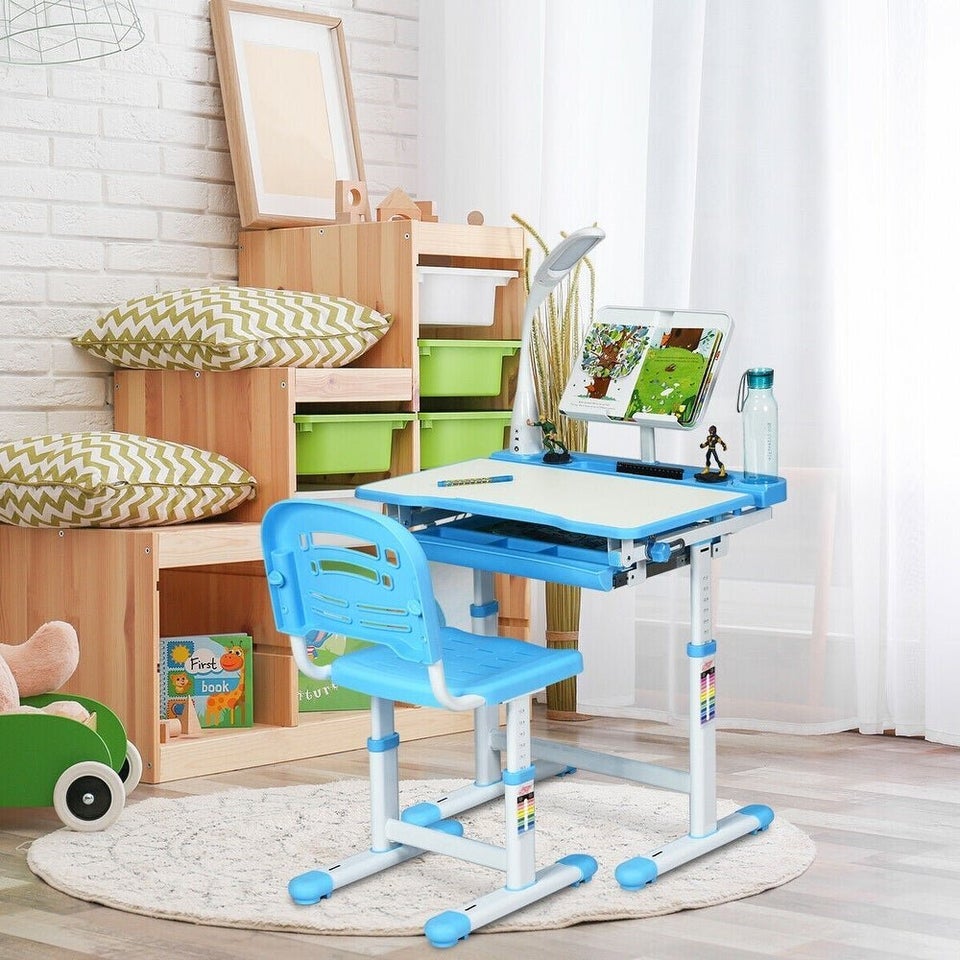 A simple and minimalistic computer desk for kids that is not overloaded with shelves and frills. It will work great for a small laptop or a pile of workbooks.
Features: simple and compact.
Price: starting at $80.
Store: Amazon.
Another great example of a compact and ergonomic student desk that will fit any interior thanks to white finishing and additional storage on both of its sides.
Features: expanded storage from both sides.
Price: starting at $130.
Store: Walmart.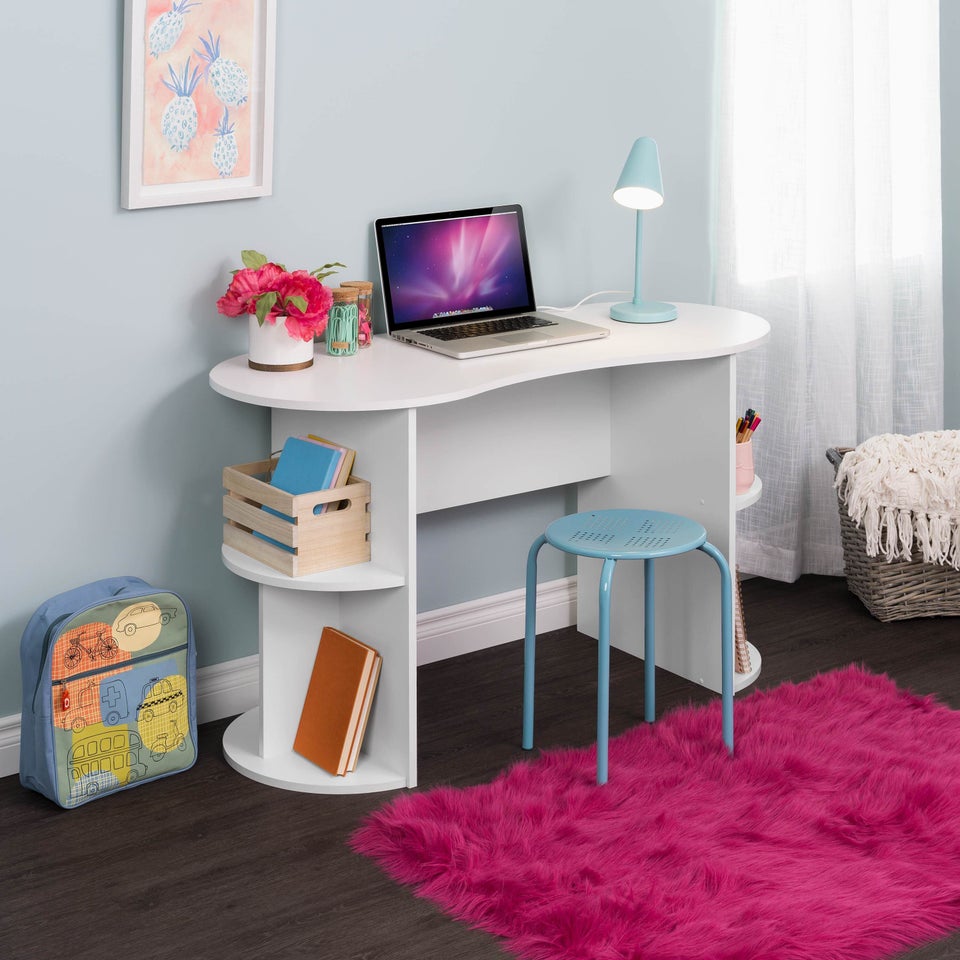 10. Mainstays Writing Desk
This one was designed for the smallest kids that do not have to deal with tons of writing assignments and homework each day. It helps them to get used to the working environment and comes with a stool and much storage space underneath.
Features: for the little ones.
Price: starting at $69.
Store: Amazon.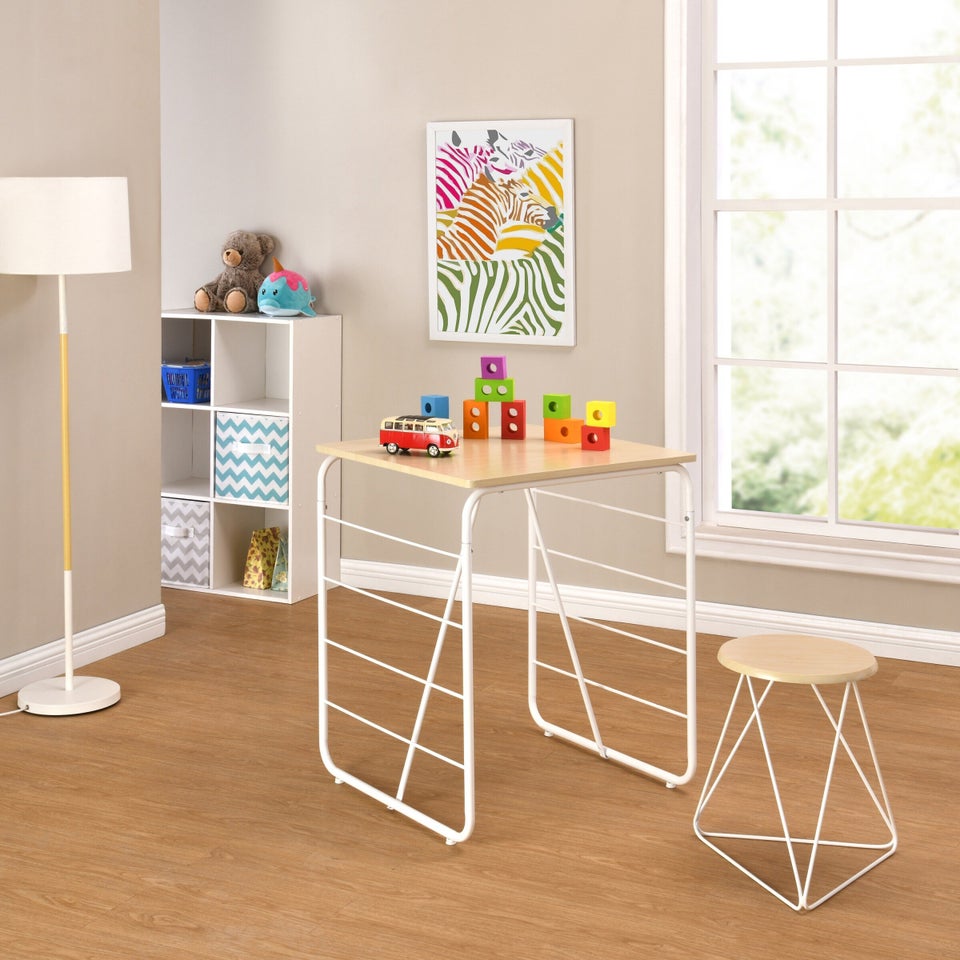 11. Monarch Hill Poppy Desk
Apart from expanded storage space delivered with built-in drawers, the desk has integrated stoppers that will keep the kids safe.
Features: two drawer options.
Price: starting at $195.
Store: Wayfair.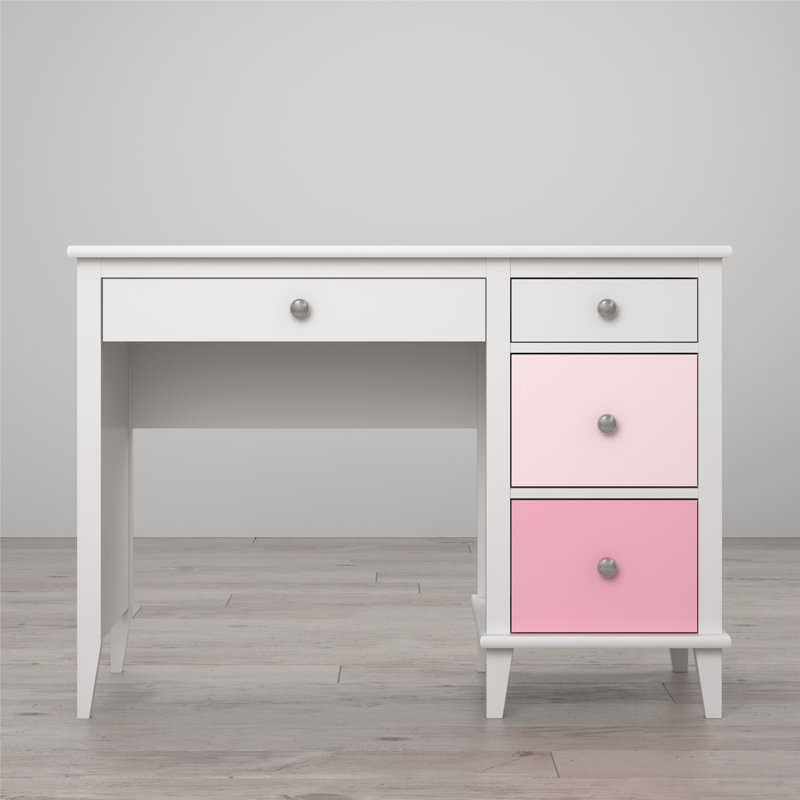 12. Milliard Desk with Chairs
A great option for those who have twins. A set offers a convenient table with enough underneath to store books and pencils. Additionally, buyers get a set of two ergonomic chairs.
Features: a desk with two chairs.
Price: starting at $95.
Store: Amazon.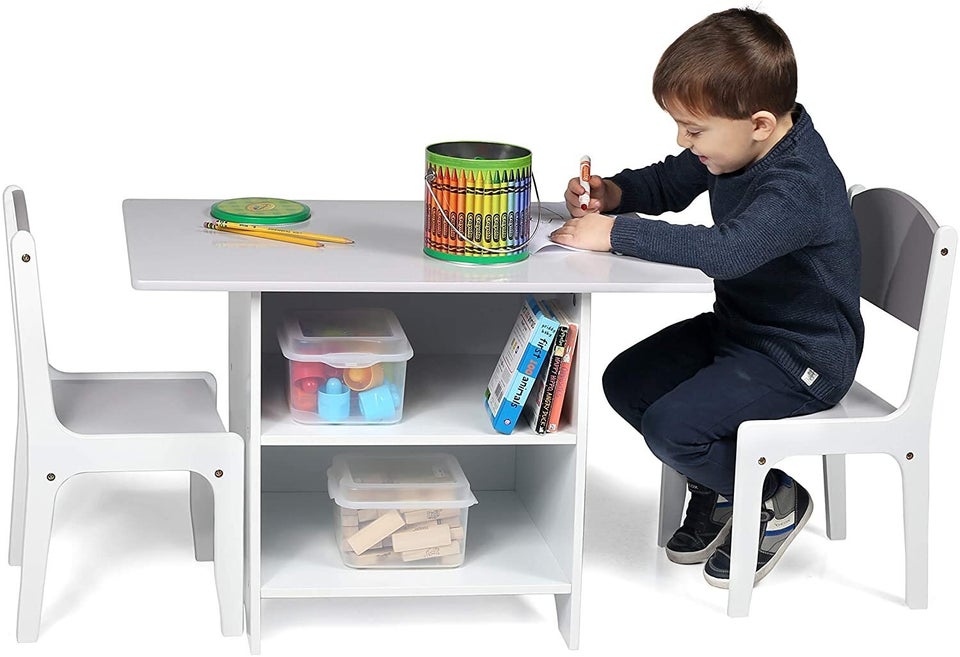 13. Andover Mills Lassen Desk
This one combines the qualities of a study and a computer desk. A wide table top offers enough space to place not only a laptop or notebook but also a bin for pencils, a lamp, etc.
Features: spacious drawers.
Price: starting at $210.
Store: Wayfair.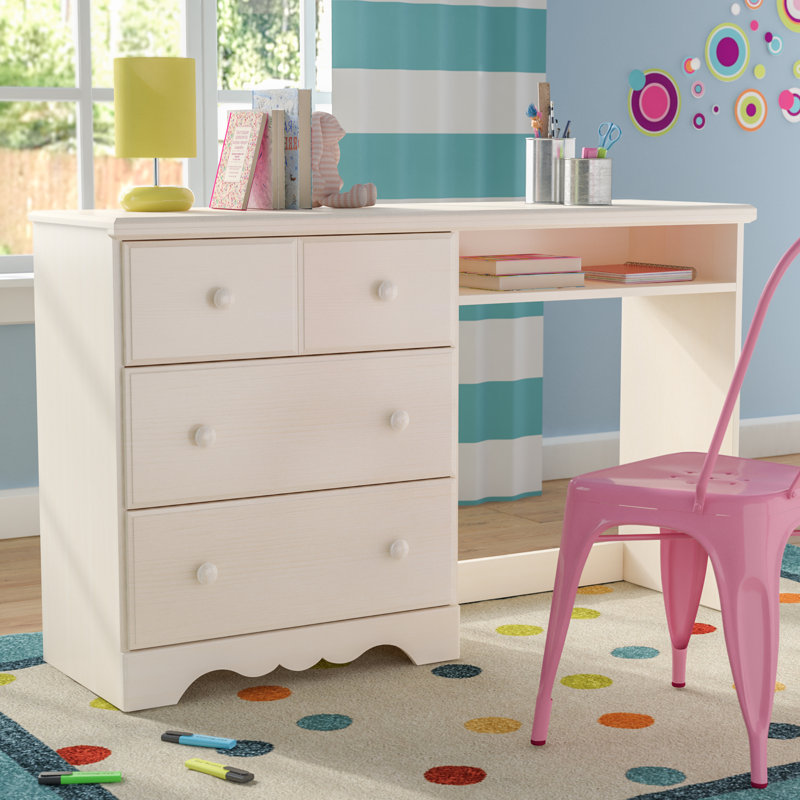 Your kids may crave something brighter and more exclusive than just a white study desk. IKEA offers a more fancy option that includes a red table with yellow stools and a blue chair.
Features: bright design.
Price: starting at $35.
Store: IKEA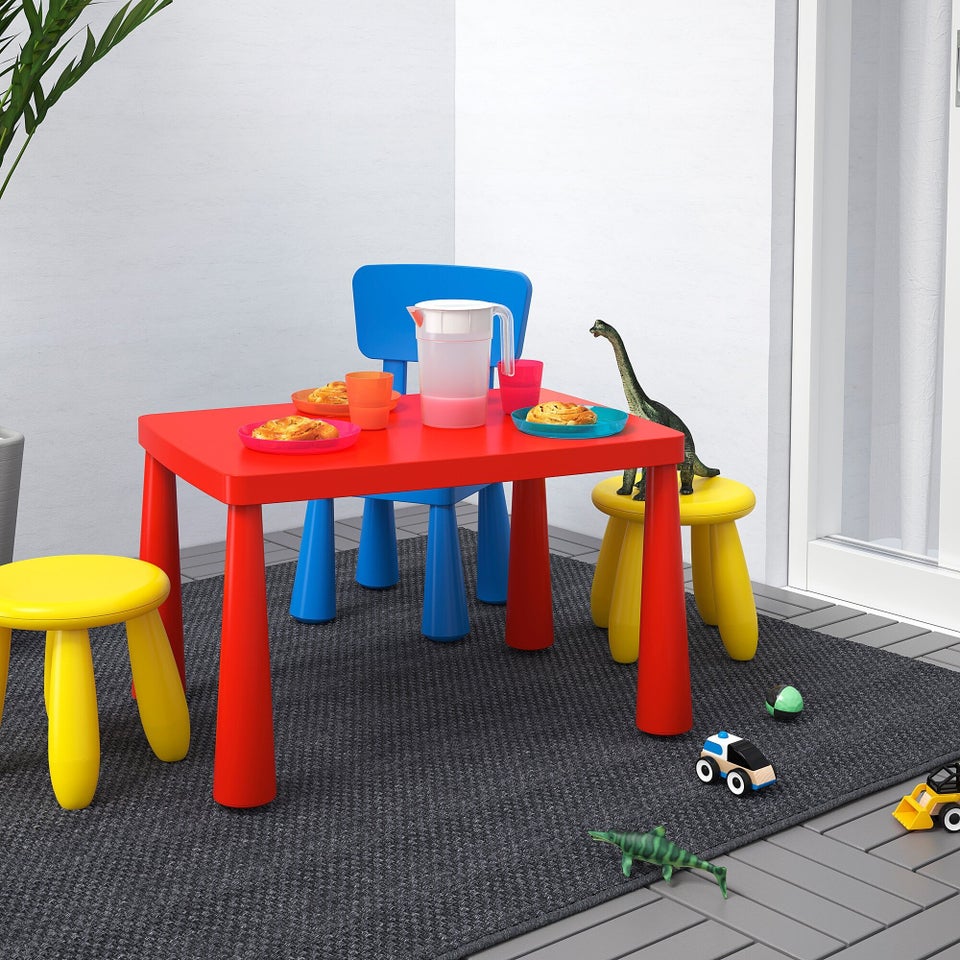 A smart white study table to help your kid get more organized and store all needed school stuff in one place. The set includes a table and a chair both with white finishing.
Features: has a hutch.
Price: starts at $207.
Store: Walmart.