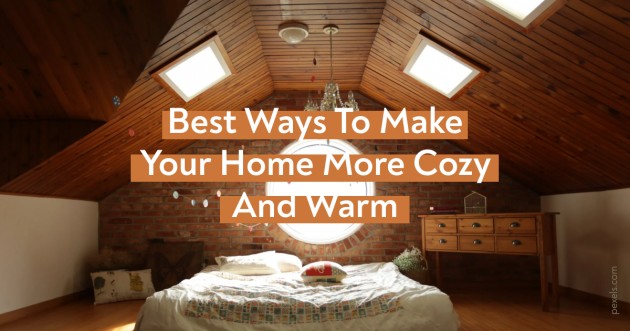 Nothing beats a cozy winter's day watching movies. Here are seven ways you can create a snug and warm living space for the cold months of winter.
When it's cold and chilly outside having a warm cozy space to live in is an absolute must. And luckily it really doesn't take much to make your home cozy and warm. Just a few well-placed rugs and well-placed ambient lights and your home will be ready to shelter you through the cold months of winter.
Define Zones
An undefined zone doesn't feel inviting. If you have a large living room, try sectioning off the seating area by placing the sofa in the middle of the room and adding a console table behind it. This helps differentiate between where the relaxing happens from the walking zone, or dining zone, rather than having spread out furniture in an attempt to occupy more space.
Add nature to your rooms
Definitely look into some nice house plants if you have space. Empty corners and tables can be brought to life with a well-placed plant! Nature is relaxing, so it makes sense to bring it into your zone of relaxation a.k.a your living room. If not a plant, why not a cheeky fruit bowl or flowers?
Texture
This can be done in at least 1 million different ways! Try adding a few warm red cushions to a lightly colored sofa will suddenly make it ever so more inviting. Add some wicker, grain sack or jute, and think of adding a few throws or blankets on your seating to add a bit of life.
Add ambient lighting
Other than your general lighting (overhead or pendant), specific lighting (task or table), and ambient lighting (sconces, candles, or decorative) will really help set a relaxed mood and add a sense of tranquility to the room.
Add warmth
Keep things toasty by adding warm tones throughout your living spaces. Try subtly placing a red lampshade on that side table, or a dark tone wooden coffee table on a jute rug. These tones will bring a rich sense of focus to space without cluttering or being too bold.
Place rugs
A warm-colored soft rug in a cool colored room will really make you want to kick your shoes off, and get your slippers on. Not only does a rug add ounces of coziness to a room but it also anchors down space, bringing harmony to all the elements in the room. Not to mention that if you have children, having a rug provides a soft space for them to sit whilst you all enjoy some well deserved relaxing as a family.
Hang up pictures
Frame some of your favorite pictures that make you smile up and hang them up. Accompanied by the warm lamps or plants, pictures really add that homey touch that makes your home truly yours. Plus it's always nice to have something to glance at and smile about.
Having spaces that relax and calm you are an absolute must. Adding tranquility throughout your home by warming it through homey textures and warm tones will not only give your space that next level cozy touch, but will also really help you "switch off" at the end of a long day.