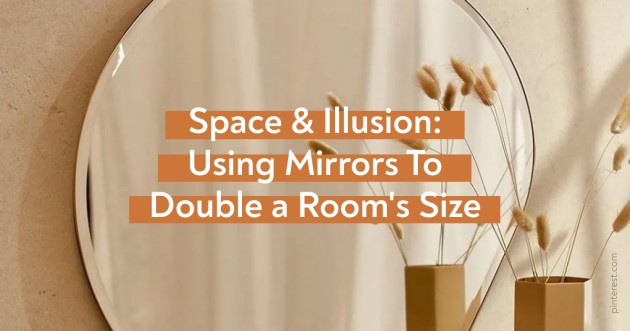 Small rooms can feel confining and uncomfortable, and this can all be changed with a well placed mirror. Not only are they a great way to make sure we're looking good, they're also a great way to break visual clutter, expand walls and add light. So let's look at some of the ways you can use a mirror to double your room's size.
A big bare wall can be quite imposing, and even more so in a small room. Hanging a mirror on the wall will not only give you an aesthetically pleasing object to look at, but will also simulate a window, creating more light and giving the room more dimensions and angles. A tall mirror will draw the eye's attention up, making the room feel even more spacious.
Bring in reflective light
Some rooms just lack light, something that may not be necessarily solved by adding more lamps and bulbs. If this is your case, then maybe add a mirror a few inches behind your ceiling lights, or opposite a window, and you'll suddenly give the room a whole new life. Just be careful not too many or to place them too close together.
Hang vanity wall mirrors in your bathroom
A bathroom vanity mirror is an absolute must. Apart from checking your teeth and brushing your hair, bathroom mirrors can be really useful to add more light and room in what should be a small cluttered space. If you're low on space, try combining the mirrors with other elements such as cupboards or cabinet doors. This way you're still creating extra space as well as adding decorative shelving.
Use mirrors on closet doors
Built in cupboards are a great way to optimize space, especially in bedrooms. These same cupboards can be optimized even further by replacing the doors with mirrors, creating a symmetrical replica of your bedroom adding light, and making the space feel inviting and spacious. And as we do most of our styling in our bedrooms, it also makes for a practical choice when getting ready to go out.
Corridors and hallways tend to be the narrowest parts of our homes, try placing a made-to-measure mirror on one of the walls in your corridor. This will help light bounce around the room, and will give a spacious feeling that's inviting and welcoming.
Practically all homes will have its fair share of small spaces. Whether it's a studio flat, a pantry, or a bathroom, these are spaces we live in, and making them feel inviting and spacious is an absolute must. And this can be achieved quite easily with a well placed mirror, that'll reflect your space to break visual clutter and add a spacious feeling.