Now, Planner 5D users can upload an image or any digital file of the floor plan, Planner 5D will recognize walls, objects, doors and windows, and then create an interactive 3D floor plan to be used within the system.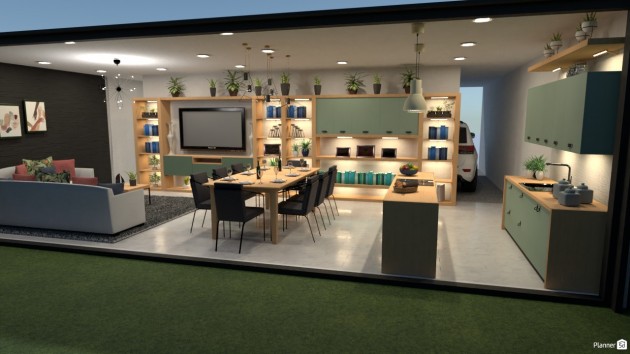 As the name suggests, the floor plan recognition feature will automatically render blueprints into fully furnished designs (taking into account the room type and existing items) with just the click of a button, showing users exactly what their dream home could look like — no special design or software skills required. The tech recognizes not only blueprints, but even hand-drawn plans. With its launch, it becomes easier to receive a 3D floor plan and use it to create designs on Planner 5D or for any other purposes. The feature is powered by computer vision, and the algorithms are constantly learning and improving to provide the most accurate plans for Planner 5D users.
"We're proud to be the first ones to integrate cutting-edge technologies into the home improvement market," Andrey Ustyugov, Planner 5D CEO, says. "Making computer vision and machine learning a core part of the Planner 5D technology gives us a great opportunity to research and implement what is yet to be done by a large number of companies, and products. We will keep on working on improving our scene recognition technology, and help our users to create their dream houses seamlessly."
We use several different artificial neural networks in the pipeline. The team studied and tried a lot of different architectures, features, and tricks for neural networks, then chose the best ones, combined them into powerful networks and applied Planner 5D modifications. It also uses a unique voting-across-pixels system that helps the tool to find the precise location of corners.
Planner 5D already has over 66 million users who have designed over 80 million projects using its catalog of over 6000 items. The tool lets them customize everything from wall colors to flooring materials to room dimensions. It makes realistic renderings of users' designs with shadows, physical lighting, and reflections, and now launches a cutting-edge floor plan recognition feature.
Last year we launched an interior design school to help users master the fundamentals needed to design functional, ergonomic and stunning interiors and create the living space of their dreams. During the first year of the school's operation 30,600 people from English-speaking countries signed up to complete the course, and this spring the team expanded the geography of the school, launching it in Spanish, Russian and Portuguese.