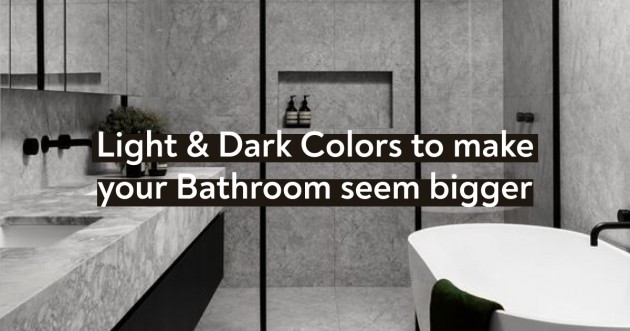 Our throne, place of cleansing. Our bathrooms are usually the smallest rooms in the house, and with the right colors can turn your throne room into a kingdom.
Now our bathrooms really are our safe-haven, whether it's vainly staring at ourselves in the mirror, enjoying a thorough teeth-brushing, or enjoying that long deserved hot shower at the end of the day. So enjoying this space and feeling comfortable is an absolute must.
For the most part bathrooms tend to be quite small, this makes decorating and furnishing tricky - but not impossible! With the right combination of dark and light, or bold and pale colors you can create a well-lit space both fashionable and functional.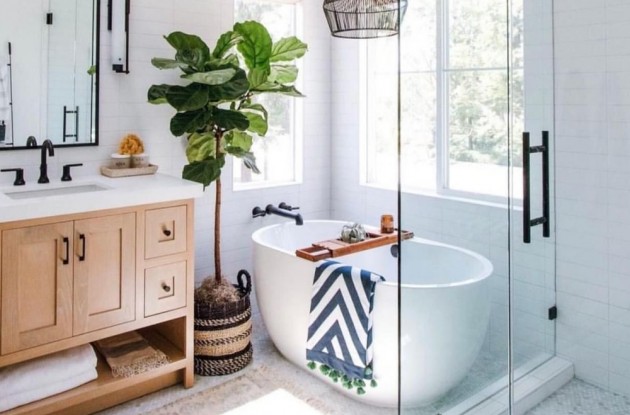 To find the right colors you must ask yourself the right questions first!
What Lighting options do you have? (natural, accent or overhead?)
What style are you going for?
White on White
As we all know, White makes a room feel airy and open. So why not try a white-on-white-on-white?
This is an easy option and guaranteed success for multiple reasons.
White is a typical bathroom fixture color (bathtub, sink, shower) and using white with other surfaces will create a seamless flow throughout the space making it as open and airy as possible.
It reflects light instead of absorbing it. If you have a small bathroom with not so much natural light, this could be a great way to maximize your bathroom's sense of illumination.
Using white doesn't mean the space will lack character. Try using different shades of white (eggshell white for the walls, for example) as well as different textural elements such as pale stone or tile. Maybe try to experiment with the odd touch of metallics or wood, this will retain the seamlessness, all whilst adding richness for the eyes.
Now this isn't as black and white as it seems (see what I did there?). For many, the full-white bathroom wins all, but for the more-daring playing with the contrast of both black and white can result in some very sophisticated looking bathrooms.
Floor orientated: Patterned flooring, large subway tiles, and brass fixtures inject personality into your bathroom. Keep your fixtures light and uncluttered and the tiles will complement the rest majestically.
Black and White Marble: Try adding black and white marble sinks or surfaces, and then combine it with other black or white fixtures. This creates a pleasant flow of contrasts throughout the space without feeling cluttered.
The trick is to get the colors to pop symmetrically, without being noisy or cluttered. Try black framed mirrors, or black cabinets to compliment a white wall, or maybe a black bathtub with white tiles. Adding brass taps or fixtures will bring everything together and really add a touch of elegance too.
Light and Dark Colors
Although Yellow and Orange can be a bit overwhelming, it works perfectly as an accent wall adding a little bit of sunshine and color, especially in a poorly lit bathroom, as well as adding some serious pop in bathrooms with wainscoting or half-tiled walls
.
Now you may think - "Hang on, don't dark colors make rooms look smaller?" And you'd be right, for the most part. With the right touch of a rich purple or blue hue you'll actually add depth to the space. Dark blues also work really well for nautical themed bathrooms, complementing white and works well with brass or gold accents.
An all-time favorite color for walls, Grey will majestically complement black, white and greens (depending on the shade). And light browns give off a chalky, subtle vibe and are ideal for traditional, quaint bathrooms.
Choosing the right colors for your bathroom can be tricky, with everything from the quantity of natural light received, to the symmetrical layout of the space affecting the choice. Planner5D has everything you need to design the perfect bathroom. From brass taps, to gilded mirrors, or outstanding tiles to slick modern bathtubs. Save hours on planning and design your perfect bathroom space now!