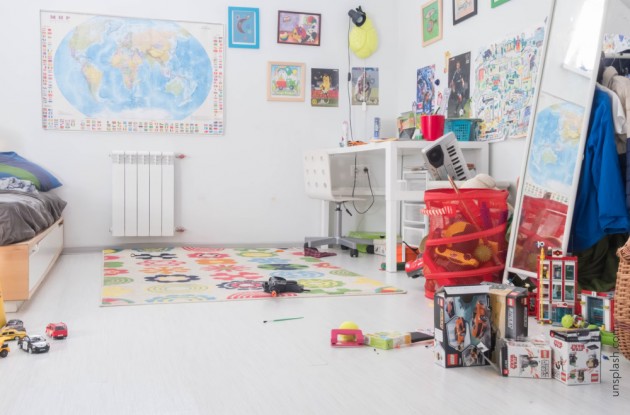 Turning "Time for bed" into "Time to return to my capsules of adventures". Create the perfect kid's bedroom that's both functional, safe, fun and creative without spending a fortune.
How to make the perfect kid's room
So you've just moved into your new home, or maybe there's a new addition coming to the family, or maybe you're just looking to add some zest to an already furnished bedroom for our lovely little gremlins that we know deserve the best. Creating an idyllic room for your kids is a must and a dream-come-true for your children! Here we'll have a look at the essentials to keep in mind, as well as some tips and tricks on how you can make things awesome for your children!
Where to start?
A good question indeed. There you are, standing in the yet-to-be renovated room contemplating every centimeter, color, and furniture at your disposition to make this room a kid's wonderland. So where to start?
The best thing to do is start by asking yourself a series of questions:
What does my mini-version of me like? If it's pirates and castles, or cars and horses, then you've got yourself a theme!
How big is the room? If there's space to move around, or if things need to be placed smartly.
Can I paint the walls? If so, then you can set the mood by choosing an awesome color. If not, then we can find some cool colorful furniture instead.
How often will they spend time in the room? Is it just for sleeping or will they be spending time with friends playing in there?
With questions like this in mind, you'll be able to narrow down what exactly needs to be done to this room to turn it into a wonderful safe haven that your kids will enjoy, and that you'll love to design. That said, here are some important factors to take into account.
Safety
Our kid's safety is a given. So watch out for things that could be dangerous for them. When placing switchboards, make sure to place them out of reach of young children. As for carpets and rugs, make sure they don't slip, I suspect even all of us adults have had close-calls with that not-to-be trusted rug or mat somewhere in the house, and kids love to run! So bear that in mind.
Organization & Storage
As adults, we love things organized - "a clean room is a happy room". Practically all kids will disagree.
When creating your kid's room, keep it easy to tidy. Try to organize toys into different spaces such as cupboards or boxes, or maybe categorize them with fun stickers or colors. This will help make tidying easier for your children and therefore easier to get them into the habit of doing it themselves!
Open spaces
If you can, create as much open space for your kids as possible. Open spaces will not only make the room feel larger but will also create a dedicated "playing zone" for our young loved ones.
Placing beds and chairs against the walls, alongside cupboards will create a larger open space in the middle of the room. Try placing a nice carpet that's soft and unlikely to slip too, that way they'll have an inviting spot to sit and play and spread out their creative mess!
If you can, look into setting up a mezzanine, or bunk beds to create more floor space.
Choose the right colors
"Hey son, so Cerulean Blue or Hot magenta?" - Okay, maybe not to this extent, but definitely ask your kids!
There are lots to be taken into consideration here, from the size of the room, natural light, as well as personal preference, but here's a simple way of breaking it down.
Warm colors help create a cozy, intimate, comfortable environment. They can also make a room feel smaller. If you've got white walls and no option to paint them, try adding a red chair or duvet to really add a touch of coziness.
Cold colors have a calming relaxing effect on the room as well as make it look larger. But this can also make the room feel not as inviting. If you have a room full of lots of colorful furniture and toys, opt for some egg-shell whites, or light blues and greens!
The sweet spot is somewhere in between, but watch out you don't overdo it. Pick a few nice colors that you and your children like and try using a virtual planner to test out which colors would work best.
With Planner5D you can choose from thousands of different materials and colors so that you can get that combination just right and make your kid's room awesome!
To summarize,
The possibilities and ideas when creating the perfect kid's room are endless. Keeping in mind space, personal preferences, and lighting - the options are infinite! With Planner 5D you'll find hundreds of pre-made templates by other users to help give you inspiration, as well as a thousand different colors and types of furniture to choose from! Try Planner 5D today and design your child's perfect wonderland!