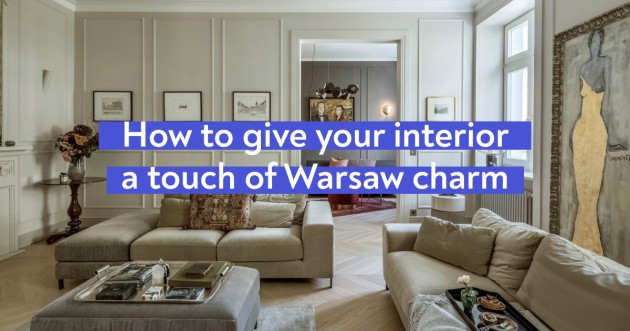 Warsaw, the capital of Poland, is one of the most beautiful European capitals. It's full of beautiful landmarks, markets, and buildings old and new. So naturally, it's next in Planner 5D's series of interiors around the world.
This week, we've spoken to
Anna Staselovich
, a photographer and content creator from Warsaw. She told us all about her favorite types of building in the city and how to bring its best bits into your own home.
What characterizes Warsaw
You could be fooled into thinking that the buildings of Warsaw's Old Town are ancient, but in fact, they were mostly rebuilt after the Second World War, as 85% of the buildings were destroyed in 1944. Warsaw is now home to an eclectic mixture of modern and 'old' buildings.
Anna finds that most Warsaw apartments fall into three categories:
"New districts that look like architectural renders. These new minimalistic apartments have security and wellness - sometimes they can even seem too perfect."
"Kamenica - old apartments with high ceilings in beautiful historic houses. Hipsters and older people usually live there, and many offices and studios are situated there."
"Gray apartment buildings - they are boring and not that pretty, which is why they're not so desirable to live in. The entrances are usually clean, and you might have a variety of neighbors because many people inherit these flats."
"The most popular type of apartment is a simple renovated flat designed with cheap items from IKEA," says Anna, "That's because there are many students in Warsaw."
When it comes to interiors, Anna likes some more than others:
"I adore when there are small private gardens in apartments on the highest or ground floor. I love the balconies with panoramic glazing, high ceilings, bathrooms with windows." Basically, anything that involves a lot of light and space!
Anna finds old flats pretty, but some buildings in Warsaw have a courtyard enclosed by walls. "When windows face the yard, it's often dark inside," she says. "I also don't like studio apartments that look like small boxes, where the only separated rooms are a bathroom and kitchen. It looks awful when the renovation was done in 2000: glass tables, colorful tiling, leather sofas, and neon lighting! It's even worse when you notice that apartments are being rented straight after the death of a grandparent - the owners throw away the rugs and dressers for some reason."
How to bring it into your home
Whether you live in an old-fashioned home, a studio apartment, or a shared flat, there are ways to make your interior feel like it's straight out of Warsaw. Anna suggests "white walls, beautifully shabby parquet, high ceilings, a floor lamp, and a projector."
Adding shabby chic items is another option. "My friends often boast about findings from the dumpster (classic!) and on reseller sites like OLX," says Anna. "There are also great shops with retro furniture. You can even drink a coffee in some of them while trying the furniture, for example, at Yestersen coffee and furniture shop."
"Did you know that Poland is famous for its posters?" asks Anna. If you only have a small amount of space, spruce up your wall with some cool graphic posters.
But what would be our photographer from Warsaw's ideal home? "My perfect home is bright and spacious with large windows," says Anna. "It would have large windows, and originally be minimalistic but filled with eclectic furniture and décor so that it's not boring. The most important thing is that my home tells something about me and that it's practical. There should be many plants and a large yard to invite my friends in the evening. There should be a room for creative work! It would be covered with paintings by my friends. The sea or the ocean should only be an hour away."
It sounds idyllic! We're sure Anna's inspired you to try adding some Warsaw charm to your home. Which city's interiors would you like to hear about next? Let us know below, and don't forget to share your renders with us on Instagram.