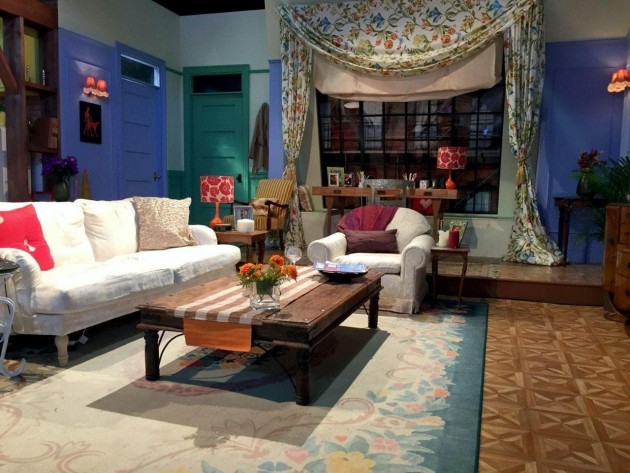 What's your favorite '90s icon? One of ours is, of course, interior-related. Monica's apartment from Friends is one of the most recognizable symbols of the 90s and early 00s. That's not all: as a seemingly affordable spacious two-bedroom apartment with a roof terrace, it's also pretty desirable.
So why not try to create it on Planner 5D? From the iconic purple walls to the balcony for watching 'Ugly Naked Guy,' let us guide you through Monica's shabby chic home. And then let Evelina from
Planner 5D Design School
show you how to recreate it! Read on to find out more and to watch Evelina's video tutorial.
Tour of Monica's apartment
Before you create your own design of Monica's apartment, let's look around. What is it that makes this space so attractive?
Kitchen/Living Room/Dining Room
The most important space in Monica's flat is the combined kitchen, dining, and living room. This is where most of the action in the series takes place.
As you come into the flat, you see a kitchen on the left and a living room in front of you. And of course, the table with mismatched chairs around it for enjoying a meal (or a spoonful of Rachel's meat trifle!).
The living space is truly cozy. Monica's varied style is clear from her many cuddly cushions, crochet blanket, and, of course, her lamps! Greg Grande, the set designer, said that he wanted Monica's home to reflect her 'eclectic style.' While Monica is famed for being tidy, her apartment was full of one-of-a-kind items, and thrift shop finds.
Terrace
Monica has an enviable terrace. This is where the private conversations, the secret kisses, and, of course, the Giant Poking Device happen. Don't forget to include the beautiful large window frame that leads from the living room onto it.
The bedrooms
Both Monica and Rachel's bedrooms have pink walls and personal details such as wooden dressing tables and a 1980 Summer Olympics poster. These rooms are notably less cluttered than the kitchen and living areas. Friends doesn't show much of Rachel and Monica's bedrooms, so you're free to use your imagination when decorating them in Planner 5D.
Bathroom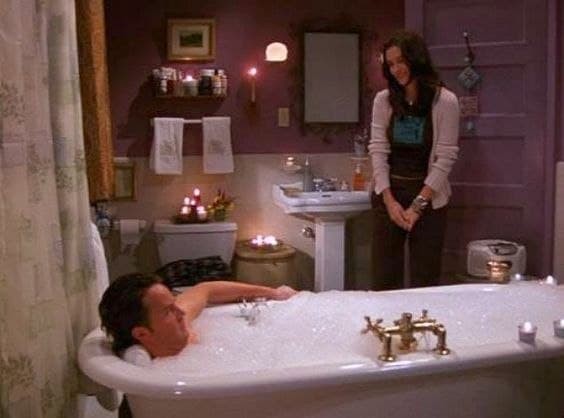 Another lesser-seen room is Rachel and Monica's bathroom. It has purple walls in a slightly warmer shade than those of the living room. It's quite luxurious for an apartment, with its bathtub and stone-tiled floor.
How to create Monica's apartment in Planner 5D
Now we hand over to Evelina, our superstar Planner 5D
Interior Design School
teacher. You can find the complete video tutorial
here
.
Get familiar with the floor plan and the look of the apartment
If you're a Friends fan, one way of familiarizing yourself with Monica's apartment floor plan is to watch a few episodes of Friends. Even though different people live in the apartment at different times, the overall style doesn't change dramatically.
Evelina says she first looked at pictures and scenes and analyzed how she'd manage the process using the Planner 5D app. She then created the floor plan and built the rest of the interior around it.
Create the floorplan
Creating a floorplan is easy with Planner 5D. You can find the dimensions for Monica's apartment in Evelina's video! Remember to keep checking in 3D to make sure your render looks just like the original.
Don't forget to add details such as the beam above the kitchen and the brick wall. The living space is also quite an unusual shape, so follow Evelina's video closely.
Furnishing
Monica doesn't have too much unusual furniture - most of it can be found in the Planner 5D catalog. Evelina says she only added three textures: "for the curtains and the beds." If in doubt, use the magic cube. Evelina says, "I used the magic cube to make the flooring and to cut the wall into two segments by the bathroom. I also used the cube to make a runway for the desk next to the window."
Challenges
This project is slightly less challenging than the
Hoke House
one, as Evelina says that it only took her one day to complete it. However, there are a few things to bear in mind when creating the Friends house:
There are a few rooms that don't appear as often in pictures online. That shouldn't be a problem for hardcore fans, though! Otherwise, use your imagination.
Monica's apartment contains a lot of items and colors. It might take you some time to make them, but as the furniture changed throughout the series, you can adapt it almost any way you like - just stick to the eclectic 'thrift shop' theme.
Did you know…?
And finally, a few interesting facts about Monica's apartment!
On the wall of the living room is a large French poster advertising toys. This isn't just for decoration - it covered a large hole in the wall, which was sometimes used to film scenes from.
The iconic gold frame came from a mirror that someone broke on set. They decided to put it around the peep-hole on Monica's door.
Creating the Friends house is a fun project that doesn't take too much time. With the vibrant colors and kitsch furniture, it's a cool throwback to get you inspired. Check out the project to copy, paste and edit!
What movie and TV interiors would you like to see recreated in Planner 5D? Let us know below, and as always, share your inspiring interiors with us on
Instagram
.