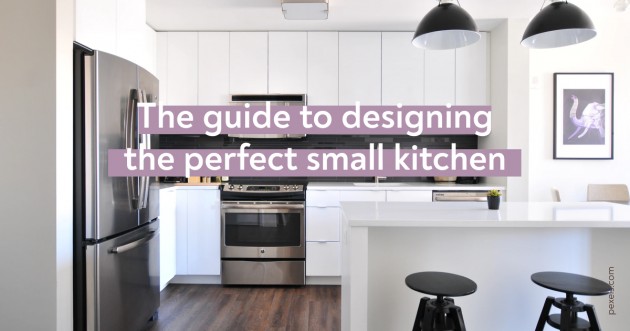 When it comes to living in an apartment - or even just a small home, sometimes the kitchen suffers most when it comes to space. Smaller spaces in general come with greater challenges but we have the help you need. Here is our guide to designing an ideal small kitchen. Follow these tips and tricks and the end result will be a space that's both stunning and functional!
Floorplan & Layout
If you have the luxury of designing your kitchen from scratch, then take advantage of creating your own plan and layout of the space. Whether you´re using an architect and designer or doing it yourself, visualising the space from the beginning is very important. Using drawn up plans will allow you to see where everything fits and how.
When it comes to visualising the "how and where" of everything, it's important to know the basics of what you want in your kitchen! Keep in mind that with a smaller space you may not get your dream island. However, cabinetry, counter space, sink space and an oven/hob space are must haves when it comes to planning a kitchen that, primarily, must be functional - the remainder follows.
Oftentimes with smaller kitchens they will come in three different layouts: U Shaped, L Shaped and Galley. A U Shaped kitchen has the benefit of having one open ended space (usually the entrance) which allows you to create everything within the U. Spread out your cooking appliances, sink and fridge as not to crowd too much into the already confined space and maximise countertops.
An L Shaped kitchen is the more practical of the bunch and is usually featured in open plan living spaces. The sink is often situated on the shorter end of the "L" and, if available, placed underneath a window.
The Galley is reminiscent of a small corridor with either one or both sides in use with appliances and cabinets. It's the narrowest of all styles and not so practical for families, but if space is an issue then it is very efficient!
After creating the plan and layout for your kitchen then you have the freedom to design and decorate, but if - and such is the case for many people, that you don't have the option of designing and building your own kitchen then you will have to work with what is given but don't let that discourage you! There are many ways you can transform a kitchen to suit you and your every need that works both for kitchens you have built yourself or that have been pre-installed for you.
Style
The style of any interior is important both to add a personal touch and about how you want the area to function. With a kitchen, you have a lot of options on what style to go for, though it usually falls into either a modern style or a traditional style, but that's not to say you can´t go for a bit of both!
In circumstances where space is limited in your kitchen, it may be better to go the modern route. Take advice from minimalism and dial down on excessive detail - lots of modern day kitchens are going for a seamless look which help maximise the space in your kitchen. Go for handleless cabinets with flat, reflective fronts that help bounce the light around the room and open the space up. Matching this with a contrasting colour for your counter space and appliances can help add a bit of life!
If you are more of a traditionalist, your small kitchen can still be, too. Wood paneled doors with handles can still be used if they are positioned correctly in your available space. Try not to add too much detail, like patterns on the wood or on the walls as this can make the room look clumsy. When it comes to a more rustic style, accessories in wood or ceramics and appliances in neutral tones may be a better match than the more modern stainless steel look.
Storage
After deciding upon what style you want to move ahead with, then comes the ever important thing about small spaces: storage. Just like any other room in your home, storage in your kitchen has to be utilised and maximised in order for you to get the most out of your space. In a small kitchen it may seem that storage spaces are limited but there are ways you can correctly use the space you are given - with cabinetry, make sure that any available wall space is claimed. If you find yourself with a strange shaped corner, try adding a pull-out organiser that would allow you to use all of the space and provide storage for things like cleaning products, or fruit and vegetables.
Storage doesn´t have to come in the form of cabinets, like other rooms in your house, you can actually use the spaces around the room that are sometimes overlooked. If you have some wall space, why not invest in some traditional or even flexible shelves - which can be removed or added to if needed. These would work great with open plan kitchens as, given the right design, you can neatly display dinnerware and mugs for an open kitchen design. Vertical space is great if you would rather keep your cabinetry for food or other products - installing some hooks above the cooker and hanging your pots and pans works to add a more rustic feel to a kitchen.
The colour of your kitchen is not just important for aesthetic reasons, but your use of colour can actually help you when it comes to a small space. White is a great choice for most small rooms and is a perfect choice for a small kitchen. Installing white tiles around the kitchen can help when it comes to bouncing light around the space and creating the illusion of it being bigger. Not only does it help in this aspect, but with the tiles being a lighter shade you can see what needs cleaning!
White works great in both contemporary and traditional kitchens but if you want to add a touch of colour, it's best to go for softer shades to keep the room calm and clean. Light blues, green, or even shades of peach or salmon work great. If you have a lot of light in your kitchen then your options expand! Darker hues can work great when contrasted against lighter ones. Light greys and even blacks can be a great addition against white tiles and work well in creating a monochromatic look.
Another focal point of your kitchen is the splash board and the options are endless. For a more traditional feel you can opt for a soft cream tile or even exposed brick and for a modern update, mirrored tiles can be an excellent stylish addition and, again, help with reflecting light and creating space.
Lighting
Like storage and colour, lighting in a kitchen is both very important and very helpful. In design in general, lighting is one of the fundamentals used to create the perfect space and in the kitchen you can utilise both natural and artificial light to your advantage.
With natural light, we don't have the luxury of being able to control it as much as we do with lighting installations. If you can design your kitchen around your window you are off to a great start! As mentioned, the sink is often placed underneath the window as no one wants to look at a blank wall. You can also frame this window with blinds or shutters as, depending on material, they are both space efficient and easy to clean. Roller blinds can be made in a polyester material that is perfect for simply wiping away splashes and wooden shutters can provide a homely touch to a more traditional kitchen. Both of these allow you to manipulate the light to your advantage and can be used in conjunction with artificial light to not only brighten up your kitchen space but to feature certain aspects of your kitchen.
Artificial light in a kitchen is key to making it both functional and stylish. As it's an area that needs to remain not only clean but safe, ambient lighting can help flood the room with light. In a more contemporary designed kitchen you can go for the stainless steel option of ceiling lights which not only function to light up the room but add a crisp and clean touch while balancing well with a monochromatic or all white style. In a traditional kitchen you could install a wooden ceiling fan/light combo that not only acts as your lighting and fits with the style of the room, but has the added benefit of a fan - which is great in a room that tends to heat up and may have a lot of condensation.
Task lighting works well for countertops and sink areas, as in this space you need to be able to see what you are doing! Installing some LED or strip lights underneath your cabinetry can help with this and also works with adding a modern twist. If you have a seating area like a breakfast bar, hanging drop lights and pendant lights over this is a creative way to incorporate light and also utilise ceiling space.
Flooring
Often overlooked, the floor of a kitchen is actually an important part in designing. It can be utilised in the same ways that colours can - not just to express your creativity and style! If you are going for a more modern look in your kitchen then tiled floors may be the way to go. In smaller areas, you can fit large white tiles with less visible grout lines to contrast against the smaller tiles on the walls or splashboard. This white, again, not only helps with the reflection of light in the room but is useful in opening up the space. If the upper part of your kitchen is darker then this helps to contrast that, also! For a budget-friendly version of this, you could opt for the same style in linoleum!
If modern and contemporary isn't your vibe, then you can always go a more traditional route. Wooden floors work in all areas of the home and can be a great addition to the kitchen. Depending on how they are laid and in which direction, they can also create the illusion of a bigger room. Try leading them out of the kitchen space so that it expands the area and asks the eye to follow it. Like the option of tiles, this wooden style can be achieved with vinyl or lino.
If you want to experiment in your kitchen, a great option to do so is patterns. Patterns aren't just limited to walls or accessories, they can be used on the floor, also! If your kitchen is sleek and seamless, and you have gone for a clean white look, then why not add a patterned floor tile for a hint of life and creativeness. Just like the block colour tiles and wood, a patterned design on the floor can create a sense of expansiveness and be a focal point of the kitchen.
Extra Tips
If you need to maximise your space, why not take the pressure out of your cabinetry and create your own space where there isn't any. Place your non-perishables into jars and use the extra cupboard space for something more important. Plastic containers come in all shapes and sizes and can reduce what you have on top of your counter.
Following on from this, the importance of decluttering is ever present. Keeping those countertops clear in a smaller kitchen is a big priority as you are working with limited space. Food items that can not fit into the cabinets can always be sorted into individual jars which will not only keep your kitchens clear but also organised.
If it's just you, why not invest in smaller appliances. You´re in a studio? You can opt for a toaster/oven/grill that does the same thing or incorporates it all in one appliance. Again, if it is just you, why not go for smaller appliances. Fridge-freezers come in all sizes and are bound to fit the biggest of even the smallest spaces. Sometimes refrigerators and freezers come separate but if you´re lucky enough, you can move your freezer to another part of your home, should you have the space.
Break free from modernity and leave the dishwasher behind. You may be blessed with having a dishwasher installed in your apartment or even be allowed to have one, but save the space and forget about it. Go old school, save space and wash your dishes - you won't regret it!
An added bonus to any kitchen area is seating. Whether you have the space or not, adding a seating area not only makes your space functional but also useful for yourself and guests. With limited space, a fold down table can help you create a seating area where there isn't any - allowing for a bar top or even extra chopping space. Asides from this, floating tables with some added chairs that fold away allow you to have the option of entertaining guests but not be committed to taking up too much space.
Often described as the heart of the home, the kitchen is one of the most important areas to focus on when it comes to design and with many designs, styles, gadgets and accessories out there it's important to utilise them correctly. By using our guide you can maximise your small kitchen space and if you use what you have in the smartest way possible you can not only have a kitchen that serves its purpose but also has the added bonus of being stylish and unique.
You may be interested: