Cleaning the Clutter
The first thing you need to do is to get rid of the unnecessary objects. Decide which items will suit your interior and which are only collecting dust. You can divide them in three piles: to keep, to sell/donate and to throw. Minimalism is all about having the essentials, without overfilling with futile details.

If you are a parent, you probably have a living room flooded with different toys. Use the free corners of the place and turn them in a small playground. In this way, there will be a set up game area for all their possessions. You can also talk with your infants about the importance of good household cleaning. Creating habits from the early age will be useful in the future.
Store Properly
Pick furniture like dressers or drawers that will serve as a bin for the unnecessary items. Most of the electronics are stored in the living room. The place is tangled with chords and wires. There is nothing more annoying than stumbling on one of these at least ten times a day. The perfect solution is a cable zipper that wraps the cables in a tube. Be practical and take advantage of the free areas in your living room. Store the blankets and pillows, by placing a lower bookcase behind the sofa. In the cold months you can easily reach the cosy coverings.

If you have an extensive multimedia collection, you probably struggle to keep it organized all the time. Take half an hour to sort them out. If you no longer listen to a certain music or use a DVD, just give it away. There is a variety of ways in which you can organize your collection – bookcases, drawers, DVD towers, and even a coffee table with storage options.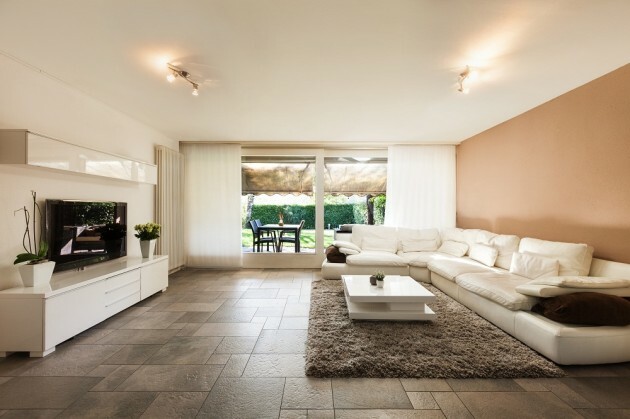 Preventive Measures
The more things you have, the more difficulties you will experience when organizing. The best way to avoid the clutter is stop buying things that you don't need. Make the house cleaning your habit. When you spot a thing that is not in its proper place, juts put it back to where it belongs.

You can achieve amazing results by using the things that you already have. For instance, create a stunning vintage interior by decorating with beautiful objects that you inherited from your grandmother.

Don't jump into buying expensive art. Instead, create your own. Use family photos or your children's artwork.

You should try to keep the flat services uncluttered. Papers, magazines and brochures are usually dispersed around your living room. Invest in a lateral file cabinet. If you don't have enough floor space you can get a few wall pockets.

Be smart and keep the clutter at bay with a few ingenious solutions and a simple cleaning routine.