Color trends come and go, but black and white kitchens will never run out of style. This strong graphic color scheme is a classic that serves all styles, from traditional to modern and contemporary. It also easily combines with different colors if you once get tired of this strict palette. Just add some pops of color with new curtains or accessories and get a new fresh look of your black & white kitchen.
Here we go with some examples of how black and white will look in different kitchen styles.

1. Traditional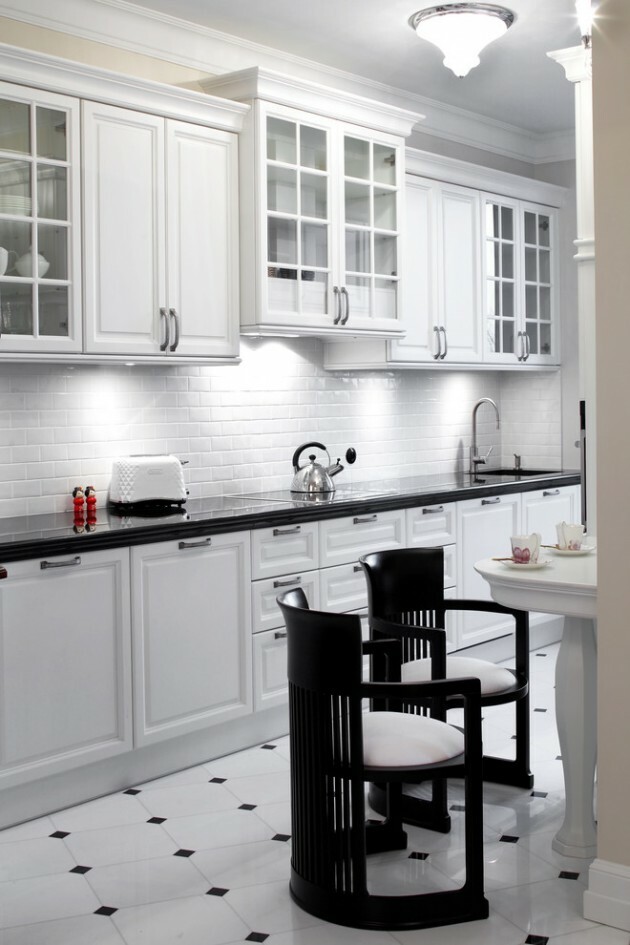 Glass cabinet fronts and brick backsplash tiling give the room a very classic look. Chess-like floor pattern finishes the room and gives it more contrast.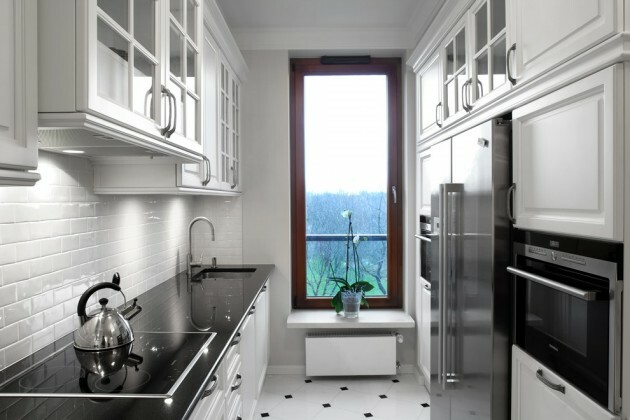 For this room is pretty narrow, domination of whites helps it to look more spacious.

2. Rustiс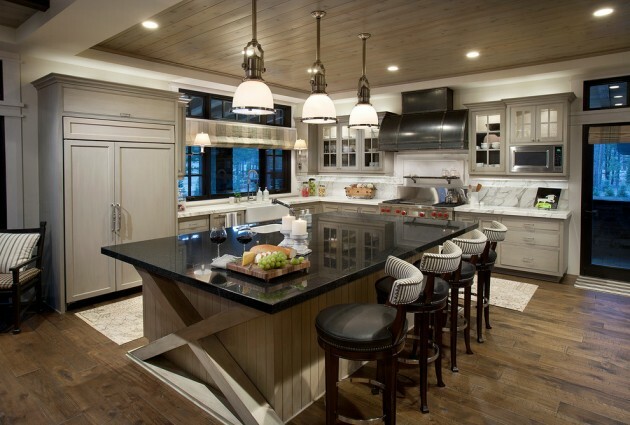 Despite rustic style is all about naturals, you still can get a black & white look by mixing different types of wood and adding contrast details to your kitchen interior. Try light maple or pine with dark rosewood or wenge for cabinets and floors, then nail the whole look down with contrast chairs, countertops and metal accessories.

3. Scandinavian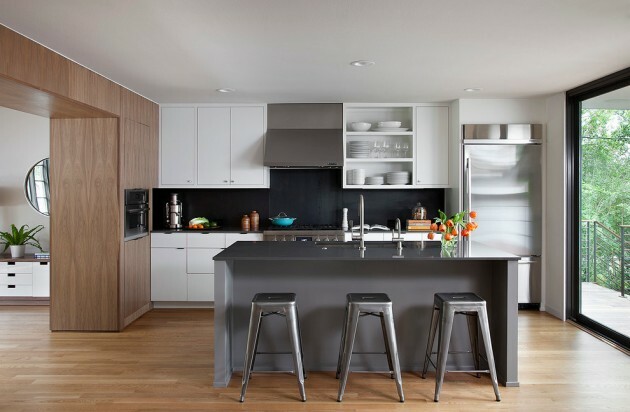 Black island and bar stools plus graphic backsplash keep the strong accent, while white cabinets and ceiling combined with wood make this kitchen simple and clean – this is why scandinavian style always looks stunning without any extra decorations.

4. Eclectic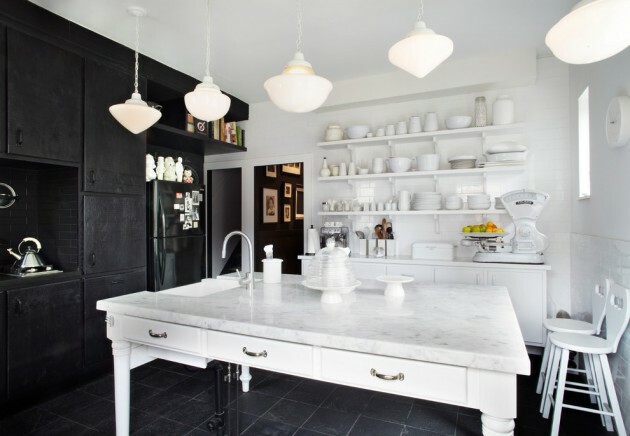 This room is almost divided half by half visually, which gives it very graphic appearance. White kitchen island of a classic shape with white marble countertop becomes a uniting centerpiece.

5. Transitional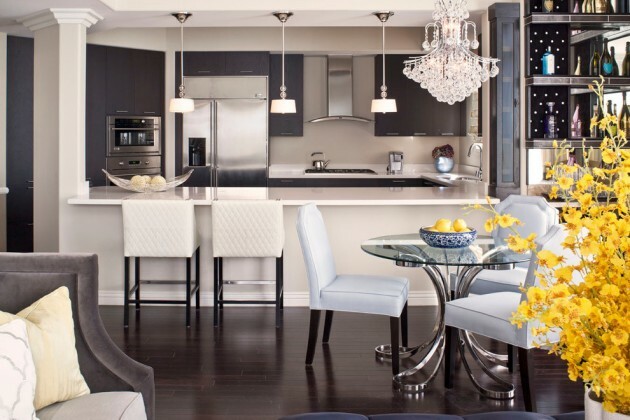 Modern and classic elements are always blended in this style. Like here, traditional pillar, big crystal chandelier look perfect together with modern dining table and simple kitchen cabinets. Colors are not very contrast, white is replaced with shades of beige and blue, but the color scheme is still clear and elegant.

6. Modern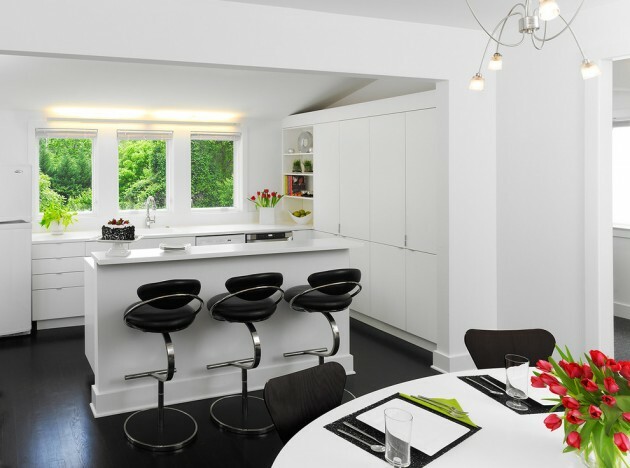 Simple lines and distinct color division: white tops and black bottoms. You can see that even the cake falls into this approach :)

7. Contemporary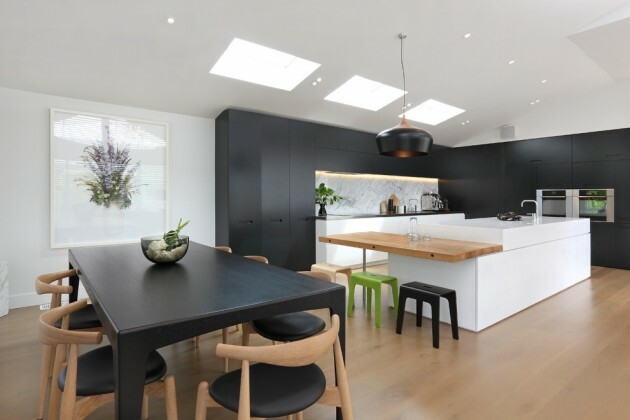 Color blocking creates a powerful graphic geometry in this contemporary kitchen. The black and white palette is broken up by touches of wood and one renegade lime green stool. Which looks fresh and lovely by the way.

If you feel you are not ready to change your kitchen into black and white after all, here are some modern, glamorous, eclectic, vintage and funny b&w kitchen accessories for you to think about: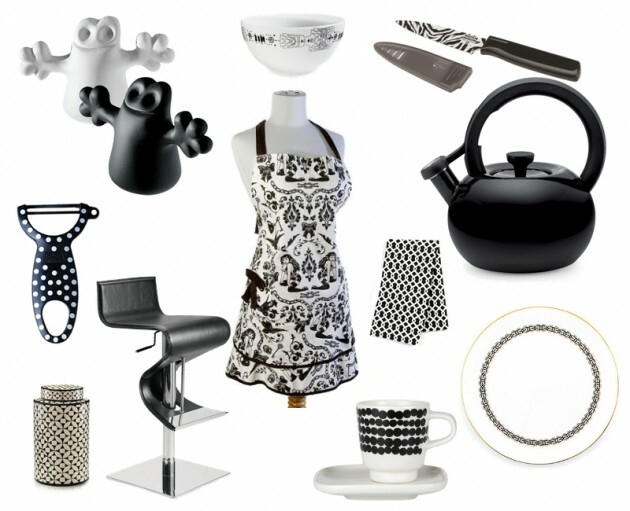 The world is not all black and white, but you should use these colors right!