Michel Carlos, a 20-year-old Brazilian, tells us about his interest in interior design and his experience as a Planner 5D user. "What motivated me to learn about interior design is everything it provides to a person who dreams of having his or her own home" he explains. "All the happiness and everything you have always dreamed of is in a project of how your home will be."
"Watching interior design programs and professionals deliver dreams to families is what I want and what I consider most important."
How did you become interested in interior design?
I did not discover that I enjoy Interior design right away. When I was younger, I thought about being a teacher or a doctor, and when I was in high school, I thought about what I would study because I was about to finish high school and I would have to start university.
When I realized that I enjoyed watching programs about decoration, especially from the Property Brothers, I started to ask myself, "Is this what I enjoy?", that's when I started researching more about interior design and I found myself.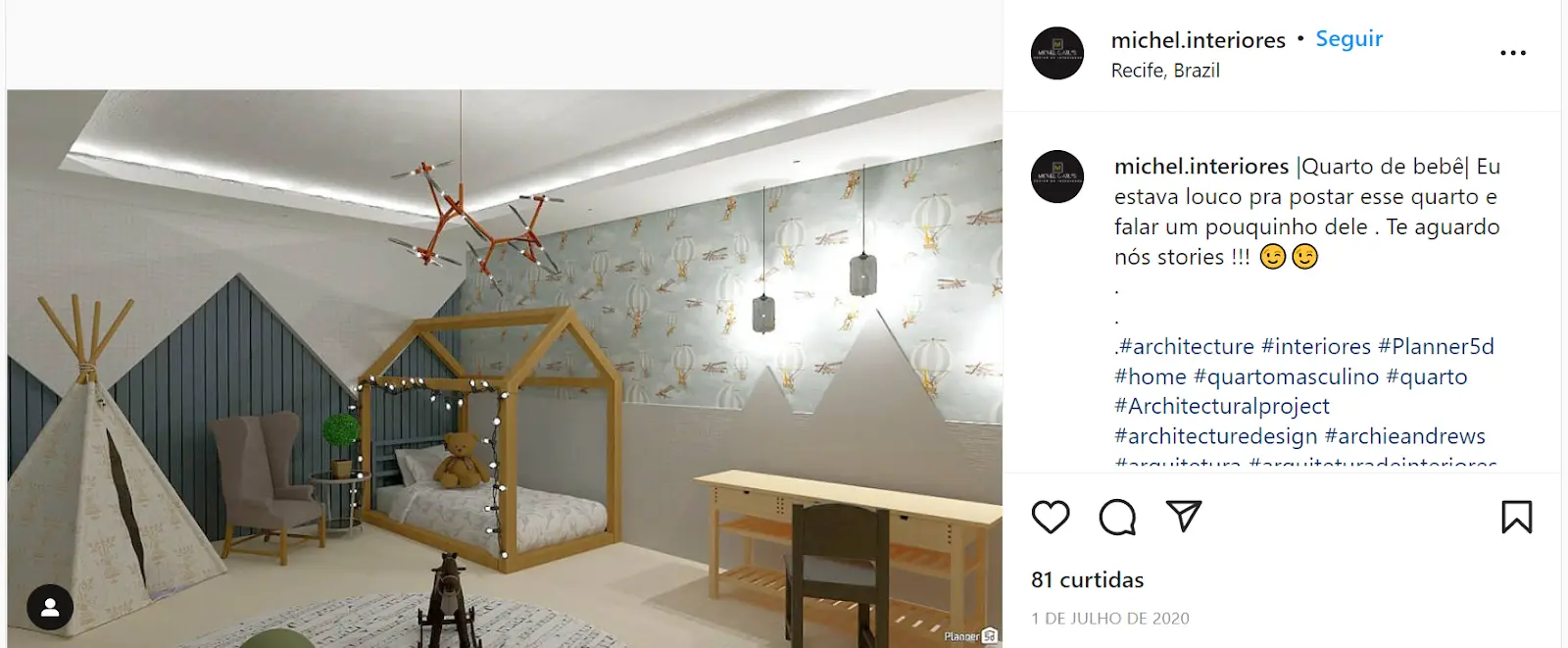 Photo of Michel's project developed in Planner 5D | Baby room and posted on Instagram @michel.interiores
What are the top three factors you like most about interior design as a profession?
The three main factors that I like the most are, first, making dreams come true, seeing people happy, and surprising them. The second factor is creativity, being where the human being is and is made. And the third factor is recognition when you enter an environment and say "I know this designer, I know who it was, and he's beautiful".
In my opinion, these are the three factors that make me fall in love with interior design.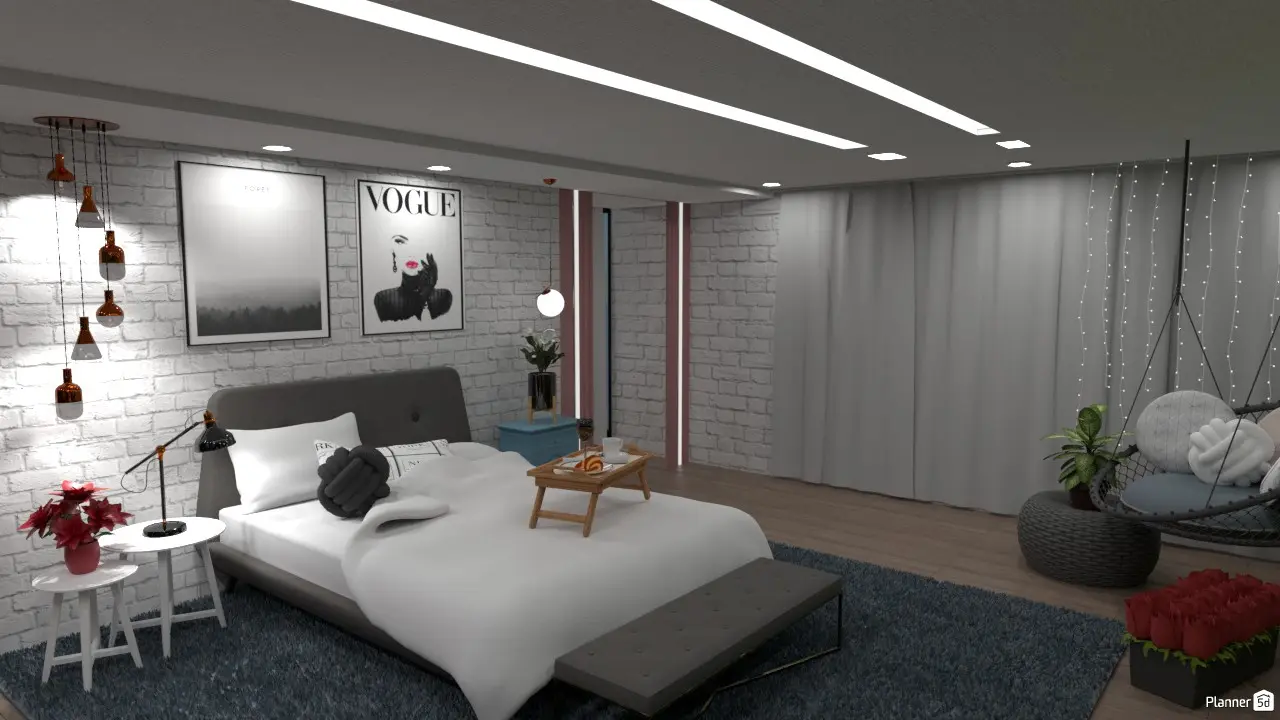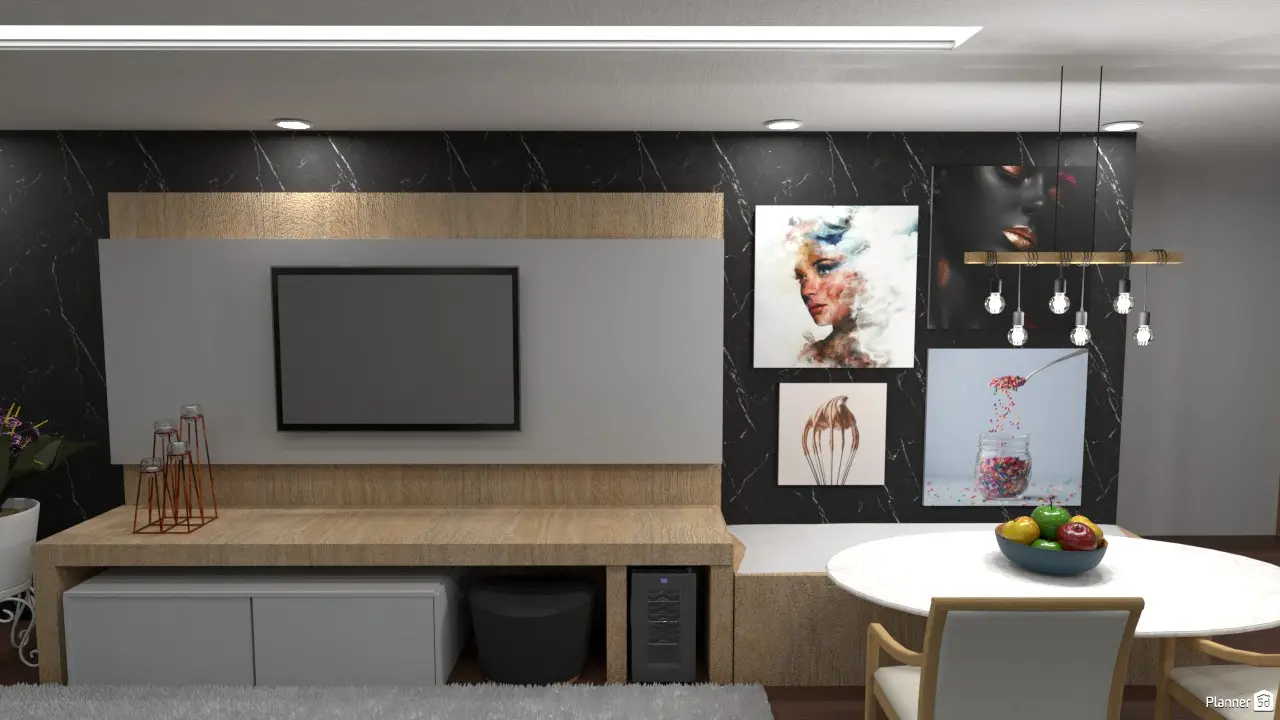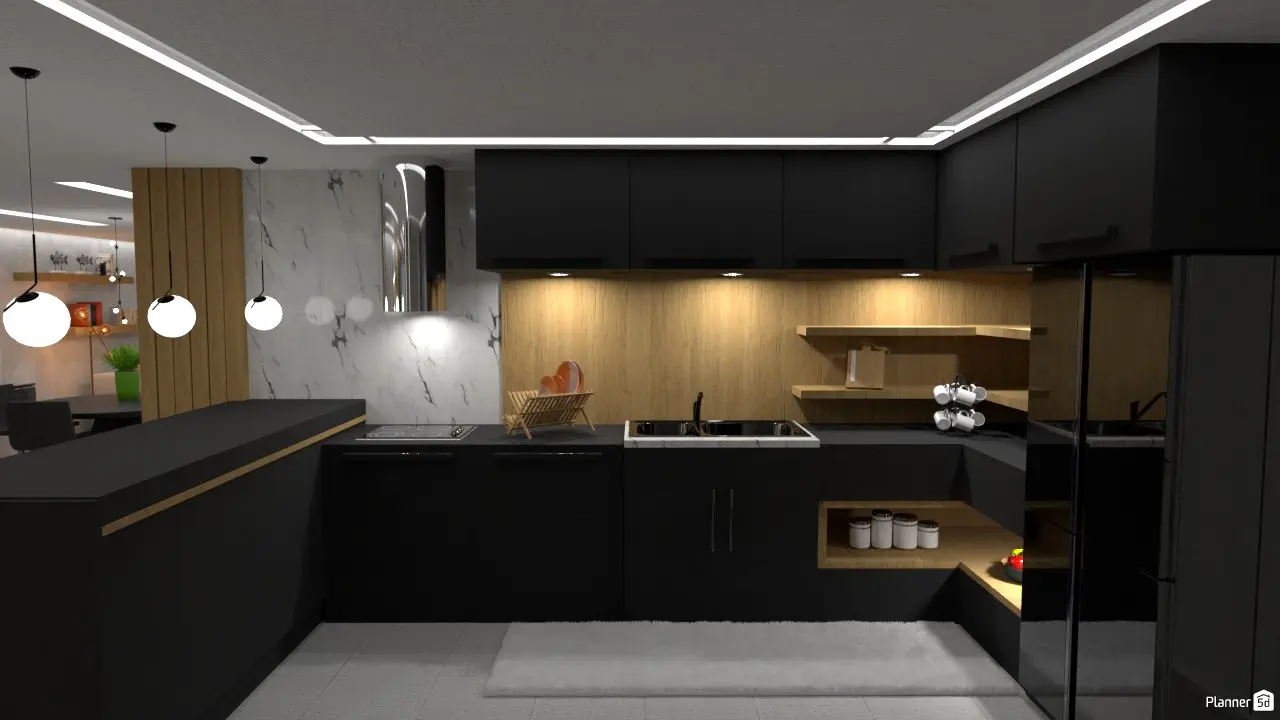 Brazilian Planner 5D user community
To exchange ideas about Planner 5D among Brazilians, Michel had the idea of ​​starting a community through the creation of a WhatsApp group. "It was very positive to have created the community here in Brazil dedicated to Planner 5D because I managed to bring together several people passionate about decoration and interior design to share experiences", he comments.
Michel explains how the group was created. It was launched not just to talk about Planner 5D but also to discuss decoration and different styles, later the group became available only for software users. "As all members of the group, without exception, used Planner 5D, we decided to include only users to exchange experiences and tactics on using the platform", he explains. He says that the group currently has 23 members who are Planner 5D users.
"Where a certain object in Planner 5D is located, or even, how to assemble the lighting of the house with another material. Usually, people ask and the other members answer", explains Michel. "This exchange of ideas is beneficial for everyone", he says.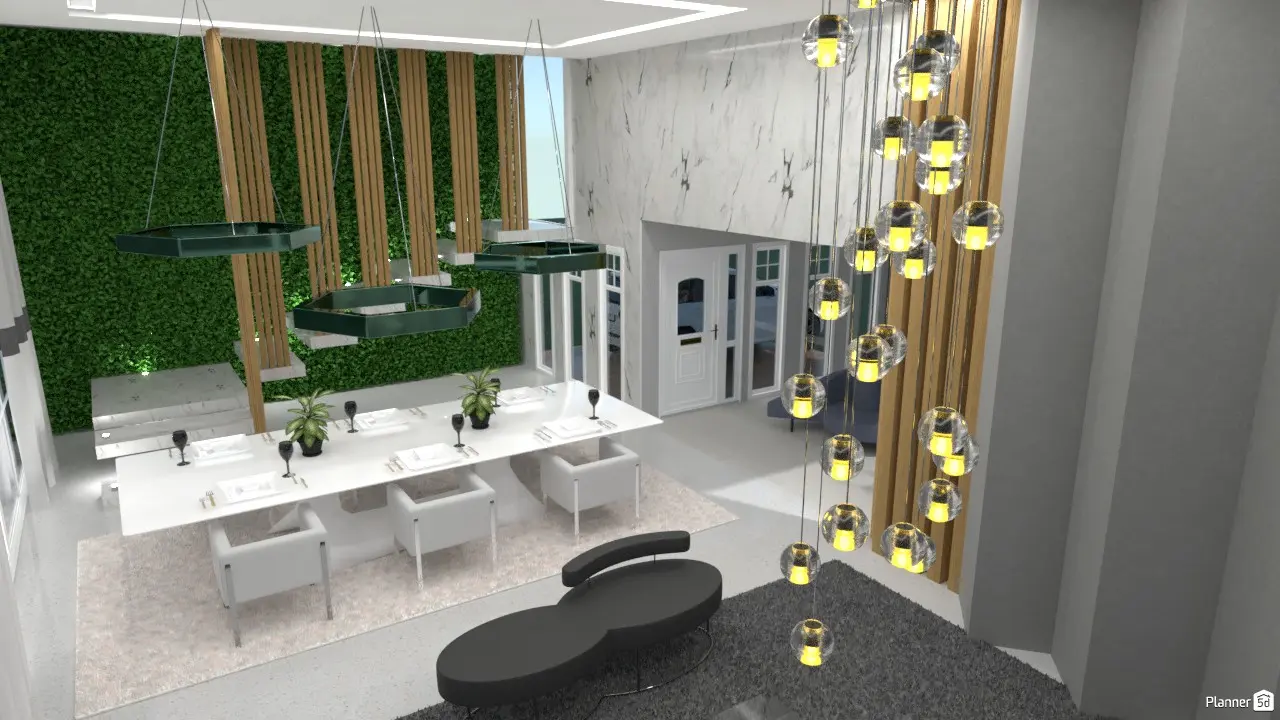 Project developed by Michel and published on his Instagram @michel.interiores
What are the current interior design trends that you like?
There are many interior design trends I like, but I will name only three of them.
The first is the LED strip, here in Brazil it is used a lot and I consider it very beautiful when you can value a shelf or use it on the floor to signal a path. In my opinion, it is very luxurious.
I like materials to produce natural designs. I love using marble on a TV panel or kitchen bench. Likewise, I believe it looks beautiful.
Integrated environment. I love it when everyone gets together in one space, but of course including a touch of privacy.
I believe these are the trends I like the most, and they are presented in all my projects.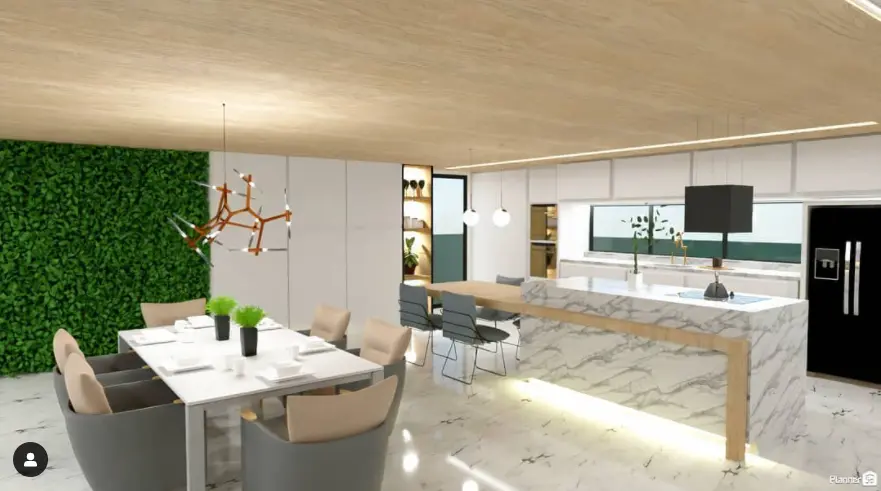 In your opinion, what are the most popular interior design trends in Brazil today?
I notice that LED lights are being used a lot in the projects. Another trend is the synthetic straw that you can include in a wardrobe door or a chair, you can use it in everything and I think it is also very charming. In addition, the vertical garden has also been used a lot, in Brazil we like the green of trees and plants.
How was your experience with the School of Design?
I loved design school. You can learn about interior design in a practical, quick and simple way, with explanatory content and also carrying out activities with fictitious clients with tastes and requirements that you would have with a real client. Is wonderful to have the experience of how everything works, and Planner 5D knew how to put and apply it very well.
I loved doing the tests, it's the best experience possible and I recommend it to everyone. In addition to the fact that you receive a certificate, which I believe is recognition for people who finish design school.
What would you recommend for someone who wants to start learning interior design?
I would recommend people to start researching and studying now, mostly I would also recommend the Planner 5D design school as it explains everything very well.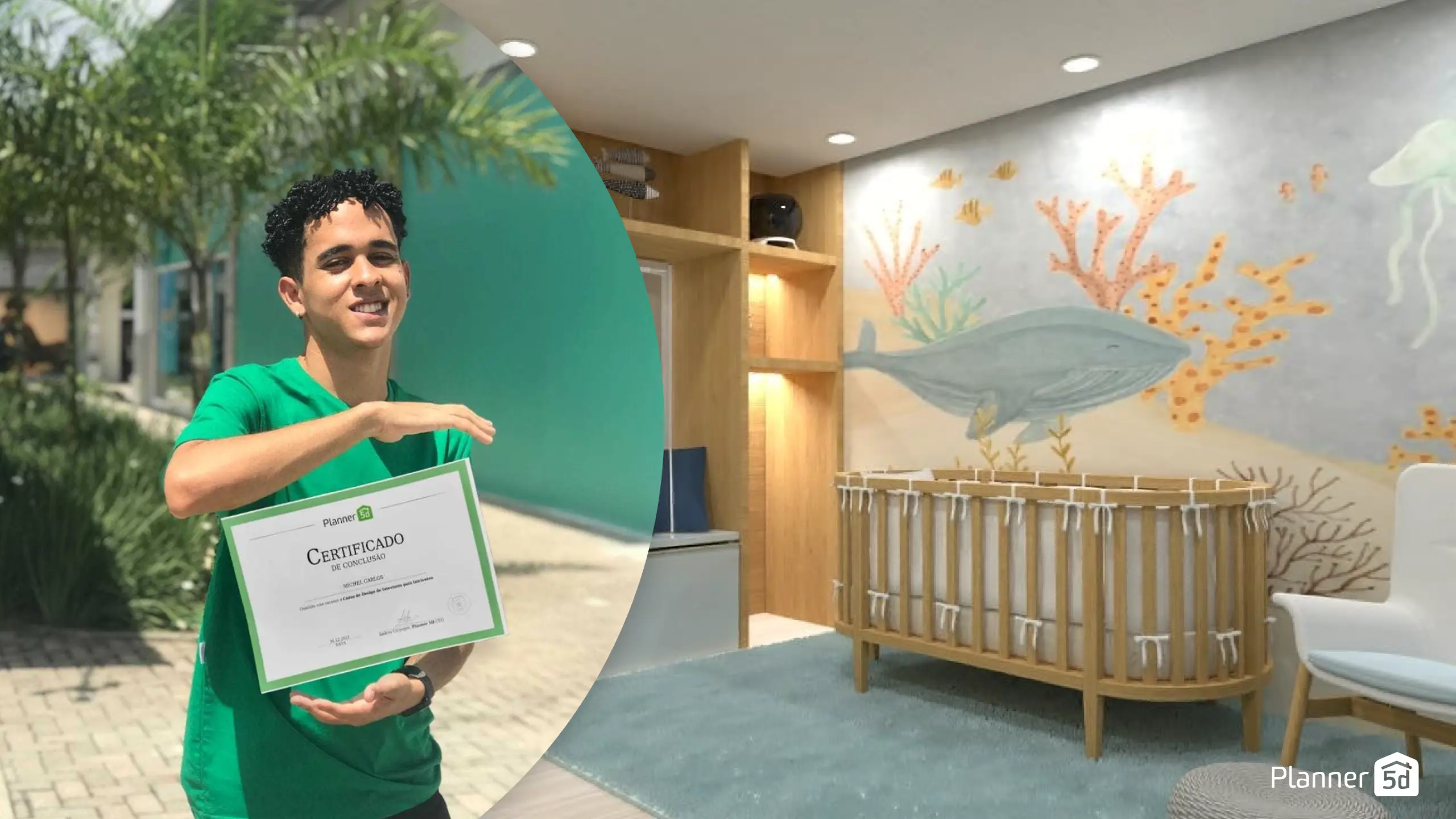 In the beginning, I didn't have a platform to practice interior design, the ones on the market required a lot of computers. When I discovered Planner 5D available for Android, a cheap, simple application that allowed me to do what I wanted, express my art and everything I wanted in terms of interior design.
Also, having the opportunity to do projects for close friends, because I believe that's how every designer starts.
What do you like most about Planner 5D?
What I like the most is being able to create furniture with blocks, in my opinion, it's the best, as it allows the user to explore their creativity.